Ho! Ho! Ho! Christmas is around the corner!
Christmas waves a magic wand around the world and makes everything prettier, warmer, and wondrous. Wintertime, snowflakes drizzling down, and fairy lights everywhere, Christmas chimes and melodies, carols lead by our much loved Santa! How can we even forget wine and plum cakes and the amazing delicacies?
The entire world is painted in pretty colors, the mirth, the radiance, the joy; you can't help but wish you could cease the moments, just savor them, and capture them in your memories with a Christmas Video Gift!
A photograph is the pause button of life! It gets you to relive the past and rejuvenates you for the future that calls.
Christmas being the time of intimacy and quality time with loved ones, demands photographs. The photographs you'll look at when your hair turns grey, and you lose all your teeth. They'll give you the comfort and stability you require. Sitting on a couch, wrapped in a blanket with your partner, these are the pictures that will take you on a ride through your beautiful memories. So why not ensure they turn out perfect?
Christmas is undeniably the time of capture-worthy moments. But if you lack the expertise, it might get tad-bit difficult for you. Trends of how a photograph should look are changing. To name a few- the candids, surreals, portraits are replacing the 'look into the camera and smile' trend.
There's forever a question about how you manage the photography intricacies and enjoy the moment. This is where pre-knowledge comes to your escape!
Here are a few ideas that make your task easier and get you the most amazing photoshoot with your partner. Ideas that you do not want to miss and Ideas that will make you vogue!
1] Use the Christmas Lights
Photographs begin and end in lights.
Good lighting = good photos.
Christmas is bright and illuminated. What can be better than using these lights to capture your romantic moments? Hang the lights around you; put them on your necks. They flawlessly make your images captivating.
2] Christmas Tree
Can you even imagine Christmas without the Xmas tree?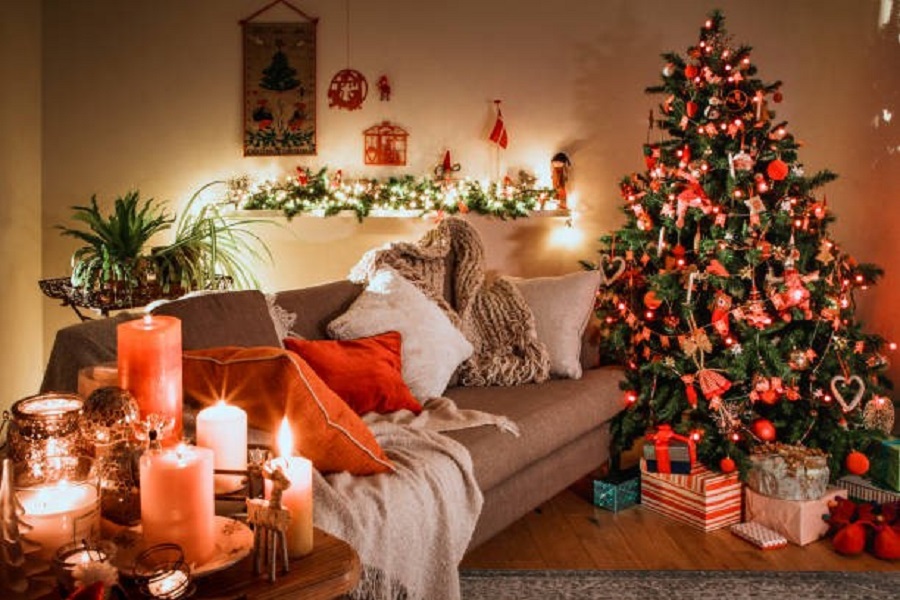 Decorating the Christmas tree along with your partner is the most gratifying and fun thing to do. Wear Christmas-themed outfits, play soft music, let the smiles spread; canoodle below the mistletoe. The joy, the chemistry, the extent of your love will just be reflected in the photographs that come out.
3] Get Outdoors
The beauty that snow and nature offer is in itself enough to be highly aesthetic. You two, placed between this? There's nothing that can get prettier in the world. Sit on the bench in your patio, sipping on hot, warm coffee, dressed in comfortable, soft clothes and beanies and gloves. The coziness just can't be hidden from the images that turn up. You could get your vibrant blankets out too!
4] Make Use of the Fireplace
Pull up your Christmas socks, get all warm and homey. The fire in winter will bring up the charm of your pictures. You need not include your faces; foot pictures also turn out to be pretty romantic.
5] Use Your Christmas Presents
The pictures don't always have to be taken in well-decorated places. Sit between the mess of gifts and kiss your partner while holding a gift. You could be wearing flannels adding up to the cuteness.
6] Bake Cookies
 "Cookies make the world a better place!"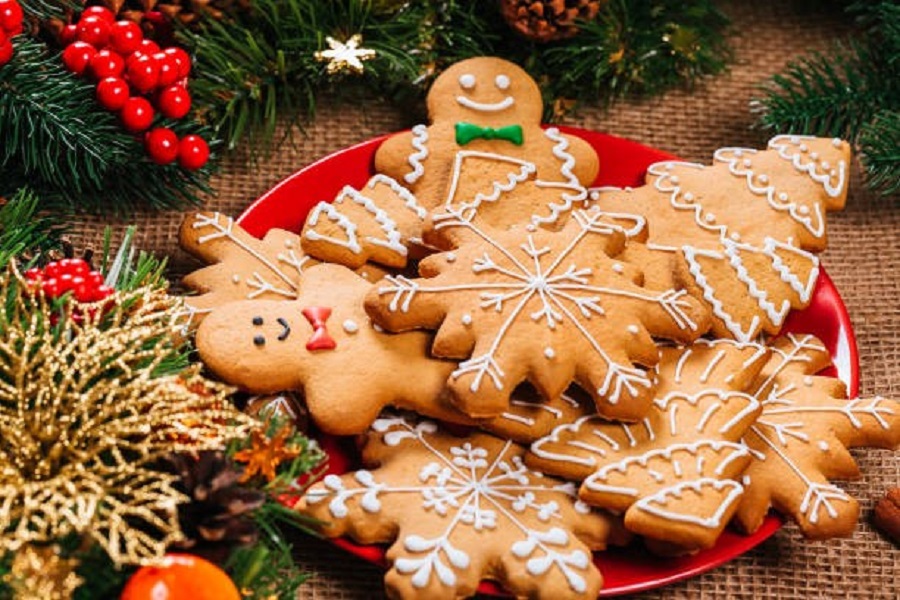 Baking cookies and cakes on Christmas Eve have been a family tradition for several years. Intimacy can be found everywhere if you look for it. Baking together is highly heartwarming. Capture the candids while you laugh and sulk while you bake the yummiest cookies with your partner.
7] Use Christmas Props
Be it Halloween or Christmas, costumes surely elevate every occasion! Put on the Santa hats, antlers, and Red noses! Get crazy, kindle the kid within you, and giggle along as you get your crazy yet ridiculously adorable images.
8] Use Candies
Candies are too beautiful to be ignored. Place your Christmas candies right in front of the camera, blurring out the background, and stand right behind the camera kissing your partner. The image will surely become the talk of the masses.
9] Get on your Couches
Lying on the couch is an everyday thing, then; what is so unique about pictures on the couch? No matter how mundane lying on the couch sounds, we all know there's nothing more wholesome and comforting than snuggling up on the couch and watching movies while munching on snacks. The everyday routine, with Christmas highlights, makes the picture precious.
10] Twin your Clothes
Dress together! Stay together! Despite being different people we always urge to be identified with our partners. Put on the same night dresses for Christmas, wear the same socks, wear the same Hoodies. Twinning clothes with your partner never goes out of fashion. It just makes you fall more in love and is highly intimate. Pictures clicked in the same outfits turn out to be highly magnificent.
Conclusion
Today, everything exists to end in a photograph. Sometimes you just look at a place and know this is right where my perfect photo will be captured. But sometimes you have to scratch your head as to which background will offer you the best pictures. Not only is capturing moments important but editing them appropriately enhances them to a greater level. A new trend of sending video greetings is spreading like wildfire. It's easy to create and thrills the receiver. So make the best use of your pictures with celebrate that helps create beautiful video greetings. They heighten your already beautiful photographs.
So put on your Christmas props, your flannels, and your socks. Embellish your Christmas trees, bake those chocolate cookies, and warm yourselves up near the fireplace while you sip on wine, slurp up your coffee while it snows and most of all, be captured and cherish these beautiful moments with your partner for life!