With bridal showers no one wants to attend empty handed, but there's often a question of what the right gift should be. No need to fret, there are lots of bridal shower gift ideas that can get you on the right track. Your bride to be is about to start a new journey in her life, and you might want your present to stand apart from all the bridal shower gifts she'll be receiving.
While you might be tempted to give items that would be useful in her future home, bridal showers are more often about the bride herself. So, more personal gifts would be appreciated. We've put together a list of options of bridal gifts for every type of bride. A guide if you will that can help you decide what that perfect gift should be.
So, dive in and read on to discover unique and creative bridal shower gifts your bride to be is sure to enjoy.
Personalized Satin Robes
One of the best gifts for a bridal shower is a satin robe that can be personalized for the bride and used early on the wedding day during the bridal prep. A luxurious satin robe in her favorite color would be a most thoughtful gift.
Personalized Wedding Hanger
Another item any bride to be would require on our list of unique bridal shower gifts is a wedding hanger. Not just any hanger, but a uniquely customized bridal hanger personalized with the bride's initials or her name. Usually in an attractive color, the hanger can feature any type of decoration, from flowers to bows or metallic accents.
Customized Clutch
One of our favorite wedding shower gift ideas is a glamorous clutch. Consider a stylish acrylic or glittery metallic clutch with a contemporary or vintage design. The acrylic option can be monogrammed in the name or initials of your bride to be. A cute gift that can hold emergency items such as Kleenex, hand lotion, lip gloss, safety pins and more for the bride during the wedding.
Signature Cheese Platter
Another choice of good bridal shower gifts is a Charcuterie or cheese board. An elegant platter for entertaining guests that can easily become a family heirloom. Customizable, it can be made from glazed ceramic, wood or even gleaming metal. Stamp with the couple's initials to make it a truly thoughtful gift.
Sexy Chemise
Sexy nightwear will always be a perfect gift idea for a bridal shower. If you can find something flirtatious in lace or silk, it would make a great romantic gift. The seal of approval to her upcoming wedding, and something to wear on her honeymoon or a special night.
Personalized Makeup Bag
Makeup bags will always come in handy, and if you can get a stylish one personalized, then it would make a gorgeous bridal shower gift for a bride. A cute leather makeup bag in any of her favorite colors with her name or initials monogrammed to the side. A dainty clutch to hold toiletries for a short trip or makeup during the wedding.
Pajama Set
You can never have too many pajamas, and that's why this is one of the best wedding shower gifts, because you can't get it wrong. You can find something comfy and lightweight if the couple live in a tropical area, or snug and warm if they have long winters.
Lumbar Pillow
Pillows are another item you can never have enough of. And, a lumbar pillow makes a thoughtful gift. A plush piece of support that can be used on the bed or couch, it can also add style to the bride's living room or bedroom. Support her by literally providing support. A genius bridal shower gift idea for a bride.
A Cookbook
Does your bride to be enjoy cooking? If she does then a cookbook would not be out of place as a bridal shower gift. She would definitely appreciate a cookbook to add to her collection of fun and healthy recipes she could try with her partner.
Date Night Journal
Add some spice to a marriage with this genius wedding shower gift. A date night journal is versatile and interactive and can inspire a lot of healthy conversations and intimacy for a couple. It is one unique gift your bride is sure not to get from anyone else.
Stud Earrings
For something simple but sparkly, you could consider stud earrings. The best bridal shower gifts sometimes are simple jewellery. Something your bride-to-be can wear easily and often.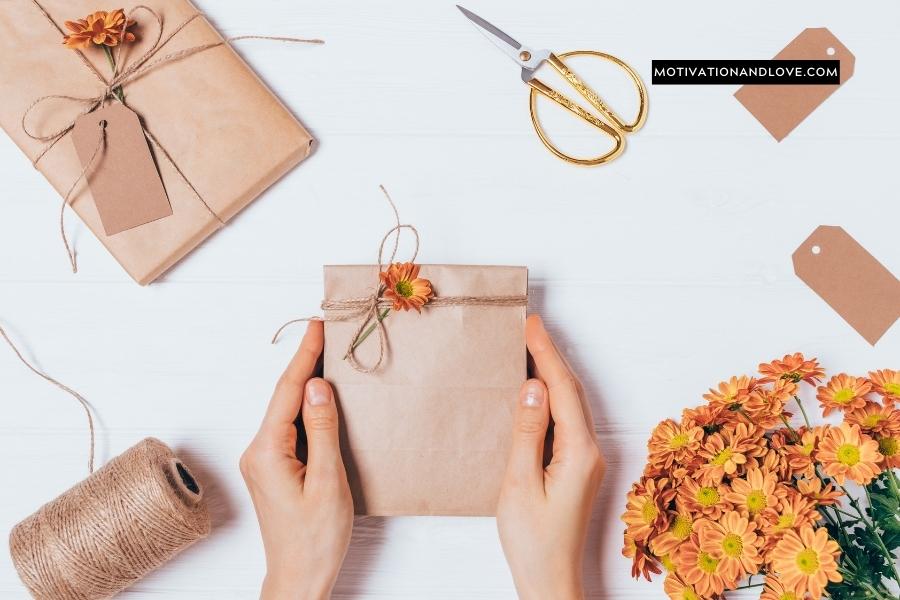 Beauty Sleep Set
Every woman and bride-to-be would appreciate a gift set that helps her sleep better at night. So, a sleep easy set with a silk sleep mask, pillowcase and bonnet could be the perfect present. Give the gift of comfortable and stress-free sleep before her big day.
Personalized Cutting Board
Another gift for a bride to be that loves to cook is a high-quality cutting board. Choose a good one for longevity and personalize it with the family name or initials engraved on the front or backside. Great for food preparation or even as a cheese board.
Pendant Necklace
The best wedding shower gifts will always be jewelry. A chic and simple pendant necklace could be the gift idea you're looking for. Something minimalist and timeless that can be worn with most anything.
Bridal Gift Box
If you're not sure what to get, then a bridal gift box with a variety of personalized bridal essentials could be your answer. Every bride to be would love this.
No need to fret looking for bridal shower gift ideas. If selecting something from the couple's registry would be faux pas, then this well curated list of genius ideas will do the trick.