Children are a blessing from GOD declares the psalmist and blessed is the man that fills his quiver with them. Yes, your quiver is also filled because of your son. I am sure you are also grateful to God for blessing you with such a son.
You have watched your son from the day he was born to this very day and that is why you need to take your time to write some heartwarming birthday wishes as he becomes 24. Let him see your heart through your words and sincere prayers of love especially on his birthday.
Your son is your tomorrow. He is the secret wish that became reality. Hence, do not hesitate to send these happy 24th birthday wishes for son that would fully express your heart, your desire, your love and your affections towards him.
[lwptoc]
Happy 24th Birthday son Wishes and Quotes
If I don't give you the best wishes on your big day, I wouldn't err you alone but myself. My dear son, every word I write is true and conveys a message of love and affection from me to you. Please accept them as you celebrate your 24th birthday. Happy birthday.
1. My son, my pride, my future. I wish that your tomorrow be better than mine and that you excel in this world. Happy 24th birthday.
2. The son of my youth, my strength for my tomorrow, my legacy when I am. Happy 24th birthday celebration.
3. I am wishing that you grow in strength and favour and be the man that I dream of every day. Happy 24th birthday.
4. Just yesterday, you were 7, today you are already 24, you have grown so fast. I see you and I become proud of myself. Happy 24th birthday.
5. The future holds great for you in her treasures. Keep soaring to a greater height. Happy 24th birthday.
6. May this new age of your life launch you in a better abode that you will find peace and joy. Happy 24th birthday, son.
7. Don't remember your failures of yesterday; don't let it weigh you down, keep pushing for today and tomorrow. I see all your efforts, you are doing awesome. Happy birthday at 24.
8. Don't let your today define the man you would be tomorrow, for the unseen blessing of tomorrow is greater than today, don't stop at today. Keep aiming higher. Happy birthday, my precious son.
9. You are bold, strong, charming. I love you and will always be my dear child. Happy 24th anniversary of birth.
10. Thank you for coming into my life son and bringing so much joy and peace therein. Thank you for all you do for your family. I wish you every good blessing in life today and forever. Happy birthday!
11. I am glad that I am part of your big day. Continue to grow in health and life, peace and joy and may heaven shower you with blessings in the name of JESUS CHRIST Amen.
12. My son, I wish that you grow older than 24 and experiences many other birthdays of your life. I wish you live long and enjoy the good things of life. Happy birthday, son.
13. You will always be my little boy. Grow into a great man and be an example for your peer to emulate. Cheers to 24!!!
14. Live your life to the fullness, harnessing every potential within you. Be the light that shines in the darkness and never stop winning. Happy 24!!!
15. I am proud of you my child, you have grown so fast and I can wait to celebrate other birthdays with you. I am happy that you are the son of my loins and I wish you a better tomorrow full of greatness and absence with tears. Peace at 24!!!
Happy 24th Birthday son with Images
It is your magnificent 24th birthday and I am super duper grateful to God for how far He has brought you since your first year on earth. I wish you all the good things in life as you celebrate your special day today. Happy birthday, son.
16. Happy birthday, my beloved son. Continue to grow and become an amazing man. Have a full filled day.
17. Thank you, son, for making our life radiate sunshine. Happy birthday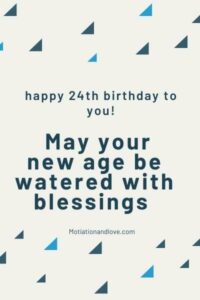 18. May this new age blow you into greatness. May you always find peace and joy. Happy new age
19. Let your life light like a candle that shines even in hidden places. May your light never go dim. Happy birthday son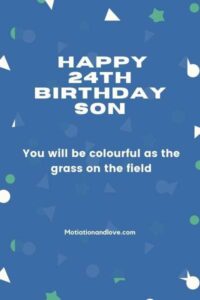 20. May your new age be watered with blessings so that you will be colourful as the grass on the field. Happy birthday.
21. Son, you are bold, courageous, full of strength and life. Keep ruling your world. Happy birthday, son.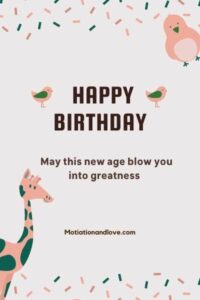 22. Wishing you a safe flight into this new season of your life. Happy 24th birthday
23. Happy 24th cake day. Today celebration will be in only good memories. Happy birthday.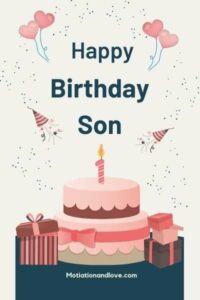 24. Be the star that never goes dim and illuminate the world around you. Happy birthday son !@ 24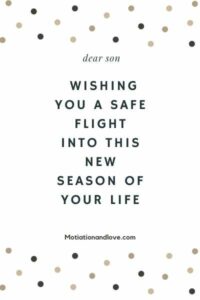 25. Many more cakes to cut as you celebrate this new age. Happy 24th birthday celebration.
Happy 24th Birthday from Mom
My baby, my pride and the child of my womb, words cannot express what my feelings and wishes are for you on this special occasion of your birth but I will express them in the finest words that interpret them. A mother's love for her child is incomparable. Happy 24th birthday, my dear son. Mom loves you.
26. Son, momma is happy and proud of you. Thank you for being the best gift to me as a mother. I am wishing you a happy birthday at 24.
27. You will always be my little baby no matter how old you are. I love you sincerely from my heart and I pray you will rise above life storm in JESUS NAME Amen.
28. Sweetheart, I write with tears in my heart and joy in my heart. Tears because of how far you have come in life and joy, for I see where you are going to. Keep excelling my child, happy birthday.
29. There isn't a day that goes by, without me thanking GOD for blessing me with a wonderful son, thank you for growing so well and impacting the same upbringing into your siblings. Many more birthday celebrations in the name of Jesus. Amen.
30. The joy of a mother is to see her child grow so well in all aspects of his life. Thank you for making me proud as a mother and may your sons do the same for you. Happy 24th birthday son.
31. My son, there is a soft spot in my heart that can't be described by words. Oh, my child, mummy loves you and prays every day for you and wishes you the best out of Life in JESUS name Amen.
32. My child, I wish and pray that the LORD will direct your footstep and keep your path from evil and danger in the mighty name of Jesus. Amen.
33. Just yesterday you were crawling and then took your first step and today you are already 24 whoa!!! My son, I am happy that I am part of every process of your life and I always will be. Happy 24th birthday, son.
34. Happy cake day to my child, my son, my baby. Dearie, mummy is always here for you both on the good days and worst days. On this good day which is your birthday have plenty of fun for mummy got you. Happy birthday at 24.
35. If I could bring all your wishes to pass I definitely will, I will go the extra mile just for you my son to ensure that your tomorrow is more pleasant than today. Happy birthday from your ever-green mum.
Happy 24th Birthday from Dad
I know you don't get to hear these words from me every day, but I have to express them to you on this day seeing that you are becoming a man. I pray that you will prosper beyond your imagination. Please have a happy 24th birthday celebration with love from dad.
36. Son, I as fondly call you, this day marks a new season in your life, cherish every gift life brings your way. Value life for it is precious, and make good use of your youthful age. Welcome to 24!!!
37. Happy birthday to my son, I am praying that you grow and become and better man and learn from all the good works of your father as you have always done. Happy birthday at 24.
38. Don't fret at the challenges life throw at you, fight them and become a winner. Life never smiles to quitters but the brave and bold. Happy 24th birthday.
39. Make use of every opportunity that comes your way, they will prepare you for the future you are working to be part of. Continue in strength even at 24. Happy birthday
40. You are growing in good man, I see you and I am proud of you. Continue in those paths for greatness lies therein. Happy birthday, son.
41. My child, the child of my youth. See how big you have grown not just in height but in mind and thought making me a proud father. I am proud of you son. Happy birthday, son.
42. See how far you have come in life, don't let anyone tell you that you can succeed at anything. Remember you are a winner and a great achiever. Continue even at 24.
43. I love you, son, I know I don't often say it as your mum does but I sincerely do and wish you the best out of life. Happy 24th birthday
44. May 24 not be the last age you will ever celebrate. I bless with a fatherly blessing today, grow, excel, prosper and live long in the name of Jesus Christ. Amen.
45. You are my legacy and my biggest investment in life. I want you to hear this word and entrap them within you for they are my truth. Happy birthday at 24
46. Happy birthday to you, happy birthday to you, happy birthday to youuuuuuuu, happy birthday to dear son. Oh, my son, I know my voice is cracky now I am old but I have always sung for you from your first birthday, so birthday 24 won't be an exception. Happy birthday, my child.
47. The paths of the righteous are ordered by God. Dear son, continue in the godly way of CHRIST that I taught you even at 24. Allow God to direct your path so your life won't be endangered. Happy birthday my 'G' as I fondly call you.
48. My dear son, always remember that daddy loves you and cares about you in so many ways you can never imagine. On this 24th day, I have sent you a parcel to celebrate with. Happy 24th birthday.
49. My boy, your mum and I are proud to have you as our son. Thank you for growing into such a wonderful and amazing young man. We are proud of you.
50. You are my light, don't let me down. Keep shinning every day and everywhere. Happy birthday, son. Whoa!!! You are 24 already. GOD bless your new age.
I am sure your son is waiting to hear juicy words from you as a mom or as a dad. These words have been crafted to melt your son's heart and get you close to him. Wish him the finest birthday celebration at 24 by choosing the right words from the list above. Go ahead and fill his day with joy and smiles.