You have watched your son grow from cradle to childhood, to adolescence and now, he's transcending into real adulthood, privileged to celebrate a grand year.
Turning 30 is a great landmark for him since he is gliding the more into the second phase of his life, and moving deeper into the stage of bearing huge responsibilities.
You are proud of this new attainment of his, no doubt. And you've got to consider ways to celebrate him in a way you've never done before.
Being the big man that he is now, you might have considered several options for his birthdays. Some birthday captions are just perfect for Instagram or other social platform photos. You may also want to consider funny ways to excite him more to the point of being teary.
But no matter what you decide, don't leave out sending him a birthday card with customized greetings or wishes with these happy 30th birthday son wishes and quotes compiled below.
I've got you covered. So, feel free to use as much as you like.
Happy 30th Birthday Wishes for My Son
While I consider the worth of this new transition for your 30th birthday, I feel to make you feel more worthy as a young and promising man with this adorable wish so your day can be more interesting. Happy birthday to you, my son.
1. Wow! Welcome to the 3rd floor. It's a special year for you really. And I know you're going to experience more wonders and greatness beyond the past year's experiences.
2. I have no cause to doubt you for whatever reason. And nothing will stop your manifestation as you climb higher. Happiest birthday to you.
3. Couldn't believe you are already 30. I often thought you were younger. That shows how fortune has smiled on you. This is just the beginning. Greater things await you, son.
4. I'm glad you're growing older and wiser as each year unfolds. And I know this grand year will launch you into the fulfilment of your destiny come what may.
5. The manner in which you've invested in yourself gladdens me dearly. And I can see the great result your life produces each year. Glad to have you as my son. Happy 30th anniversary to you.
6. You have proved yourself beyond reasonable doubt that you are capable of making your own decision that will lead you to a greater height. I believe so much in you and I know nothing will bring you down. Happy birthday!
7. All your past failures aren't seen any more for you have chosen the pathway that has paid off. Now, things are working out well, may you never go down. All the best in your new year and always. Happy birthday.
8. For every opportunity you got to make things right has turned out well for you. It's good to celebrate your success and amazing year today, son. Happy birthday, son.
9. No matter how grown and independent you may think you are, know that we will never leave you completely for we are always on the lookout for you. Happy birthday.
10. Even though you don't like to be told that you're ageing but this is the truth, you just have to accept and face it squarely. It's not easy being a man. Get ready to face life squarely.
11. I can say it wasn't easy bringing you up as a first child, but I can also attest that it was worthwhile seeing you've grown to be 30 today.
12. You are such a promising son. I can say the future is so bright for you. May your life not be cut short. Amen! Happy birthday.
13. A big congratulations to you, son. I know this is a meritorious achievement for you to have completed 30 amazing years of your life.
14. 30 solid years is no joke young man. It's really fun and beautiful seeing how colourful the day is. Here is an assurance that your life is a true beauty and so desirous.
15. I'd loved to have the good life and opportunities you have now. But I'm glad you're turning things around and making each day count. Live and enjoy life to the fullest, son.
Happy 30th Birthday Son Images
I have always longed to customise a big birthday frame filled with your images. This, I know, is commensurable to your personality and to wish your journey into the 30th step a splendid one. Happy birthday, son!
16. It's a new and bigger phase you're climbing no doubt. I can say the next few years is to make you start building a good family life and be a man of your own.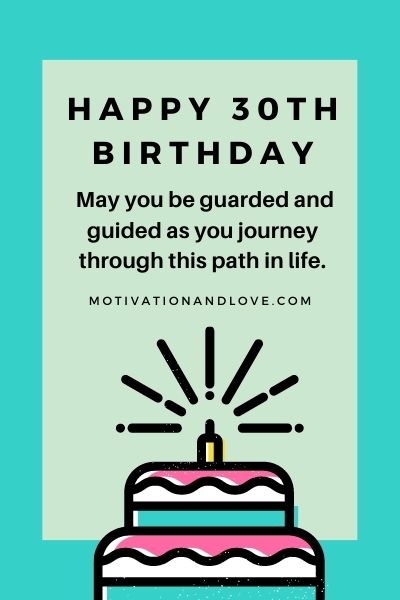 17. It's goodbye now to the life of the 20s. Welcome to the 30s, the moment to become more purposeful and terrific.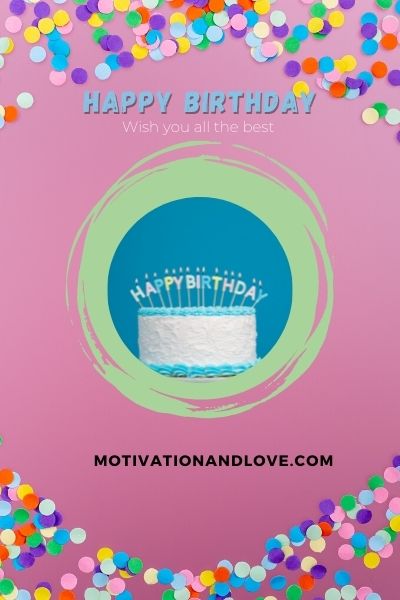 18. This is a new phase you've never threaded before in life. May you be guarded and guided as you journey through this path in life.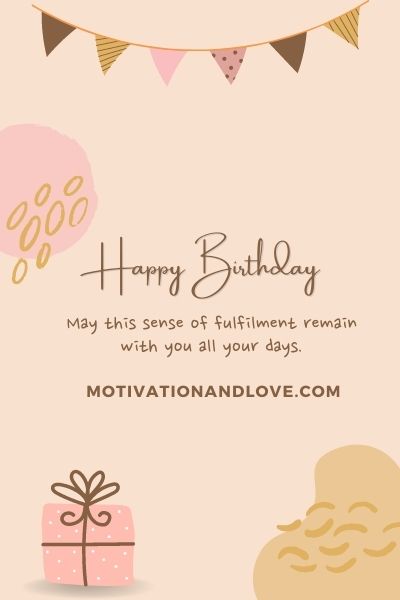 19. Son, how I see you live your life every day and the values you choose are proofs that your presence in the family is an exceptional one. Welcome to your elevated year.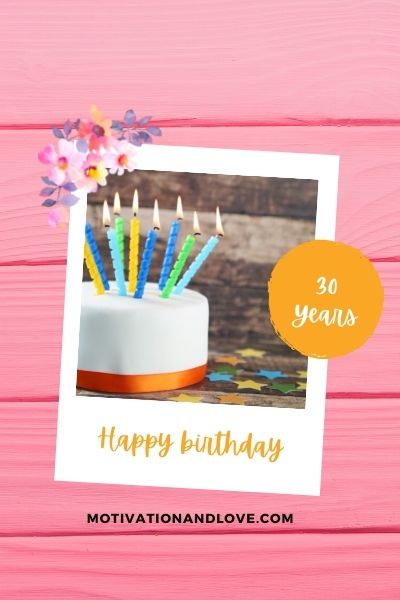 20. Happy birthday to a great son. As you choose to live a more exceptional life, so will your life count the more.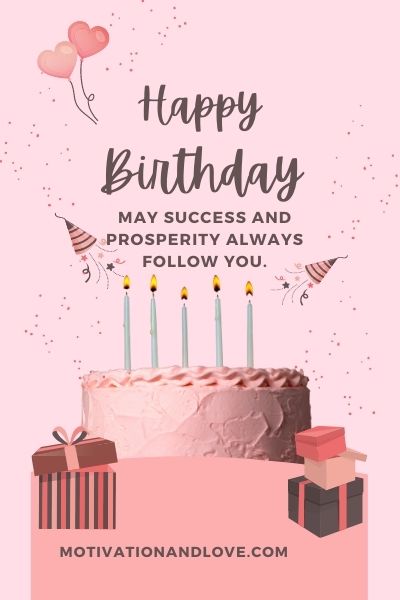 21. This is a new chapter opened to you. I trust you'll fill the pages with good dreams and great expectations of what you deeply desire in life.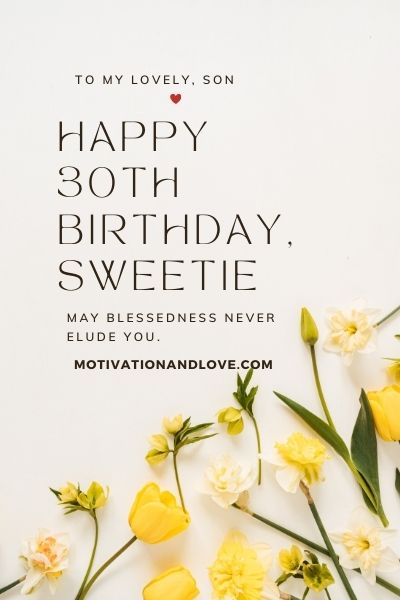 22. Now is the time to start enjoying the labour of the past years. This is never to make you relent. It's rather a reassurance of the better life God has in stock for you for the years ahead.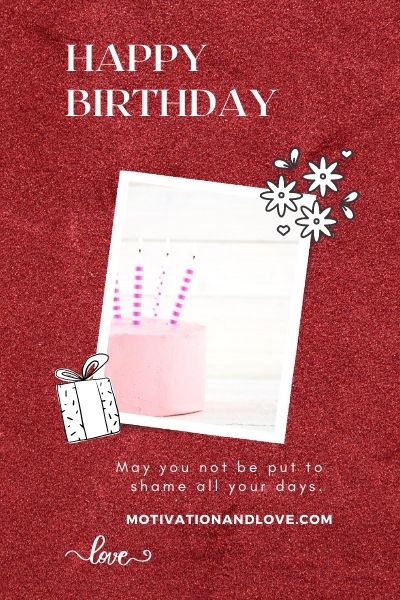 23. The higher you go, the more challenges to surmount. But God will pour His gracious power and love upon you to overcome every hurdle of life. Happy 30th.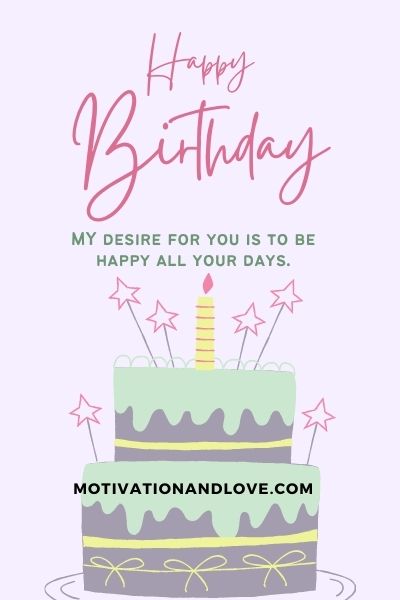 24. Welcome to floor 30. You're no more a child. You are now a man. You're no more single, you're now double. And very soon, your barn will be filled with bountiful harvest because you will be fruitful all your days.
25. 30 is terrific. 30 is tantalizing. 30 is thrilling. It's sure an important age for you. Everything good will come your way this great year.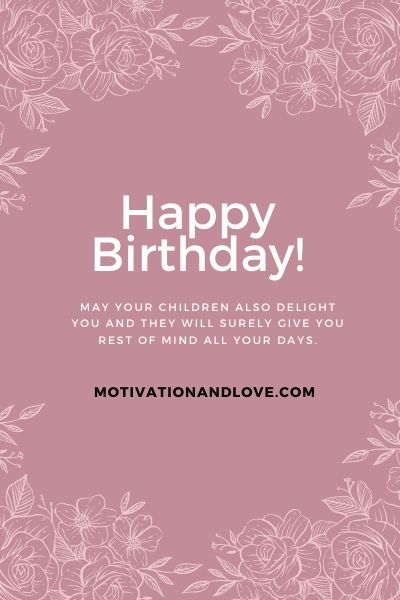 Happy 30th Birthday Wishes for Son from Mum
As your mum, I discovered some of the great assets in you and I'm glad to have been reaping the fruit of our labour through you. I can't but celebrate your big 30 with birthday wishes no matter how old you grow. This will make you stay and remain ever blessed, son. Happy birthday!
26 You are a man, but how you've taken to take so much after me your mother surprises me a great deal. May this sense of fulfilment remain with you all your days. Happy birthday sweet son.
27. You're everything any good mother will desire to have in a child. As you have gladdened us, may happiness not elude you all your days. Happy birthday.
28. So glad how God granted my desire of having a peaceful and promising son. Beyond the 30th age you attained today, so may your head be lifted higher and your limbs go farther in life.
29. You've been grounded by my seeming bickering and scolding. But I'm sure you can look back today to see how they all turned out to make you a better person. Don't forget to return this good lot with constant blessings of me. Happy birthday.
30. Well, you may have desired a better parent. But destiny has brought you to us. And nothing can change the fact that you are a great son and we are so proud of you. Happy 30th birthday.
31. My desire is to live a long life that I may experience and enjoy the fortune of my great son. This will sure bring me the joy of motherhood. Live long and prosper more son.
32. Son, no matter how much your dad and I fight each other, you are one good reason we're still together and united. Your presence means so much to us. We can't celebrate you less for your 30th birthday. Keep being amazing.
33. We sure have brought you up and given you a good legacy. We're proud of what you have given us in return by being your best. I love you son. Sweetest birthday.
34. A great guy you truly are. I can attest of you to any lady any day. You sure will have to thank me for being a good mother all along.
35. Because you turned out well in life, I'll like to take all the credit for being a super mum. The fact remains that you've got a blessed soul from your childhood days.
36. God's blessings will never leave nor forsake you today. Every single day of the year is blessed and sanctified for you my son. Blessed wishes.
37. As you have taken it upon yourself to always delight me, may your children also delight you and they will surely give you rest of mind all your days.
38. Each year, you bring me great joy. And no day passes without my heart blessing you for being my source of joy. Keep living God's life. Happy birthday.
39. So much focus is on you today because you've chosen to build a good name and solid career for yourself. The more enviable you become, the more blessed you are in this generation.
40. I decree upon you today son, the blessings of the Lord which surpasses all understanding will fall upon you. On no ground will you falter or fumble as you climb higher in life.
Happy 30th Birthday Wishes for Son from Dad
Dear son, I can't stop thanking God for your life. And I'm spurred to rain on you the blessing and wishes from a dad to his son for his 30th birthday. That your life will stay as beautiful and delightful as you've always been. Happy birthday!
41. As your father, I couldn't have been more proud of you than now that you're growing to become more like me in every respect. I can assure you of a fantastic year if you continue to be my good son.
42. I may not have been a perfect father, but you're growing each day to be a gentleman and an amiable son. Don't relent in doing good, my boy.
43. Congratulations son. Your life speaks so great volume so much that even I, your father, have not accomplished as much as you've done in your 30 years on earth. May you remain ever accomplished in life.
44. Everyone talks about how much you took after me. I can't but always feel proud of myself as a father because you turned out well and I'm so fulfilled.
45. How you're learning to control my conglomerate under little or no supervision is of great treasure to me. You're proving yourself strong and showing that so much can be trusted with you. Shine on, son.
46. You are proving every year to be the true son of your father. Glad I didn't give birth to a dummy who knows not his left from right.
47. I really cannot imagine having such a prospective son like you to hand over my business to. I love the way you're proving yourself to be true and awesome every day.
48. The blood that flows within us is so strong and cordial. I can attest to it that you're going places to manifest wonders for your world to see. Happy birthday dearest, son.
49. Glad you've got your own home before you clock 30. I pray you to find unending joy and unparalleled peace in your home and family.
50. Your dedication to work is enviable. Your focus and commitment to serving others are commendable. Your new year shall bring greater testimony for you.
Funny 30th Birthday Wishes for Son
I'm already thinking of the funny ways to blow up your mind for your 30th birthday. I'm sure this lovely wish will do great justice to bring lots of smiles to your face and excitement to your heart. May your birthday be eventful, son.
51. I've so much looked forward to this day and I'm glad it's finally here. The time has come to withdraw all the free benefits you've enjoyed for the past 29 years.
52. You've always wanted to be treated as an adult. Now the time has come to relieve you of all the preferential treatments you've devoured so far. I'm sure you like that as your birthday gift.
53. Hello big 30, your craving for independence has cost you a lovely eviction from the house you've always regarded as yours. Now is the time to start venting for yourself. Congratulations.
54. If turning 30 will make you so responsible, then I'd love you to keep celebrating the age over and over.
55. So, 30 is no joke you know. Now that you're officially an adult, I won't say I've given you up. But I will say start living as an adult that you truly are.
56. With your 30 years, you've given the announcement that you are no more a kid but an adult who is capable of taking full responsibility for yourself. Now that you're grown, enjoy life to the fullest.
57. If turning 30 hasn't made you realise you're old enough to be a man of your own, kindly be reminded that huge responsibilities have fallen on your shoulders henceforth.
58. Just like a will waiting to be read, I've patiently waited for this day to arrive. And now that it's here, it's time for you to start rewarding us for all the favour you've received all through the past years.
59. You grew and turned out well and we're grateful to God for that. But do well to pay us back by bringing home a beautiful and responsible lady. Happy 30th.
60. I strongly hope your good looks and charm won't make women fall cheaply for you before they realise you're not as young as you think.
61. We spent a bigger part of our lives loving and nurturing you into a full-grown man. We know your big and good years have come and you will live a fulfilled life all year round. Happy birthday sweet son.
62. No matter how much younger you wish to be, let me remind you that your 30 years is gliding towards old age and you will start speaking of your life experiences.
63. Whatever you choose to do from now on, I will take it as what 30 years demands of you, and you will be left with the consequences of your choice.
64. Now that you're 30, I'm sure you will now begin to make pleasant choices and wouldn't blame your immaturity on being too young.
65. A life of legacy begins at 30. If at all you're not thinking of that yet, now is the time to start thinking about what you will be remembered for here on earth.
Son's 30th Birthday Quotes
My darling son, I can't help thinking about the wonderful moments I've had with you as a parent. While I direct my thoughts into a cute birthday quote on my social platforms, it helps to tell how gracious you are for your 30th birthday.
66. You are one son so lovely and proud to have. For the new year that's come today, be good and stay happy. Congratulations to you.
67. The life I've seen you lived through the past years is a great one. I encourage you to always stay out of trouble and life will always go well for you. Happy birthday.
68. Your paths are directed by the Lord. Never will you lack anything good in life. Welcome to your year of abundance. Happy birthday.
69. The longer you live and we behold you as our son, the more our lives are illuminated with so much brightness and fulfilment. We are always proud of you, son. Happy birthday.
70. The king in you is waiting to manifest. I know this new year will launch you to your moments of coronation for you're destined for the throne. Blessed birthday I wish you, son.
71. My desire for you is to be happy all your days. Whatsoever you know will bring you joy and fulfilment is what I validate for you as well. Be happy son. Enjoy your new year.
72. No matter how old you grow or how far you move away from us, you cannot outgrow our love for you. May success and prosperity always follow you.
73. No parents will stop loving their son come what may. We're not apologetic about still treating you like a baby for you deserve all the best that life offers. Happy birthday.
74. You are our miracle child for we never imagine we could have you when we did. And now that you have lived to 30 full-blown years, our joy is limitless.
75. Every blessed day I place you in God's loving hands, to shield and protect you in all your ways. Much more now that you're 30th. It's a year of a turnaround in all ramifications.
Birthday Wishes for Son's 30th Birthday
This happy birthday wish is lovely and special for a son like you. It will make up for all the times we've looked forward to having a child of our own and to celebrate your 30th year in a grand style. Here's wishing you a great new year.
76. Out of the abundance of God's benevolence will you enjoy unlimited favour. As you clock 30, your breakthrough will surely manifest.
77. Your long-awaited desires will be granted from this new age and henceforth. Happy 30th anniversary to an amiable and promising young man like you.
78. You're so fortunate to have accomplished so much at such young age. So much we've seen you do and achieve makes your life a blessing. May blessedness never elude you. Happy birthday.
79. Because you're on the 3rd floor, here are three great things I pray for you today: a renewed zeal, more outstanding ideas, and a godly home. Happy birthday to you, darling son.
80. I'm happy at how you've been living independently and taking a larger responsibility for yourself since your early 20s. Now that you're 30, think of the next stage and delight us.
81. It's just too late for the devil to have a hold on you for your victory is secured and certain in God alone. Cheers to more years. Happy 30th.
82. You're just too loaded to be stranded. You can't come this far to be abandoned. God's got his eyes on your for you're His special son. Happy birthday.
83. Hearty cheers to 30 years full of life, adventures, opportunities and success. From this new year onward, your testimony is certain.
84. No matter how many times you've fallen, here's another opportunity to right your wrongs. Live every day of the new year like it counts and see wonders coming your way.
85. It's a special grace to witness a new decade. Thank God for you and for the gift of life. As you journey on, no battle will surmount you. Happy birthday.
86. No boundary, no limit of any form for you. Your 30th year shall be such that will bring amazing opportunities your way so much that your testimonies will be bountiful.
87. You're 30 and talented. You're unapologetically loaded and perfectly handcrafted. The years ahead is just to bring forth the manifestation of God upon your life.
88. I can't appreciate you enough, son for all the good years you've given us wonderful memories as a parent. But I know God will reward your labour of love and sacrifices for the family.
89. You brought so much difference to the family, for with you, life became meaningful and things began to take shape. Nothing will stop your rising this new year.
90. Son, I came to understand your unspoken language even with just a little spark from your eyes. You're such a boy that can be easily understood. Happy birthday to you.
Happy 30th Birthday Messages for Son
Here is to give thanks to God on your behalf for the good life you've attained so far. And this happy 30th birthday message will serve as great encouragement and set you up on a great journey for the years ahead. Happy birthday, son!
91. The more you bring pleasure to God, the more you shine. The more you make us happy, the more you're blessed. Happy birthday to a promising son.
92. I've always been your number one fan from day 1. You have all my love and unreserved support in all you do. Shine on, son. We love you. Happy 30th anniversary.
93. Hello son, today is your birthday. The more amazing you become, the more proud of you we are. Keep radiating God's glory.
94. Nothing lost at all, this 30th celebration is for your betterment and rising. I won't stop praying for you. Happiest birthday to you.
95. You've got a good heart and it's a great sign to a new height and great future for you. You have no idea how much I love and adore you, son. Happy birthday to you.
96. No matter how old you've grown or how knowledgeable you may think you are. Never stop learning. The more you learn the higher you go.
97. This year is so significant and you're no doubt a special being. Everlasting joy will be your portion. Happy birthday to you my boy.
98. With each passing day, my desire is to see you attain far more than us your parents. Keep rising with each new year. Happy 30th birthday.
99. We've always known what's best for you and you have trusted our counsels and admonitions with your life. May you not be put to shame all your days.
100. On this special day, we can't but congratulate ourselves for a great job of raising you into the champion you've become today. You are the joy of this moment, may you know peace all your days. Have a good one, son.
Now that you've got a long list of lovely happy 30th birthday son wishes and quotes, you'll surely create memories that will last him for a long time.
Feel free to use, share and remember to pass a comment. Thanks.