Prayer is the lifestyle of every believer. And never has it failed to set things right. With it, blessings become a thing of normalcy.
And because everyone loves to start a working week on a beautiful note, then prayer becomes the first step towards achieving that.
So, in order to get the blessings of God trailing you throughout this week, take any of these prayer weapons from the armoury right here and set yourself on that miracle path.
Now, watch the blessings of God follow you.
Go on and enjoy them!
Good Morning Blessings Quotes
Best good morning blessings quotes and wishes to wake up to.
1. I pray, this Monday shall be greatly significant for good in my life.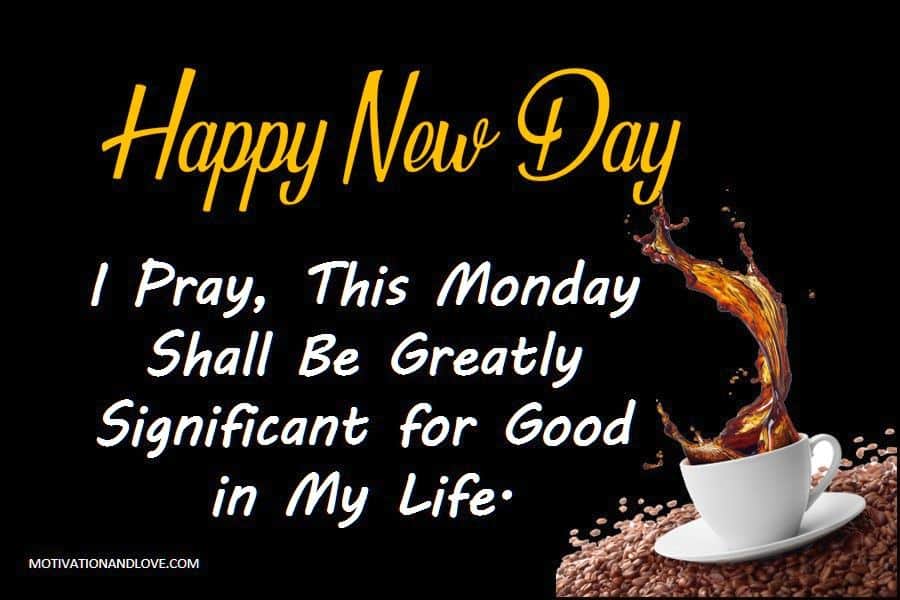 2. This week is my week. I will not suffer loss nor any form of casualty.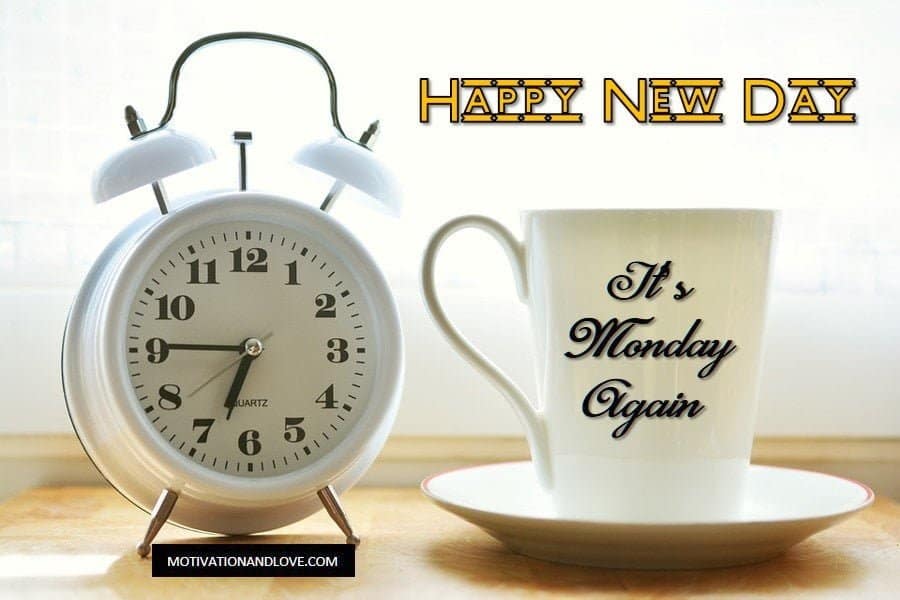 3. This Monday, as I seek for my daily bread, I shall be fully satisfied.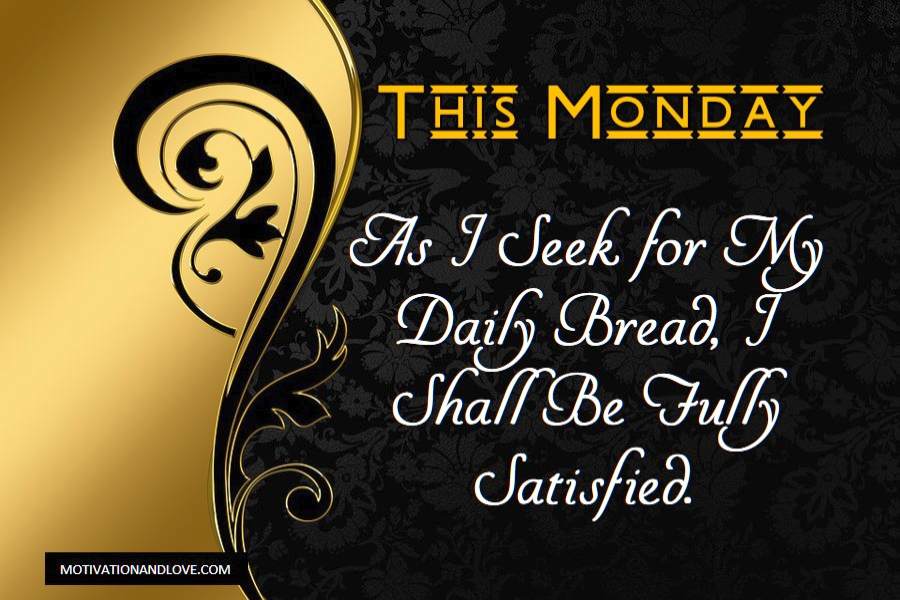 4. Throughout this week, my eyes will only behold the goodness of the Lord. I shall testify of His work.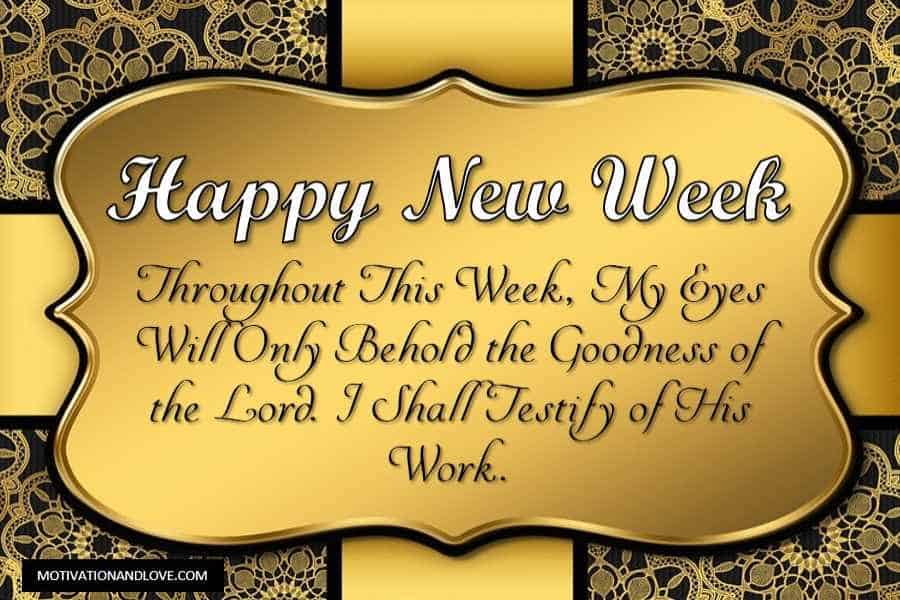 5. As I start this new working week, the hand of the Lord shall guide me aright and make every crooked road straight for me.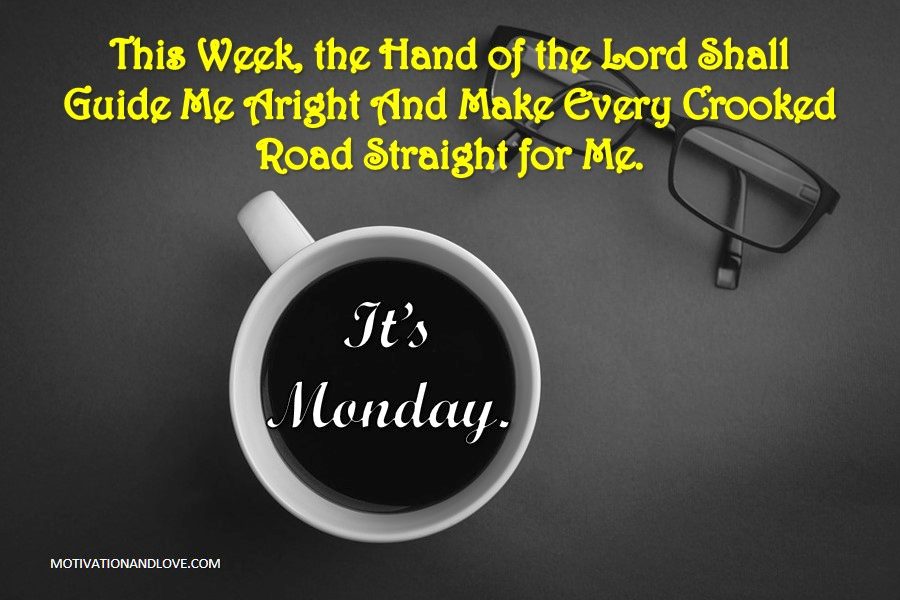 6. I shall not suffer victimization. I shall live above the plot of the devil and his cohorts.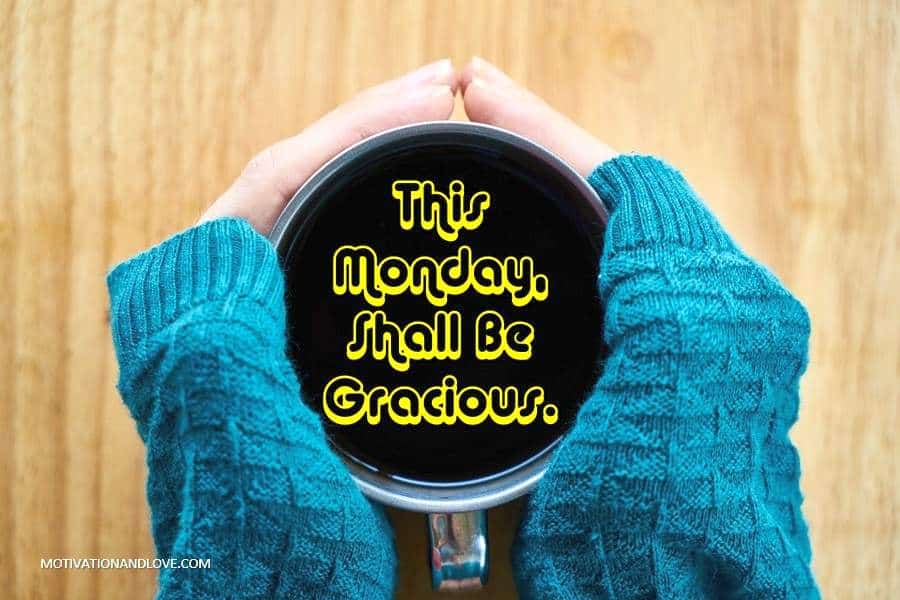 7. On this day, my health shall flourish. I shall not suffer mental illness and neither shall my physical strength fail me.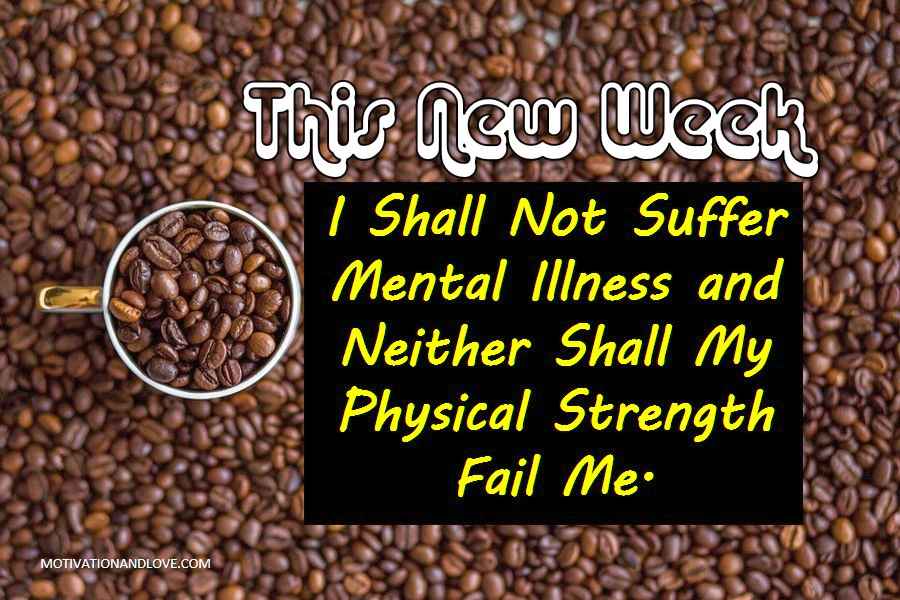 8. I shall have the strength to do all that I'm expected to do today. I shall not be weak and fragile.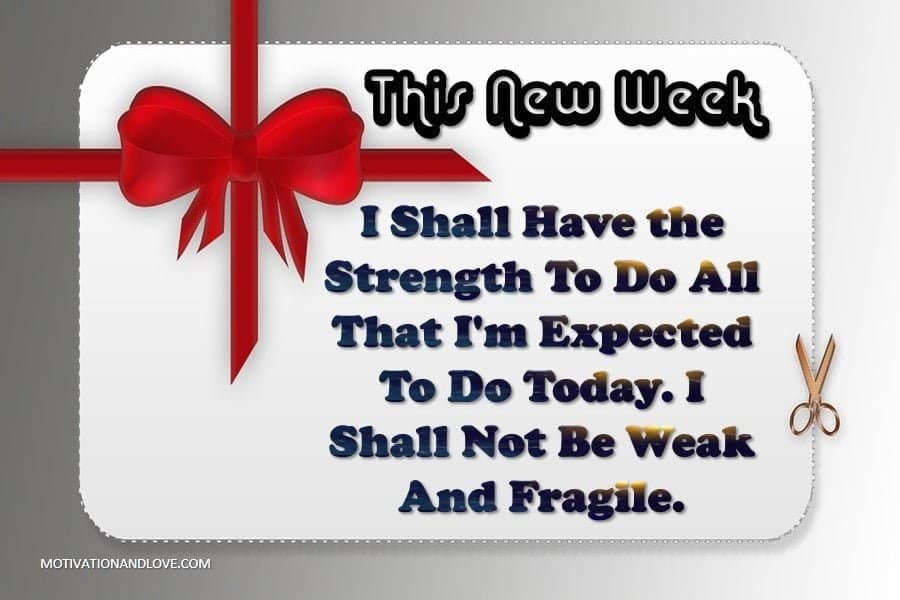 9. I am strong. I am more than a conqueror. The blessings of God are my portion.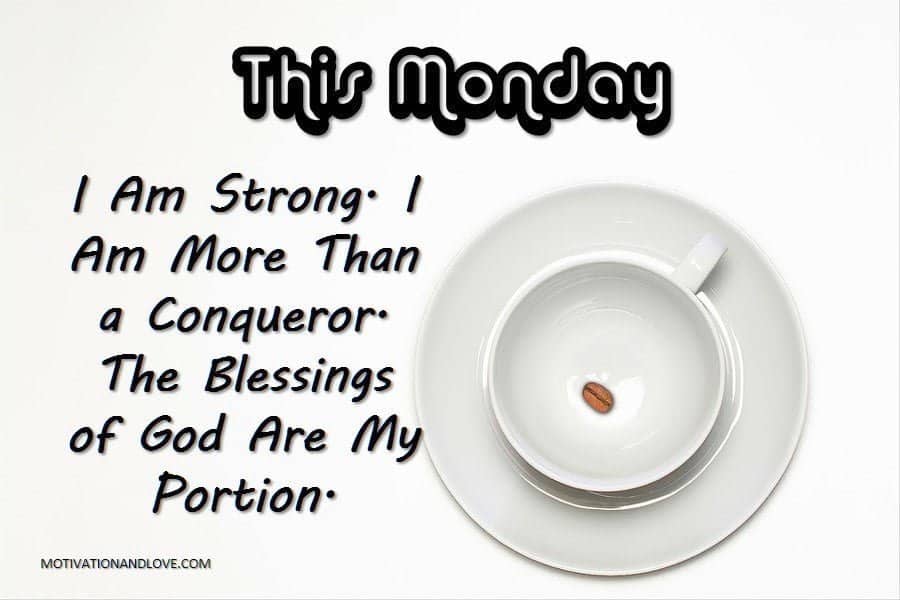 10. Throughout this week, I shall not live by the principles of the devil. The Lord shall guide my thoughts and control my decisions.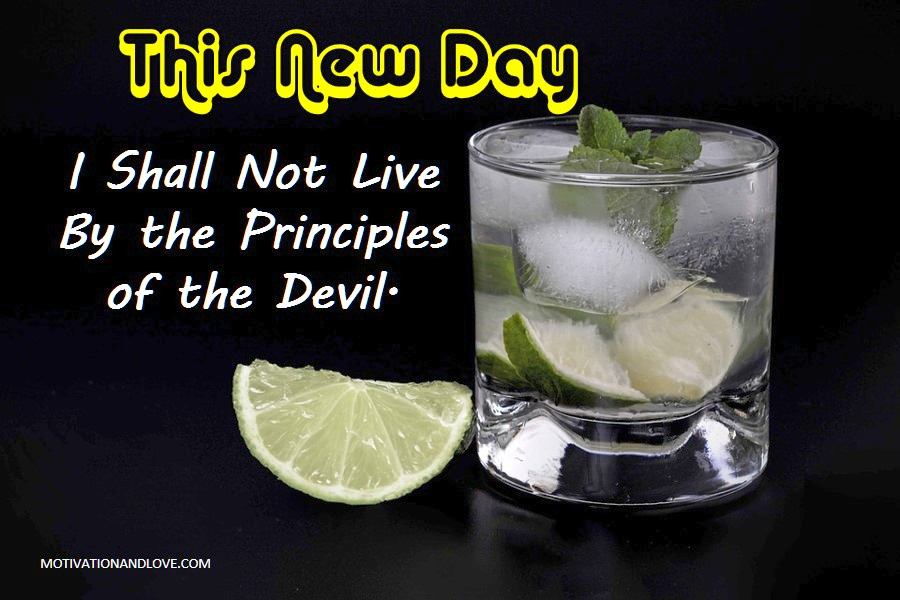 11. This day shall yield a great harvest. I shall not come back to my abode empty-handed.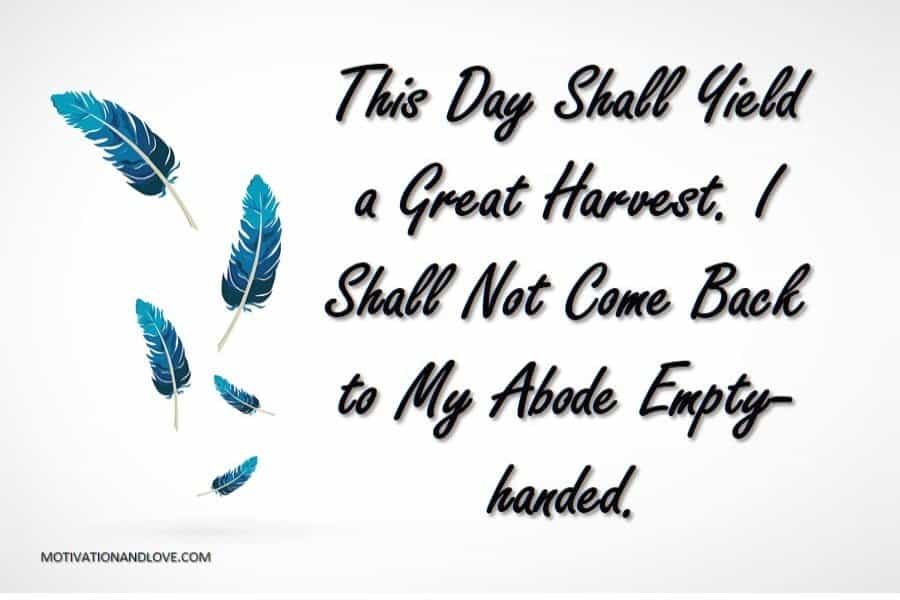 12. My expectation shall not be cut short. My desire shall be met to the capability of my heavenly Father.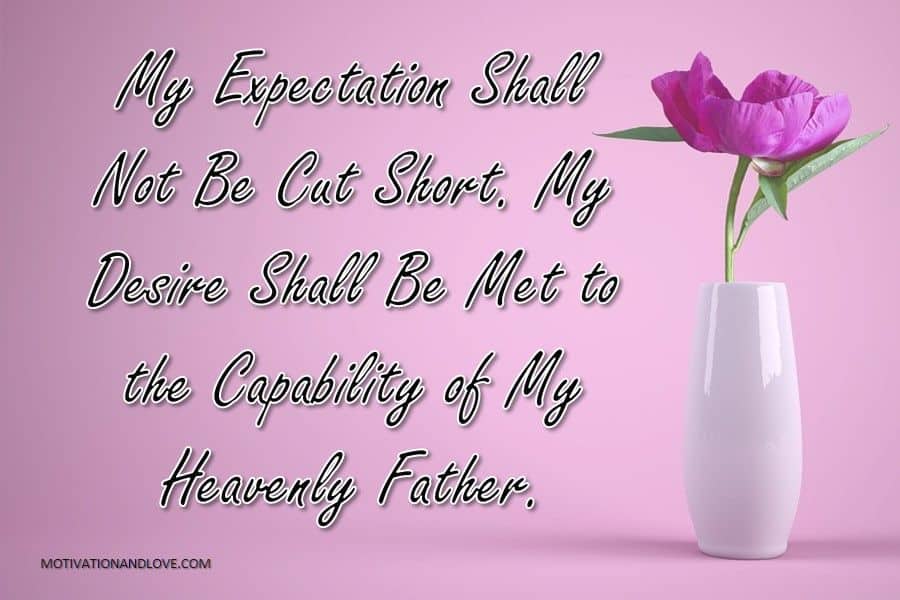 13. I will sing for joy. I will testify of His faithfulness. I will only have cause to glorify His name.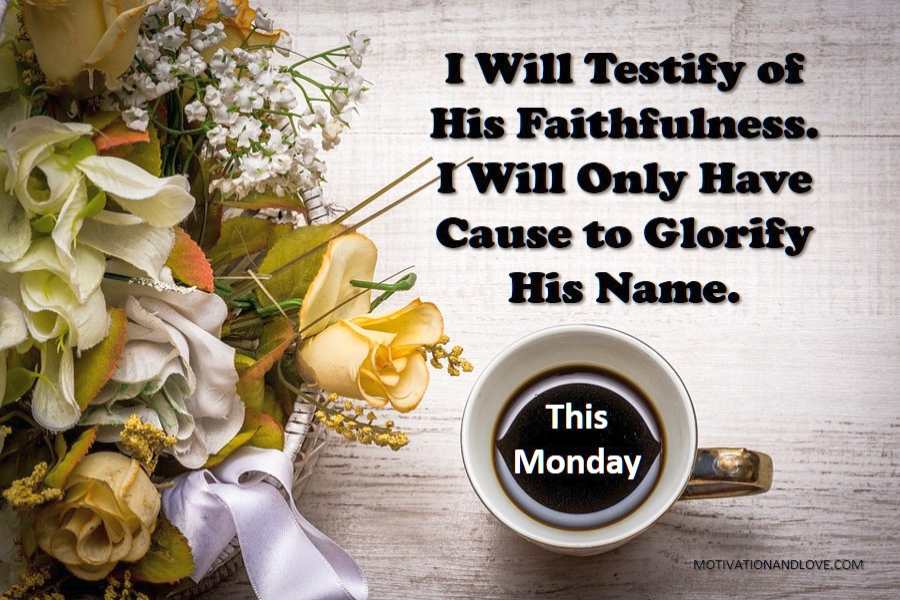 14. I cancel every agenda of the devil against my plan this Monday.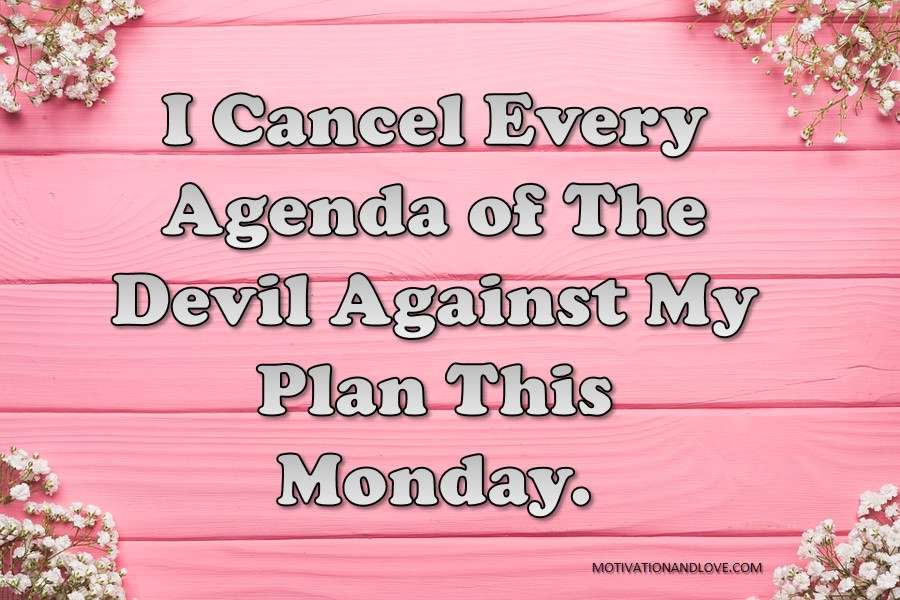 15. I refuse to be disappointed and rejected. I shall be called to be favoured and blessed.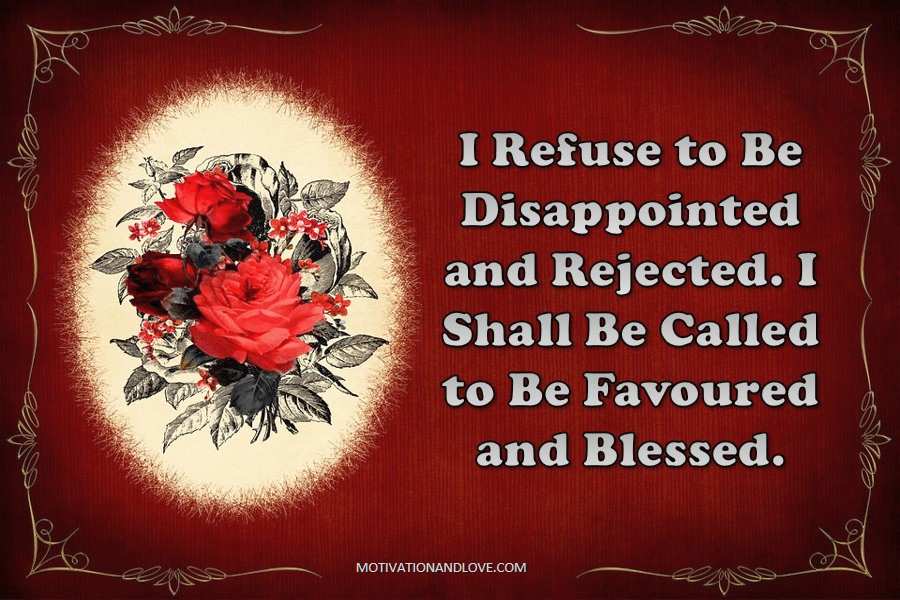 16. The world shall stand in awe of the Almighty God in my life. The power of God shall birth untold miracles in my life.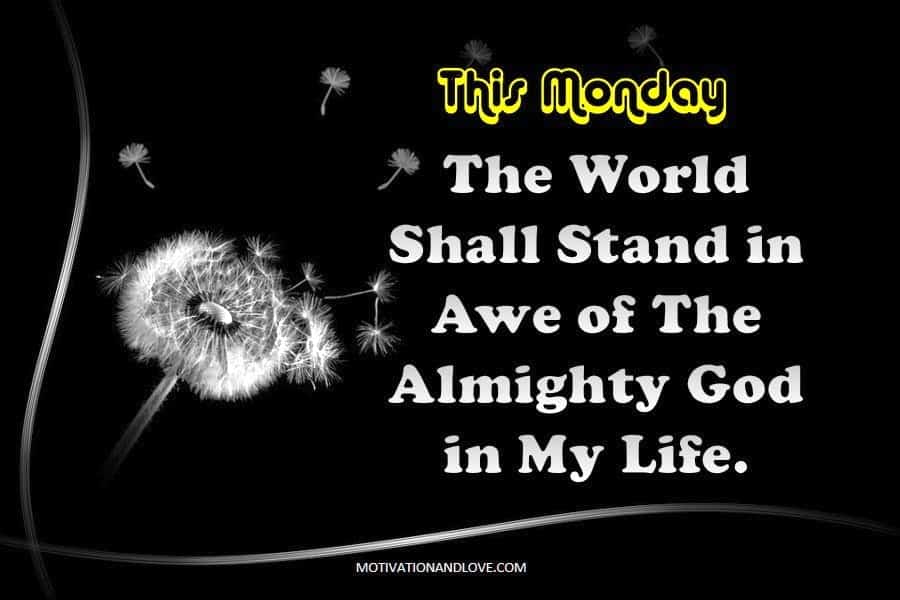 17. I stand up from poverty and I walk into blessings. There shall be abundance in my life.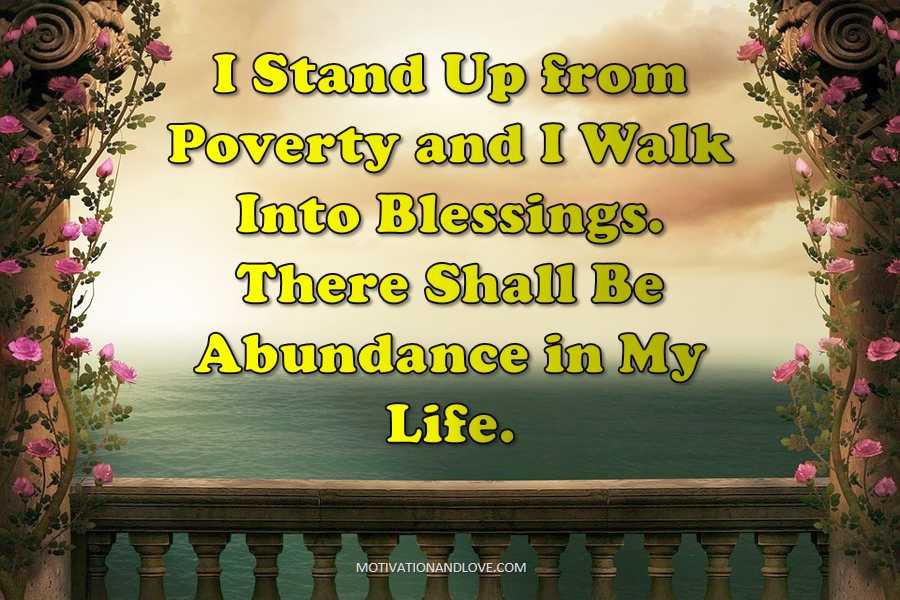 18. My eyes shall only see the goodness of God. Evil shall depart from my dwelling.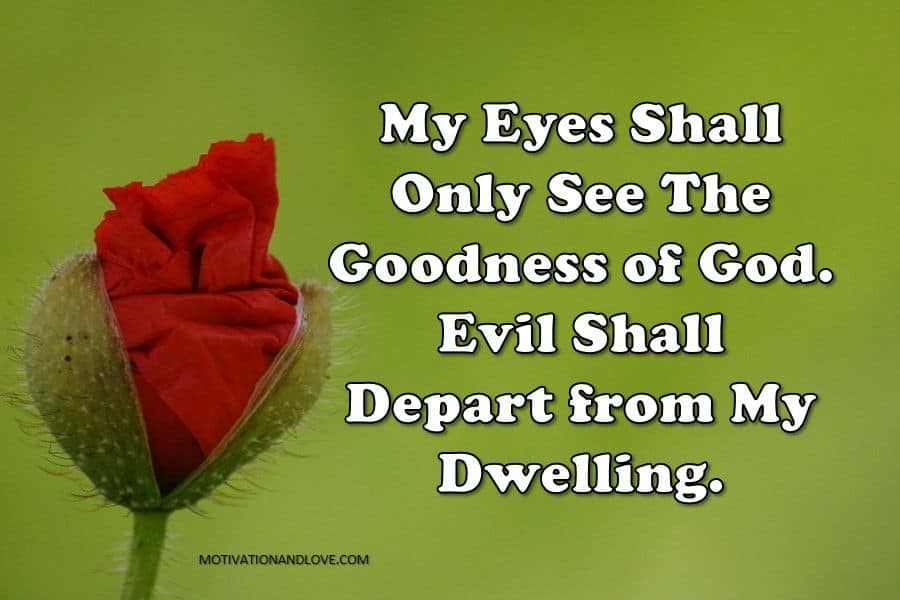 19. I shall not encounter depression, melancholy and dejection as I start this week. The joy of the Lord shall be evident in me throughout the week.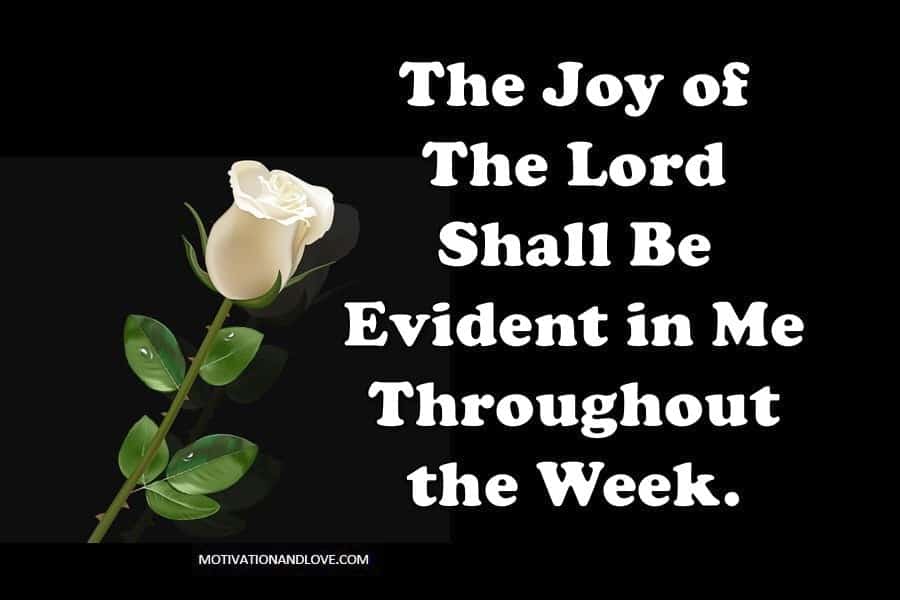 20. The blessings of God shall follow me. I shall Inherit the good of the land. Lack and want will never catch up with me.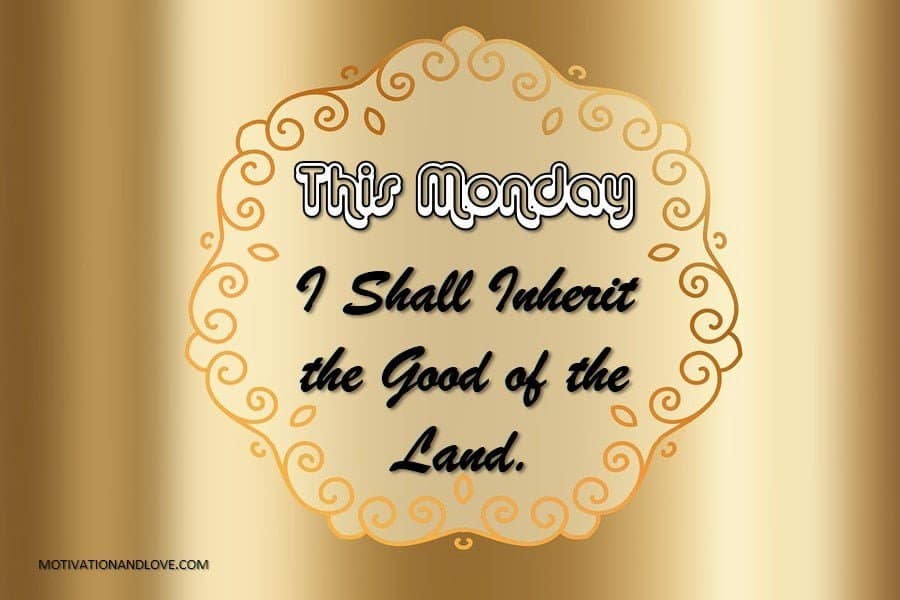 21. May this Monday yield good dividends for me. May my harvest be bountiful.
22. Throughout this week, only goodness and favour shall follow me. Negativity will have no grip over me.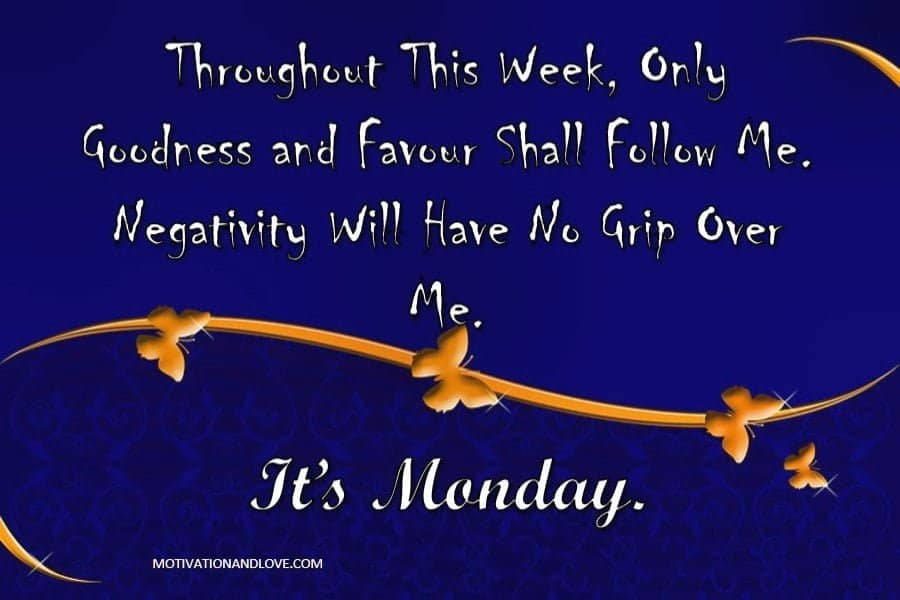 23. I shall be strong enough to accomplish my goals. I will be highly productive as I start this working week.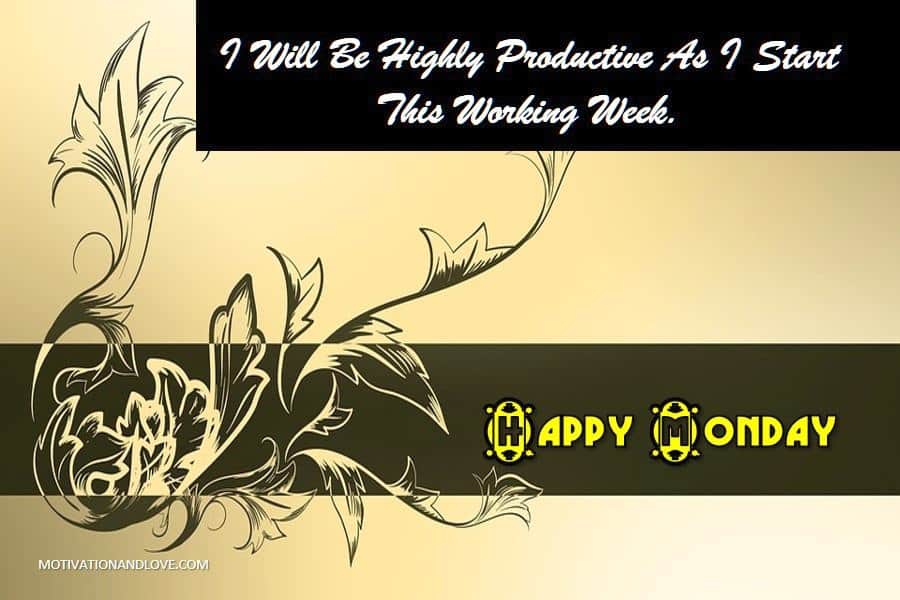 24. I shall not fall prey for the devil neither, shall I be ignorant of his devices. I shall be sensitive in the spirit.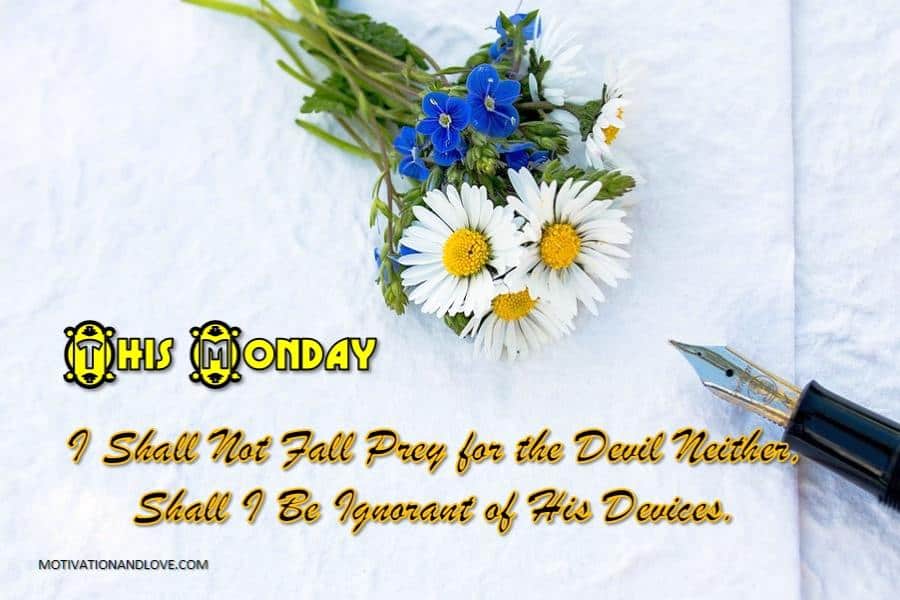 25. Oh God! Open great doors for me. Let me recognise my breakthrough when I see it.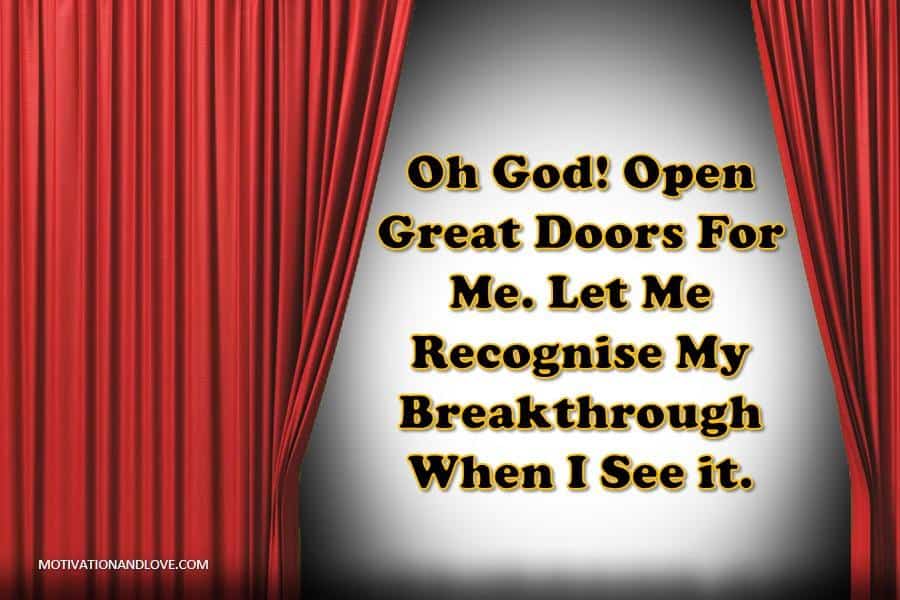 26. The angels of God shall guide me. I shall be blessed by an angel as I set out to work today.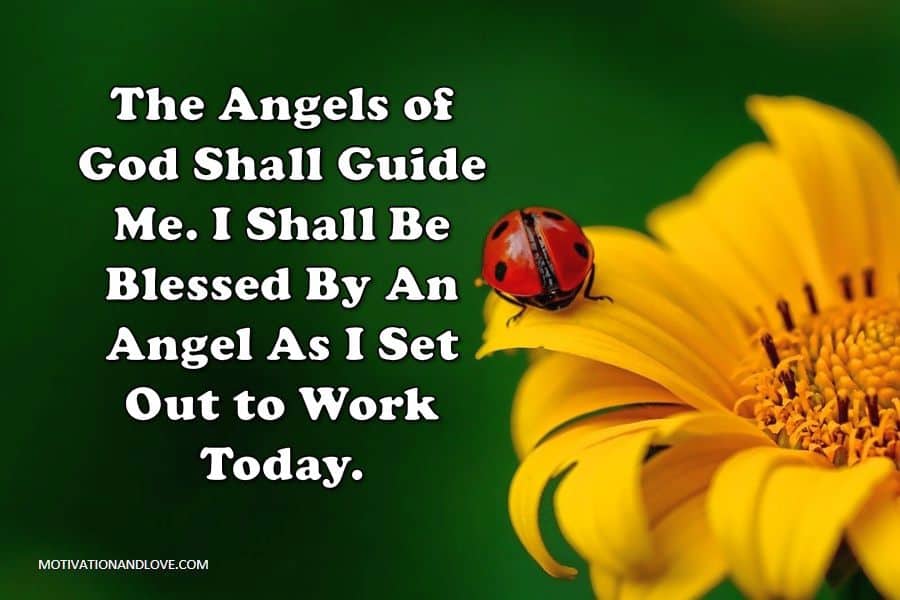 27. My name shall be mentioned for blessings. My benefactor shall locate me for favour.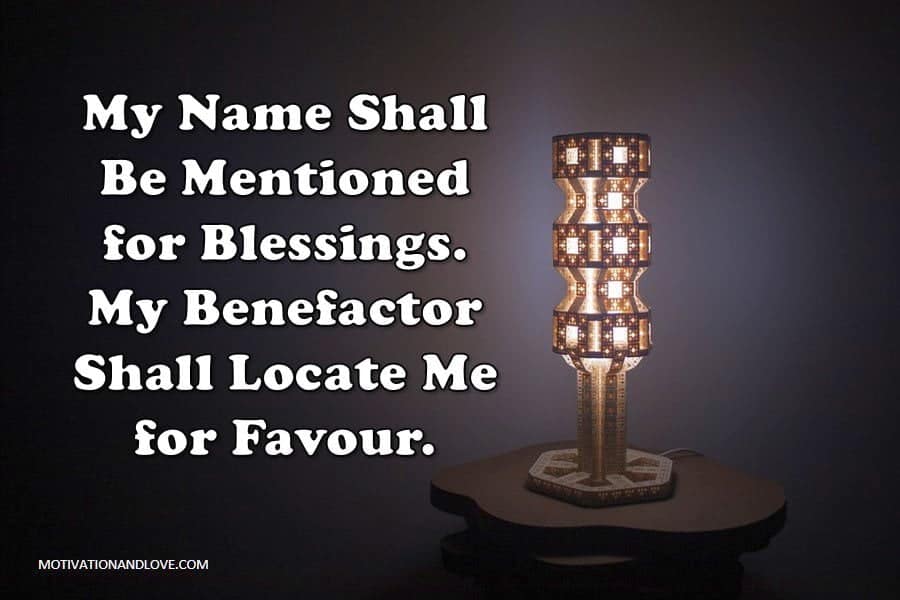 28. No matter where I may be, I shall be found by favour and for a breakthrough.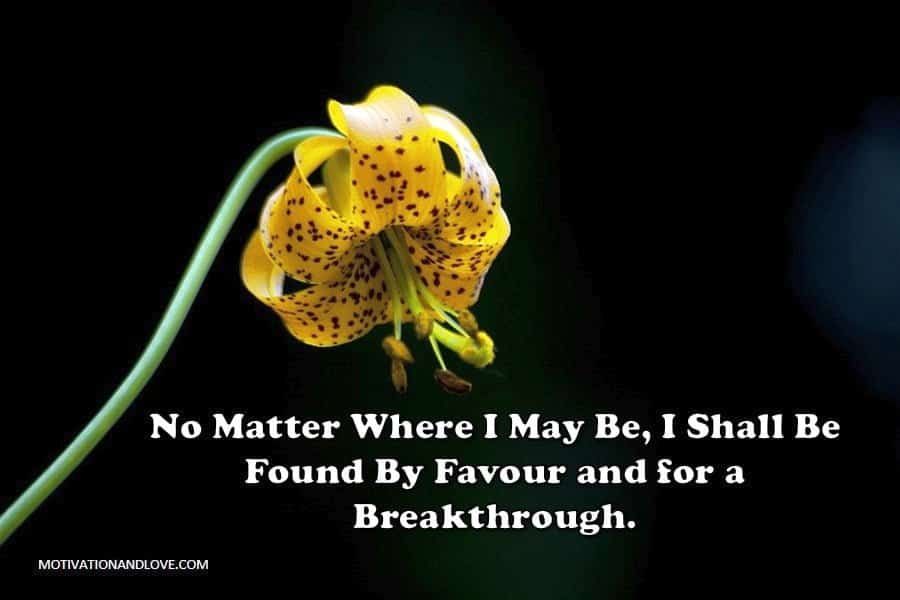 29. My health should not be tampered with by the devil. I shall live in good health for as long as I live.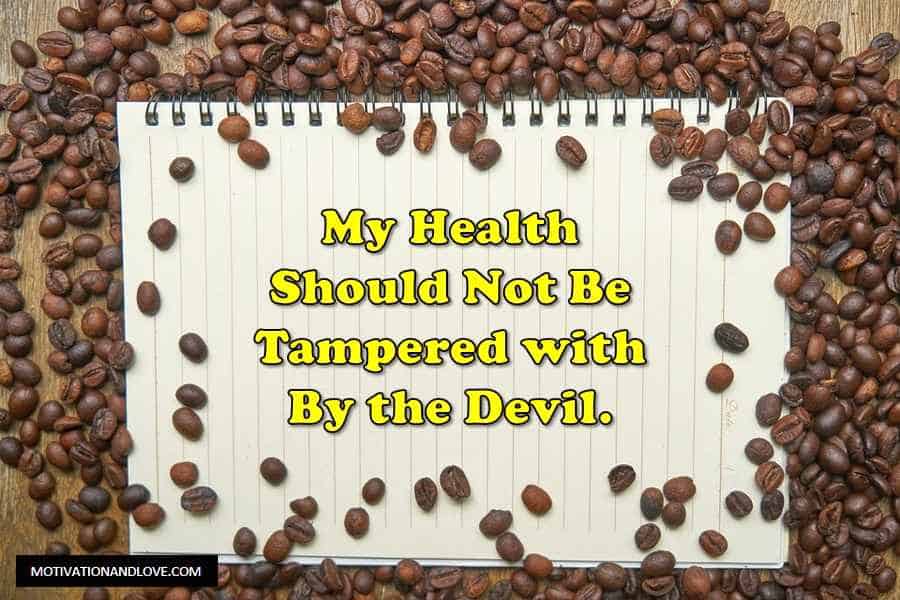 30. I shall not be caged by the devil and his cohorts. I am free from all his power.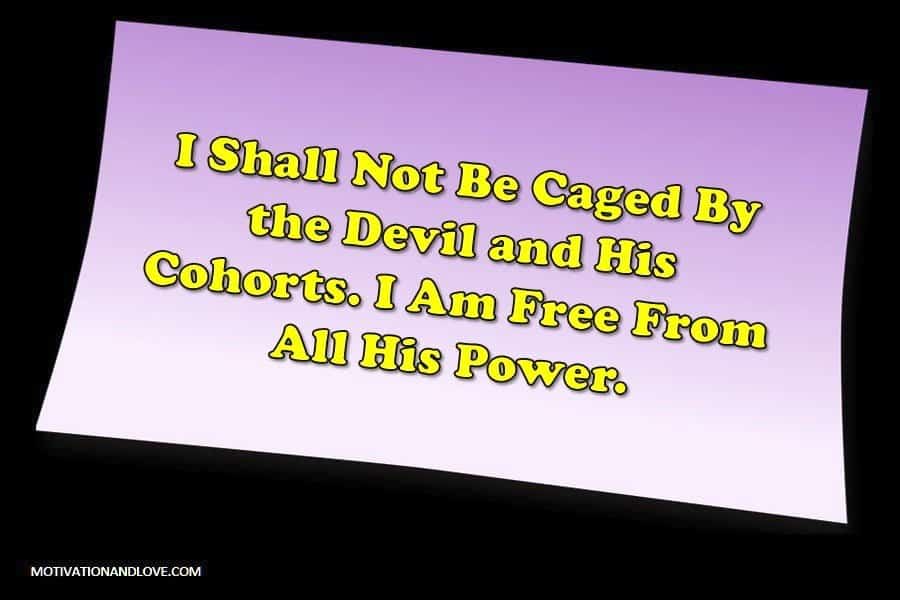 31. The heavens shall open upon me. Humans shall set out to bless me. I shall not experience hardship.
32. I shall not be weary. I shall be strong until my breakthrough comes.
33. On this Monday morning, I pray, bad news shall not be my portion. Only good news shall be heard in my abode.
34. Today, I shall catch up with whatever I've been chasing. The promises of God for my life shall be fulfilled.
35. Throughout this week, my going out and my coming in shall be protected. I shall not be found wanting.
36. My life is spared from casualties and calamities. I shall remain victorious for the rest of the week.
37. Every day of my life shall glorify my maker. I shall not be a tool in the hands of the devil.
38. This Monday, I shall live to praise the Lord. I shall have cause to glorify His name.
39. Everywhere I go, I shall be distinguished. The presence of God shall go with me.
40. You shall not know sorrow throughout this week. You shall have reasons to laugh for joy.
41. Whether the devil likes it or not, this Monday, you've been called to be celebrated and so shall it be.
42. You shall count your blessings this week. You shall be overwhelmed by the goodness of God.
43. You shall not be treated like a commoner. You're a royal child. You shall be seated upon high places.
44. Wherever you've been scorned and despised, you shall be loved and highly welcomed, cause the hand of God shall take away your reproach.
45. Your story shall change for good. The impossible shall be made possible in your life. The irreversible shall be reversed in your favour.
46. What the Lord has in store for you shall be released this Monday. Your destiny shall be greatly manifested.
47. The word of God shall come alive in your life today. Every seed of the word of God that has been sown in your life shall come to pass.
48. Every command of the devil is null and cancelled in your life. The voice of the devil is silenced over your destiny today.
49. The spirit of laziness and discouragement shall not possess you this Monday. You shall be lifted to do what you have to do to succeed.
50. Your blessings shall come from every corner of the world. Your wait is over; your breakthrough shall locate you.
51. Where you were disqualified, you shall be beckoned on as the appointed one. With grace, you shall occupy your rightful position.
52. Stagnancy shall be thwarted in your life. You're bound to move forward throughout this week.
53. Every abandoned project of yours shall be completed by the grace of God. You shall finish this race successfully.
54. The Lord will cause you to see hope where there is despair. The Lord will cause you to find opportunities in a place of nothingness.
55. When others are complaining, you shall have every reason to count your blessings.
56. Your cup shall overflow with the oil of grace. Your basket shall be full of harvest.
57. This Monday, you shall have a huge testimony that will change the cause of your life.
58. Your dreams shall begin to manifest. You shall not continue to dwell in darkness and obscurity.
59. Failure shall become a thing of the past in your life. You shall begin to succeed starting from this Monday.
60. You'll never fall. You'll stand tall and also stand out by the grace of God.
61. The kind of miracle you're yet to experience shall be launched in your life this Monday.
62. Wherever you've been hidden, you shall come out to shine to the glory of God.
63. You shall be blessed with miracles from heaven. The hand of God shall be seen in your life.
64. Whatever challenges I am facing shall become a thing of the past. Every challenge becomes a testimony this week.
65. Throughout this week, I shall not be made a laughing stock. I shall be celebrated by all.
66. You shall be separated from your biggest challenge. You shall surmount every obstacle that has been holding you down from progressing.
67. You shall begin to succeed where you've failed in time past. Failure shall not be your result again.
68. The voice of mockery shall be silenced over your life. Only the sound of laughter shall be heard in your bosom.
69. Your gift shall begin to pave way for you in high places. Your gift shall bless the world and therefrom, be a blessing unto you.
70. You shall trade sorrow for joy. You shall trade nothingness for bountifulness.
71. May your steps be ordered into great accomplishments this Monday. And for the rest of the week, may you sing the song of joy.
72. Come what may, you will take your place upon the throne.
73. No matter what lies ahead, victory is your portion.
74. Confusion will not overwhelm you and failure shall not be your reward.
75. May all the good you've done catch up with you today.
76. May your smile never fade away and your beauty never dies.
77. Starting from today, your days are blessed and beautified with the colours of hope and love.
78. Your work shall bring you to the centre of attraction where kings and queens shall be pleased with you.
79. Do not fret, your victory is sure and your battles have been won by the one who moulded you.
80. As long as you've got eyes to see, you shall see your desires come to pass upon your life.
81. There is a lifting up for you as you begin this new week.
82. Your way shall be prosperous and your works shall attract the favour of the high and mighty.
83. Instead of lack, you shall enjoy abundance. And for mourning, great joy shall be your portion.
84. The heavens shall come together to fight your course. And the earth shall rejoice in your victory.
85. May your heart be filled with peace that passes all understanding and your lips shall shout for joy.
86. No fire shall burn you and no river, no matter how deep shall drown you.
87. Your dreams shall come to life as you begin this new week with faith in your heart.
88. On this special day, every lie told against you shall be uncovered by the power of truth.
89. Your guardian angel shall guard you to your throne and to a place of peace.
90. May your blessings be delivered to you as soon as possible on this Monday.
91. I am blessed in the north, I am blessed in the south, and from the east and west shall come to my blessings.
92. Today is a brand new day and so is the happiness that shall flow from it.
93. The sea, the land and the air shall work in my favour.
94. Every night shall come with a testimony of God's faithfulness in the day.
95. My days shall not be cut short, and my glory shall not be delayed nor denied.
96. Evil shall not find me, and the hurricanes of sorrows shall not sweep me off my feet.
97. Regardless of how tough and insurmountable the battles may be, I shall conquer to the glory of my father in heaven.
98. I pronounce favour, happiness and peace upon my life and my mind.
99. Amongst my friends and my colleagues, I shall be distinguished and honoured.
100. The peace of God shall not elude my mind and my business.
101. The disasters of the day shall not be my portion. The wickedness of man shall not find me.
102. My wisdom, knowledge and understanding shall liberate the world from her sorrows.
103. I shall not lack what to give. And neither shall I be void of the blessings of men.
104. A good spouse is whom my feet shall find. And an honourable heart is whom my heart shall love.
105. Loneliness shall not find pleasure in my abode. I shall love and be loved from henceforth.
106. My helpers will find a means to locate me. My angels would fly quickly from the high heavens to bless me.
107. Good news shall be heard of me. In my abode shall the sounds of joy endure.
108. The works of my hands shall be desirable and blessed.
109. The needs of my heart shall be met by my heavenly Father. The longings of my soul shall come to pass in His will.
110. For my sake, the sea and the oceans shall part. For my prosperity, kingdoms shall come to agree.
111. Your now will birth pleasantness and your tomorrow shall remain greater than yesterday and today.
112. All ears shall hear of your greatness. All eyes shall behold your glory. Those around you shall celebrate with you.
113. Your mockers will swallow back their words and your proceeds of victory shall put them to shame.
114. The works of your hands shall call for continental celebration and your generation to come will eat of your labour.
115. Any man alive shall come to hear your story. You shall be the hope of the lowly.
116. You'll soar higher than the eagles in the sky. You'll shine brighter than the sun. And the stars shall number as your blessings.
117. Disappointment shall not raise its ugly head over your desires. And your wishes shall be met with gladness.
118. No matter who is involved in your matter, your victory is guaranteed and your pleasure is a must.
119. You shall smile till your cheeks get tired. You shall laugh till your ribs start to crack.
120. You shall meet your goals no matter how many the stumbling blocks may be.
121. Your projects shall end well. You shall lose counts of your achievements.
122. The fruits of your womb shall be great and shall be a great blessing upon the inhabitants of the earth.
123. The ones you love shall live to celebrate with you in the promised land. Longevity shall be your portion and your loved ones.
124. Your parents shall live long to share in your prosperity. Your siblings shall be alive to share in your joy.
125. The book of remembrance shall be opened in heaven for your good.
126. Men shall hearken to your voice. You shall be an agent of change.
127. Your happiness shall not go away with the wind and confusion shall not betide you.
128. Love will find you and peace will come with it.
129. Your health is blessed and peace shall steam from your heart.
130. The brightness of the sun shall be in your favour and the darkness of the night shall emphasize your stars.
131. Sickness and infirmity shall not be your portion. Your resources shall be invested on profitable things.
132. Against all odds, you shall prove your enemies wrong.
133. I shall not beg for the good things of life. With ease, I shall enjoy the favour of men.
134. I shall gain the approval of those who matter in my work and my prosperity.
135. Surely, I shall inherit the gains of hard work. No one will wear my crown but me.
136. I shall not finish badly at all. My accomplishments shall speak for me.
137. On my day of joy, I shall surely take the lead. The enemies shall not put me away.
138. My happiness and prosperity shall be the priority of my heavenly Father.
139. My words shall be music in the ears of those who hear me and my actions shall obtain the favour of men.
140. My desires at night shall show up during the day.
141. The prosperity of my works in the daytime shall be sufficient to meet my needs in the eventide.
142. Showers of blessings shall rain upon me in this time for it is my season of affluence.
143. Your going out and coming in shall gain the favour of men.
144. Your success shall meet you healthy and sound.
145. From now on, the heavens shall make sure of your success.
146. Nothing shall bring sorrowful tears to your pillow.
147. I shall see the goodness of God upon my business. And my home shall be an evidence of His amazing grace.
148. Your sleep shall be peaceful and sound.
149. My story shall inspire and motivate those who hear it.
150. The doors of gladness shall not be shut against me. And the gates of prosperity shall open unto me.
151. You're appointed for greatness. Your dreams shall not be messed up. Your life shall follow the plans of God.
152. Your gift and skill shall begin to shine. The world shall welcome your gift and skill.
153. This Monday, your debtors shall locate and settle you. You shall not be denied your blessings.
154. Your life shall turn around for good this Monday. Throughout the week, you shall move from glory to glory.
155. Your life shall encounter divine intervention today. You shall not be stranded in life.
Written By Taiye Christiana.