Words have a way of penetrating deep into the heart of a person and give solace. This may seem like an easy way to express deep feelings but to someone special to you, it's an excellent gift. As communication, commitment and love are key to a long-lasting marriage, so are some heartwarming birthday wishes for loved ones who is celebrating their birthday.
It's your husband's 70th birthday, right? you should give your husband some emotional words as he celebrates his big 70. Be the peace and happiness he needs by sending some unique and refreshing husband birthday quotes on his birthday. Don't settle for less! A good husband deserves the best birthday wishes which can unlock happiness and joy on his special day.
Look no further! Each of these happy 70th birthday husband quotes and wishes is written to acknowledge your wonderful husband and make him happy.
Happy 70th Birthday Messages to My Husband
My dear husband, happy 70th birthday to you. Thank you for taking the bold step to strengthen our motto which is inseparability. Your journey into a new age had sent a message to our family to keep believing in you. Keep fighting! We believe in you!
1. Your 70th birthday celebration is enough reason to put aside your worries and fears. You have lived long enough to see the goodness in this world and I'm glad to have been part of your journey in this lifetime. Your family loves you and wishes you all the best. Happy Birthday!
2. I feel blessed to have you with me. Your 70th birthday celebration is a source of happiness to me. I feel inspired to live out my life in goodness for through this way, I will live with you to celebrate this day again next year. Happy Birthday, my sweetheart! You and I will celebrate your special day again.
3. You have dedicated most of your life to our marriage and have kept the furnace of our love burning. You alone deserve all the accolades. Happy birthday to you! The fruits of your labour in all the years shall never be in vain! Best wishes!
4. Today is your 70th year of bringing joy to this world and it's worth every celebration. I've seen you plant happiness into the lives of those around you and I've watched you help the world spread kindness. You are a blessing indeed. Happy Birthday! Keep on spreading the love, your wife loves and cherishes you.
5. Oh, honey! I'm speechless right now! I'm lost for words and I'm overwhelmed. It's your 70th birthday! This makes me so happy and joyous. There are lots of things I would love to say but honey, when it's summed up it all boils down to the fact that I love and wish you the best. Happy Birthday!
6. As you turn 70, my wish for you is that you find peace of mind in all that you do and that you receive all of your heart's desires. Happy birthday! I love you so much and I feel like the best isn't enough for you. Nevertheless, I wish you all that you have always wanted for yourself.
7. Oh! Seventy years of age isn't enough to keep me from wanting more of you. I want more of you, I need more of you! I hope the universe grants you the gift of long life. Happy birthday! Sending you kisses and hugs.
8. It's heartwarming to still see you looking as beautiful as ever. You are an inspiration to many of your age. Happy birthday! I hope your beautiful smile never fades away with age and I wish that you have a reason to always smile. Love you, hubby!
9. You have always been a perfect being and you will inevitably reach the age of 100. You still have a long way to go on earth before you clock 100, so I wish you good health that'll sustain you to that age. The best is yet to come for you, dear. So, take your time to enjoy life.
10. We have been couples for the longest of time and I've seen you at both your best and worst, but even at that, I can't seem to get enough of you. Happy Birthday, darling! You have been a blessing to me and I wish you all the best as you live the rest of your life.
11. To someone who's an angel and more, happy birthday! Wishing you a longer life with happiness in abundance. It's good to have you clock 70 because you deserve the best things in the world! Hoping to celebrate with you next year. Love you!
12. The past years have made me understand that time will never tear us apart. Thank you for choosing to spend your eternity with me. Thank you for your commitment to our marriage. As you celebrate your birthday and as we age together, may you be filled with internal happiness that will be expressed externally. Happy Birthday!
13. My dear husband, you have reached yet another milestone in your life and I can't begin to express how happy I am for you. I'm grateful to you for all the wonderful memories you helped me create, thank you for building me into a strong and courageous woman. Happy Birthday! Best wishes!
14. Happy 70th birthday! You have come a long way in this journey called life, and I'm glad to have been a part of more than half the journey. I'm glad to see your goodness being paid back to you in form of long life, and I hope that you stay with me on earth for as long as we can.
What to Write in a 70th Birthday Card for Husband
I know what to write in your 70th birthday card but I'm afraid if I start writing, there'll be no stopping for me. You are as handsome as the day I first met you and I'm glad that my eternity is with you. Happy Birthday to you, thank you for being my husband.
15. Not many have sailed on the ship that takes one to the age of 70. You are doing good for yourself and I'm so proud of you. Many will hear about your birthday and think "oh, he's getting old!" But I think you are only on your way to perfection. Happy Birthday, sweetheart!
16. Turning 70 is wonderful! But not everyone can deal with what comes with the age of 70. You are a strong man, and there's nothing that'll ever take you down. Not even old age! Keep the energy flowing! Raise your morale! This new age of yours will be fun.
17. 70 years ago, an angel descended to the world in a human form. Of all of the great people on earth, he chose me to shower his endless love on. Today signifies the day he was born, today signifies the day my happiness was born. Happy Birthday, my angel! May you soar higher in age.
18. Happy birthday to the world's best husband. I love you with all of my heart and I'm grateful for having you in my life. Thank you for making me a woman who's filled with love and happiness. I promise to make the best out of our old age. Happy 70th birthday celebration!
19. It's 7 decades of your life already! Today will bring a lot of memories to you. There'll be times when you'll break down in tears due to the memories of missing a person, and they'll be times when you'll smile. Altogether, I want you to know that I'll always be here for you as your wife. Happy Birthday!
20. It's another decade of your life, my dear husband! At 70, you have made the world a much better place for your children and me to live in. Your daughters love you, your sons are grateful to you for being their solid rock and support. And I appreciate your existence. Happy Birthday, love!
21. The sun is bright and beautiful but it eventually sets for the moon to take its place in the dark clouds. Darling, your age of being bright and youthful is gone! And it's time to embrace this lovely version of you that's even more beautiful. You are 70 years! Embrace the glory and honour that comes with it. Happy Birthday!
22. Someone asked me who my best friend was, and I told them he was a man who was soon approaching 70 years of age. He's a man who has given his all to the world, his wife, and his children. He's a man whom I'll always love. Happy Birthday!
23. You have made a lot of decisions and sacrifices that amounted to nothing! As you celebrate your 70 years of living, my wish for you is that you live to enjoy every fruit of your labour. May the seed of love and kindness which you planted in your early life be reaped by you in your old age. Happy Birthday!
24. Happy Birthday to an extremely special person as he turns 70 today! I celebrate your hard work! I celebrate your victory over life's challenges and I celebrate you who's the best superhero the world will ever know. May every wish you make as you grow older be fulfilled.
25. Dear faithful husband, whenever I look back on our years of marriage, I become amazed and shocked at all of the challenges we went through. Your persistence and thoughtfulness kept us going, so all I want to say is that I wish you the strengths and persistence to keep thriving for 100 years. Happy 70th birthday!
26. Honey! You are a 70-year-old man with a face full of wrinkles and an aching tooth but I still love you. When I look at you, I see the beauty of old age. I'm glad that we are both on the path to our forever. Happy Birthday! 70 looks amazing on you.
27. Happy joyous 70th birthday, my dear husband! Your love has built an irreplaceable spot in my heart, and right now, I can feel that spot expanding. All the days you have ever celebrated your birthday made me fall hopelessly in love with you. You are truly my love from the stars, have a wonderful day ahead!
Happy 70th Birthday Husband Images
Your 70th birthday has brought a lot of memories to me. It has been a pleasant experience being your wife and I have no regrets about calling you, my husband. As you celebrate today, may images of our wonderful times together bring a smile to your face. Happy Birthday!
28. I took your hands many years ago and said yes to our union. You are 70 now and I'm still holding your hands saying yes to you. Seventy years of age never changed you or our marriage and the coming years will experience no difference. Happy Birthday!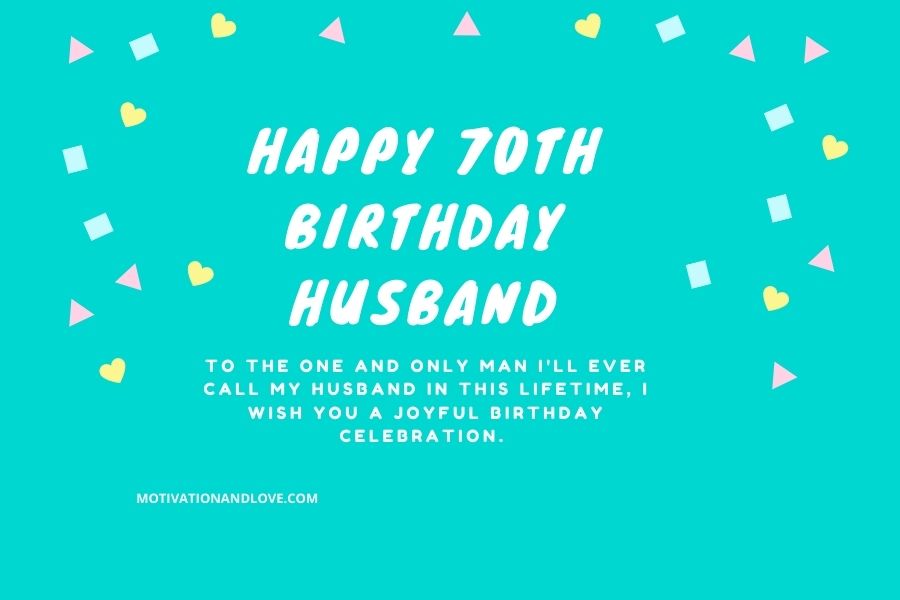 29. Hip hip hurray! Another special day is here again and it's giving you the mantle of happiness and long life! With this new year which has been added to you, may your life experience all extreme joy in all areas of your life. Best wishes, my dear husband! Happy Birthday!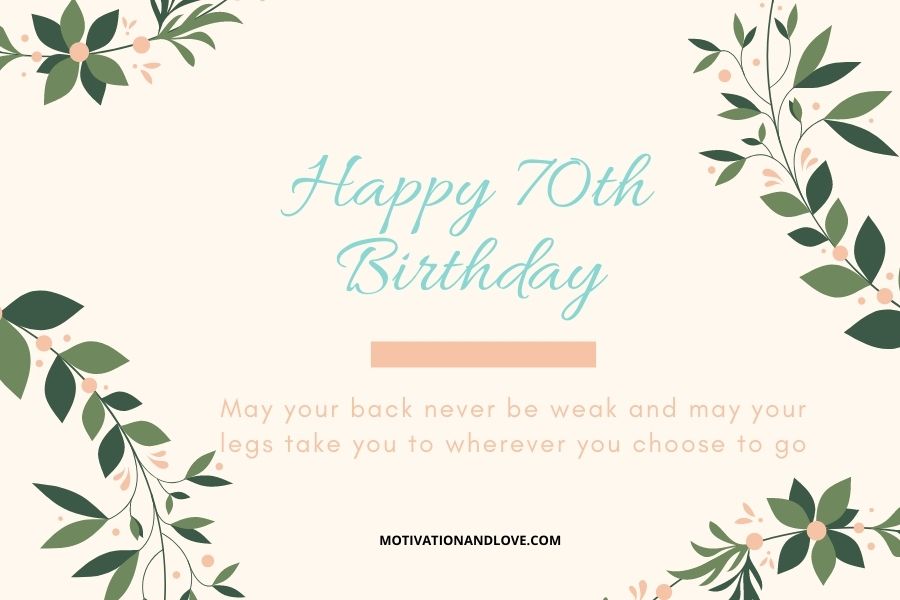 30. To the one and only man I'll ever call my husband in this lifetime, I wish you a joyful birthday celebration. You have fought through numerous life's hurdles in this lifetime and deserve to be celebrated. Today, I celebrate you for being a man with so much love. Happy Birthday!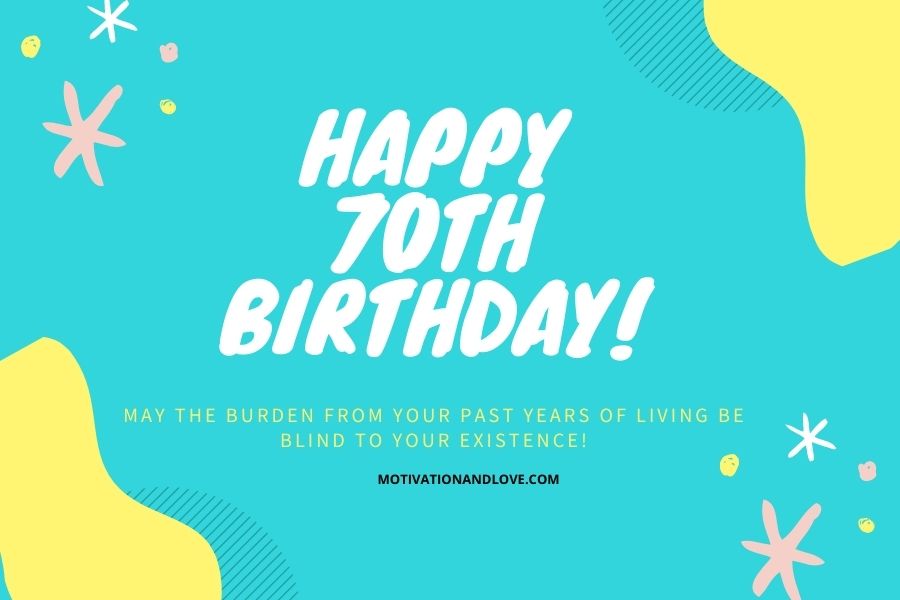 31. There are lots of memories of you right now in my head that make me want to break down in tears of joy. You have always been a gem to me you know? It's a blessing to see you reach this huge milestone in your life, you look amazingly gorgeous with that look of 70. Happy Birthday!
32. For all the hugs, all the love, and for all the times you were a pillar to me, I say you are the best. Happy Birthday, darling! Right now you're 70, I'll be the pillar you need, and having all of your love with me, I'll shower them on you. Have an amazing year ahead!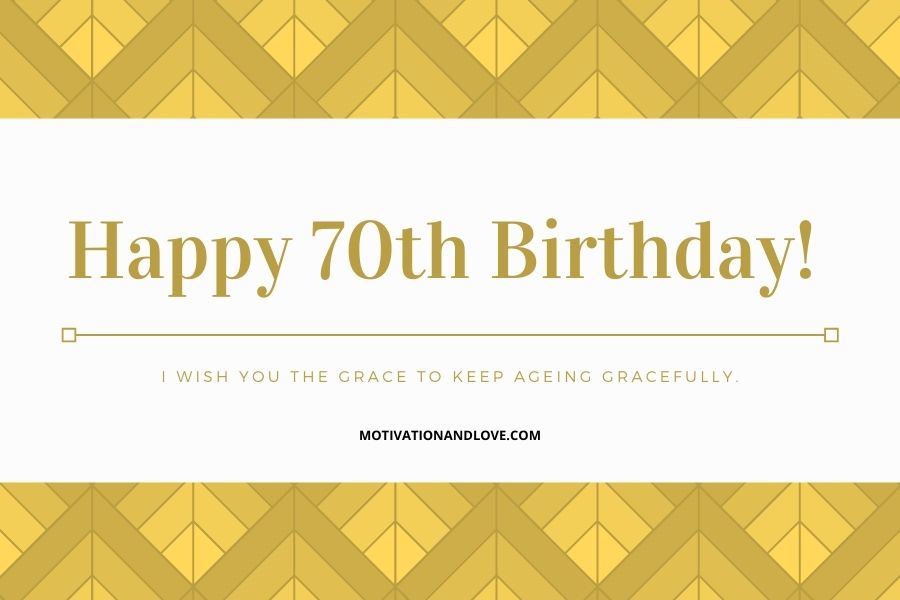 33. I can proudly tell my friend I have a 70 years old man who's my friend and partner! 70 years isn't a joke, it's one of the greatest feats a man can reach in this time and age. Happy Birthday, my husband! This age is always feeling the impact of your extreme wisdom. Wishing you more wisdom in advance.
34. Wow! A big congratulations to you, honey! Finally, you get to join the glories league of those who are 70. I know this is only a step to greater years ahead! Your age will never limit you from achieving greater things! Happy Birthday!
35. You deserve all the accolades! You are the greatest of my time! 70? That's a huge achievement and only you can do that. Your fighting spirit has inspired me to live! Happy Birthday, hubby! I want to be like you when I clock 70. You are the greatest fighter I know!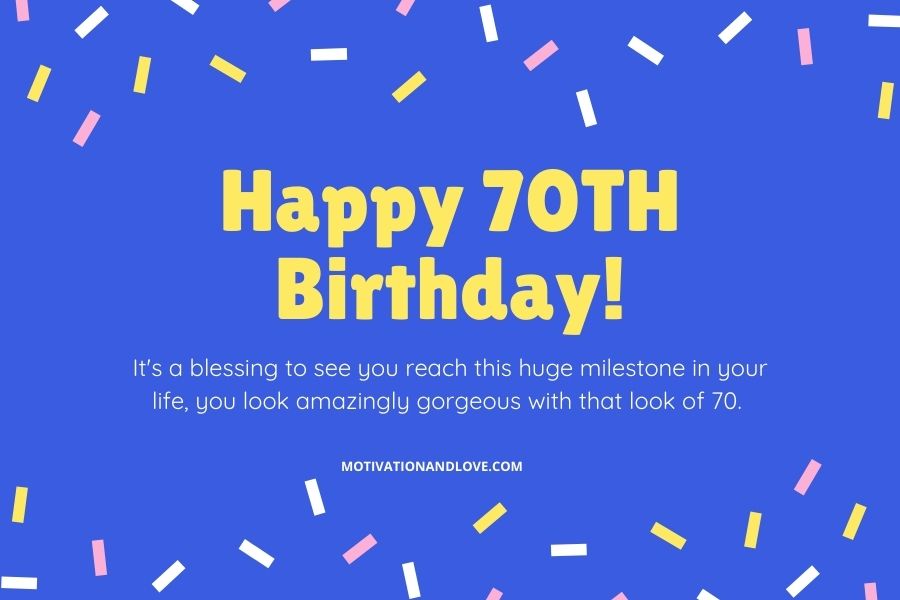 36. Another decade of your life has been recorded! We'll get to record more! The sky is but our starting point! Sickness won't hold you down from living the best out of your beautiful life! Happy Birthday! Keep soaring high, love!
37. Speechless! You make me speechless at your ever ageless beauty! I picked up a rare gem, didn't I? You are a gem that has proven it's worth even after undergoing testing by fire! You are everything this world needs. Happy birthday!
38. I want to believe that a 70-year-old man shouldn't look as handsome as you look. Now that we are both old, I still have the job of hiding you from all the women who can't keep their eyes off pretty beings! Happy birthday, honey! Excuse my rants but you are simply beautiful today!
39. Happy Birthday to a 70-year-old man who turns out to be my dear husband. May the burden from your past years of living be blind to your existence! May your back never be weak and may your legs take you to wherever you choose to go. Love you, best wishes!
40. The universe has blessed you with one of the most priceless gifts on earth which is ageless beauty! As the ideal 70-year-old man that you are, I wish you the grace to keep ageing gracefully. Many more years to you, sweetheart. Receive my happy birthday wishes with love!
Best 70th Birthday Wishes for Husband
Happy 70th birthday to one of the best husbands on earth. May your days be filled with renewed joy and may the burden of your heart be taken away from you. May all the wishes of your hearts receive an instant affirmation to become a reality. Love you!
41. Happy 70th birthday! You are getting closer to clocking 100! Keep the fighting spirit going! I cannot be happier to wish you a happy birthday! All I want for you is good health and a happy life with me by your side. You are loved!
42. Here's to another decade of being great! Congratulations! Receive my kind thoughts with love. May the right people find you and may they lead you to the path that you so desire to thread on. Happy 70th Birthday! I, your wife loves and cherishes you but can't express it with words.
43. 70 years of your life has been a mix of happiness, worry, and anxiety! But as you celebrate your 70 years of living today, I wish that the coming years bring with them reasons for you to smile. Have fun enjoying the most amazing period of your life, you deserve it. Happy birthday!
44. Happy 70th birthday, my darling husband! I admire you for, despite your age, you have continued to impact wisdom and knowledge into the lives of those around you! I know you as a man who's overflowing with wisdom, so my wish is that the coming years bring you experience that'll expand your knowledge base.
45. You are kind! You are exceptional! Your existence is a blessing to mankind! A man like you and a husband like you deserves honour and recognition for all you've done! May old age never bring you pain, may it be your source of strength. Happy 70th Birthday, old man! You aren't too old to be celebrated!
46. Happy Birthday to the first man who loved me before I even knew what love me meant! I wish you all the love and strength that you need. I wish that with every passing year, you enjoy the riches and wisdom that come with old age. Take care, honey!
47. It's another decade that marks your beautiful existence! Honey, I heartily congratulate you for reaching this milestone! I've always known you were a special person with a flair for big things! May the fire that burns you to make great achievements never quench. Happy Birthday!
48. Happy birthday to an amazing husband! Your biological clock is ticking and right now, it says you are 70 years old! Hurray! May your grey hairs give you the right connections and may you find peace in these times when loneliness abounds. Love you!
49. There's nothing like a bad past! Every decision you have ever made brought you this far in life. As you clock 70, may you never have a course to regret a thing. May every memory you remember from the past bring you strength and happiness. Happy Birthday, sweetheart!
50. Age is truly just a number! You may be 70 but your heart and soul shine bright like that of a vibrant youth! Happy Birthday, lovely! May your soul continue to reflect the goodness that this world needs. Wishing you all that you desire this year!
51. Wishing that you a cheerful and beautiful year ahead! Oldie! May the years ahead of you be as beautiful as the love you give out! May the sun favour you in the day and the moon in the night! All-round favour and good health is all I pray for you, happy birthday!
52. Happy birthday to the man who's the standard by which all men should live with. Thank you for imparting your knowledge to the kids and me. I love you, and our children love and wish you the best! Keep being the standard!
53. You look so good in that attire that signifies your 70 years of living! I want it, even if it's a hand me down I still want it so that I can look as good as you when I clock 70. Thanks in advance, wishing you the strength to wear the garment of 80.
54. Lucky you! You are 70 but have the heart of youth! You are filled with vigour and good energy, which is exactly what your family needs. Never let your age wear you down! Continue being optimistic! May your old age be filled with only the thoughts of good memories. Happy birthday!
55. Dear husband, you give the best hugs and kisses! Your smile has always penetrated my soul and it gives me the taste of true love! I'm glad that old age didn't steal away your beautiful smile. Have a happy birthday! I wish you the strength to keep on spreading true love.
56. Today, I'll take out my time to reminisce about the great times we've spent together as a married couple. Our moments together have been a rollercoaster of happiness, arguments, and misunderstanding but all in all, we had a great time. I hope that your years ahead are filled with sweeter events.
57. Be happy and energetic, old man! Your birthday alone is a good enough reason to celebrate. Congratulations on clocking 70. Cheers to you and another day of feeling the blessings of the universe! I love you, and I appreciate your lifelong dedication to our family and marriage. Happy birthday!
58. Wishing you a very unique 70th birthday celebration! I'm very honoured to celebrate another year with you and my utmost wish is that you live to celebrate another of this day. Good health and peace of mind shall rain on you this year. Happy birthday!
59. Do you know what your birthday signifies? It's another day that reminds us to take a break and celebrate your presence on earth. It's a day that allows for an unending appreciation of your worth. Happy 70th birthday! I'll do well to make good use of today!
Happy 70th Birthday to My Husband Quotes
A wise person said and I quote, the length of time we know a person doesn't make them special. It is their impact on our life that makes them special. Happy 70th birthday, my husband. We have known each other for the longest time, and your impact has been wonderful.
60. I know you're having the fear of getting older but honey, old age is a gift! Embrace it! Each year into old age, you'll get to sink deeper into your most true and unapologetic self! You are not the man you were last year, you have become a better person. Happy birthday!
61. I remember that day when our marriage almost hit an iceberg. You didn't even cower. You looked me dead in the eyes and said "you would never give up on our marriage". That's exactly what life is saying to you! It won't give up on you even with all the sickness. 70 is just the beginning! Happy Birthday!
62. With those beautiful wrinkles on your face, I think you are competing with me in terms of ageless beauty but darling, you cannot compete with me for I have your best interest at heart too! I want you to win! Happy Birthday! Keep being a motivation to the likes of me.
63. Just as a tiger lays low not in cower but to make a precise aim, that's equivalent to old age. You grow old and weak not to show cowardice but to demonstrate that old age wisdom is a substitute for the strength of youth. Happy 70th birthday, my dear husband!
64. Physical appearance doesn't turn me on! I chose you not because of your looks, power, or strength but because of the raw nature of your masculinity that knows and can define the thin line between strength and vulnerability. Even at old age, this feature of yours remains dominant. Happy 70th Birthday! You are a true beauty!
65. I'm not perfect but perfection found me! I search for the love I thought I wanted but the love I needed found me and he embrace me! Happy birthday to my only true love! Finally, you're 70 which means it's time we experience love in old age. Happy Birthday! We have an exciting year ahead!
66. He's gentle but strong! He looks shy but he's fierce in love. Many mistakes his gentleness for weakness forcing him to showcase his fierceness! I love him the way he is and I want to spend more time with him! Happy Birthday to him. As he's reading this, I want him to know that I love him!
67. Marriage looks easy, it makes you easily see eternity but in reality, it requires patience and perseverance! Most of your life has been spent on patience and perseverance but you turn 70 today, I want you to live life as it comes. Be cheerful and be happy! Happy Birthday!
68. To the GOAT of my time, you should be given all the accolades there are. You are doing much better than you even realize. As you turn to page 70 of your life, take your time to count your blessings and name them one by one. Only in this way will you see your true worth. Happy Birthday, honey!
69. You are beautiful! You are a wonder! You are an artefact and sometimes you are a mess! But all in all, you are human and it's extremely okay to get old. Happy 70th birthday! Acknowledge that you are an embodiment of light and terror. Don't die your true self! Love your old age!
70. A birthday is a perfect time to paint a future for the year to come. Old age signifies how good of an artist one is. You were able to paint yourself a beautiful path for yourself that's why we are celebrating your 70th birthday! Keep painting a bright future! You have an eye for good things. Happy Birthday!
71. Happy 70th birthday, my husband! You are 70 but have a strong shoulder on which I can always rely. I hope that you and I keep loving each other fiercely as we always have. Peace be unto you, my love!
72. Thank you for blessing my life with the kind of love that's surreal. Thank you for building a home with me and making me feel safe! Thank you for making me give a definition to my true self! Happy 70th birthday! I may never be able to repay you in this lifetime but I'll love you to eternity.
73. Dear husband, when life pushes you to rock bottom, whenever you lose the light that guides you, I want you to believe that one of two things will happen. It's either our love acts as a ladder to climb on or I'll be the gentle moon that shines and show you the way to yourself. Happy 70th birthday!
Funny 70th Birthday Wishes for Husband
Since you have retired and presently celebrating your 70th birthday, how about you become a sit-at-home dad whose job is to act funny all day long? If you agree to that, then I wish you the strength to take on this new job. Happy Birthday, dear husband.
74. During the early days of our marriage, my wish was for us to grow old and toothless with a face full of wrinkles. My wish came true but not the toothless part! So here I am, wishing you a life long enough for you to grow toothless. Happy Birthday! Love you!
75. Here's a glass of non-alcoholic wine being raised to you in celebration of your old age. I know you can't have a taste of it that's why it's here. Just like this wine, may you never have a taste of whatever will jeopardize your health, may you live long enough to see me have my fill of alcohol. Happy Birthday!
76. Happy birthday! You are a 70-year-old man who forgets things a lot. So here's some piece of advice, have fun all you want! Say whatever and act out the characters in your head because when today is over, you'll be back to your old self forgetting what happened today.
77. 70 years birthday celebration is a feat deserving of a birthday cake. So to make your day worthwhile, I got you a birthday cake that's as beautiful as you but not as tasty. I hope you love cakes without sugar because I'm thinking of getting them for you on your next birthday!
78. They say age is just a number but on this day, it's more than a number! It's 7 decades of your life. And if there's one sure thing, it's the fact that 7 decades isn't "just a number"! It's a huge number and age for a person to live. So, congratulations on your old age.
79. Happy 70th birthday, my darling! If not for anything, I want to thank you for accompanying me even in my old age! It's very interesting having a conversation with you these days, I'm glad to have someone like you, who thinks of nothing but food. It's a blessing to have you.
80. Best wishes, my dear husband. Let's go have a lot of fun today. I promise not to tell the kids about our adventure and I promise to have you back in bed before 7 p.m. So what do you think? I'm an awesome babysitter you've got to admit. Happy Birthday! Awaiting your reply!
81. Hey old man! I see you smiling from ear to ear. I see that you are happy about your birthday celebration, which is surprising because you've never had a liking for birthdays. I just hope you aren't thinking of leaving me yet! I still have a lot of nagging to do. Happy birthday!
82. You are 70 years old, my husband! You didn't age well I must say! As someone who's ageing gracefully, I say happy birthday to you! You are definitely lucky to have me in your life. I hope you stay with me in the next life. Wishing you all the best.
83. Happy birthday, you old husband of mine! You are 70 years old while I'm at the ideal age to flex around. My energy to explore life on earth is brimming and I'm hoping that we both could have a good time with each other. So here's a word for you, "don't you dare die, okay?". Best wishes!
84. I had planned on laughing at your old age and wrinkles to my heart's content but then I remembered we were in the same age brackets. Just you wait, when I turn 70, I'll show you how to look young and beautiful. You'll be stunned, that's for sure! Happy Birthday!
85. I've been sending you the best wishes on your birthdays and I know it must have been hard on you. Worry no more! You don't have many years to celebrate your birthday! Today's a miracle for you, a miracle that I want a repeat of next year. Happy birthday to you! Love you!
86. 70 years is a feat indeed! But why do you look like you aren't having any of it? Take a break! You survived all my years of constant nagging, you'll definitely survive another birthday celebration. Happy birthday! You still have a long way to go with me! Wishing you the best of health and life.
87. My favourite day is here again! A day like this that signifies your birthday always reminds me that you'll always be older than me. It reminds me that'll I'll always have fewer wrinkles than you and that we have come a long way. Happy birthday to you! May you continue to grow older than me.
88. Best wishes on your birthday! I was about to wish you a life long enough to have grey hairs but seeing that you have it in abundance, I'll have to wish you prosperity that'll enable you to buy the countless hair products of your choice. Have fun trying hard to look good, your wife loves you.
89. Happy birthday to a rarity! Someone who has lived to your age is hard to come by in this era. I bet you are the first person in this area who won't be having a taste of his own birthday cake. Imagine that! Anyways, that means more for me. I'll have fun eating in your stead
90. Happy birthday! As my admirable lifelong partner, you deserve all the best from life and me. Life has done its part by granting you long life, it's my turn now! Since you are old and can't have cakes, how about we have drinks while thinking of all the cakes we could have had?
70th Birthday Prayers for Husband
Lord, my husband's 70th birthday is only possible because of your grace and mercy. Thank you, Lord, for his life. My prayers are that despite his old age, his faith will stay strong forever! His old age comes from you Lord, may it lead him to you.
91. Loving Jehovah, it is by your grace that my husband is able to celebrate his 70th birthday! Just as your grace saw him through his youths, I pray that the same grace overwhelms and protects him in his old age. Thank you blessed redeemer for I am assured of your faithfulness in his life.
92. Faithful King, your word assures us that you will forever be our refuge and present help in times of trouble! My husband is 70 years of age but you'll always be his refuge. Protect him, guide him, and provide him with the strength he needs at this period of this period where his health will fail him. Amen!
93. Rock of Ages, cleft for my husband! Let him hide himself in thee. You have been his pillar and source of strength but now Lord, at this time when his health keeps failing him, become a shepherd that guides his every footstep. As your love is new every morning, so shall his courage to live each day be.
94. Mighty God, you said to Isaiah in Isaiah 46:6 that you'll take good care of him until he is old and his hair is grey. Upon my husband shall this prophecy be fulfilled! May you help him and may you rescue him from whatever will destroy his faith in you. Take his hands and lead him into your faith.
95. Merciful Jehovah, my husband has been a faithful believer in you. His youth was dedicated entirely to your service. Now that he's old, don't set him aside! His vessel may be old to take on your work but his heart belongs entirely to you! Keep using him for your service! Amen!
96. Dear Lord, blessed be your name for your glorious works in the life of my husband! You have blessed him exceedingly with long life! This faithfulness of yours deserves all the praise. Continue to bless my husband with wisdom and understanding that naturally follows the aged and elderly.
97. In your words in Psalm 92: 12-14, you spoke of the righteous flourishing like a palm fruit! You promised that they'll bear fruit even in old age! Take a look at my husband, plant him close to your river so that he will grow like the cedar of Lebanon! Take all the glory, Lord!
98. Lord, the garment of old age has been naturally handed over to my husband. With it comes the feeling of detachment from earthly things. As he's losing the adrenaline he once had for things, give him the grace to forever believe in you. Make his faith in you greater than ever. Amen!
99. Proverbs 16:31 describes old age as a crown of glory worn by the righteous! Thank you, Lord, for deeming my husband fit to wear this glorious crown!
100. Gracious Lord, thank you for sustaining the life of my husband. I know that you have great plans in stock for him. I pray that as he advances in age, that your good plans for him manifest. Perfect the works of his hands and bless his old age. Amen!
Wait no more! The time for you to make your 70-year-old man feel special is now. Your years of being together are enough to understand how much bond you both share. Why not tighten that unique bond with your husband with this compilation of happy 70th birthday husband quotes and wishes above. Take that bold step now!
Please, share with friends and leave a comment in the comment box. Thanks.