Thursdays come with mixed feelings for different people because it is very close to the weekend.
If it meets you when you are almost done with your work deadline, you will be a bit relaxed but if it meets you when you have barely gone half-way, you will be a bit tensed.
These Thurdsday memes down here try to depict how Thursday is for different people with a bit of humour and a touch of inspiration.
You can send to friends to lighten their day. You can also check them out whenever you have that 'Thursday' feeling.
This is me wishing that you enjoy your Thursday. Always. Happy Thursday to you!
Happy Thursday Memes
Check out these funny and inspiring thursday memes.
1. I don't care how perfect my Thursday is. I just want to enjoy it.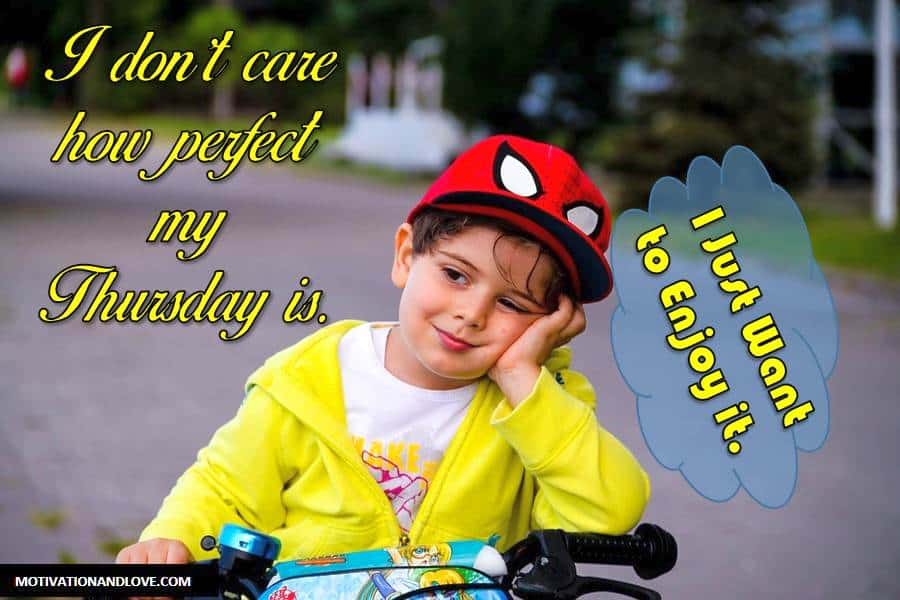 2. Since Friday won't come on time, I'm here savouring my Thursday.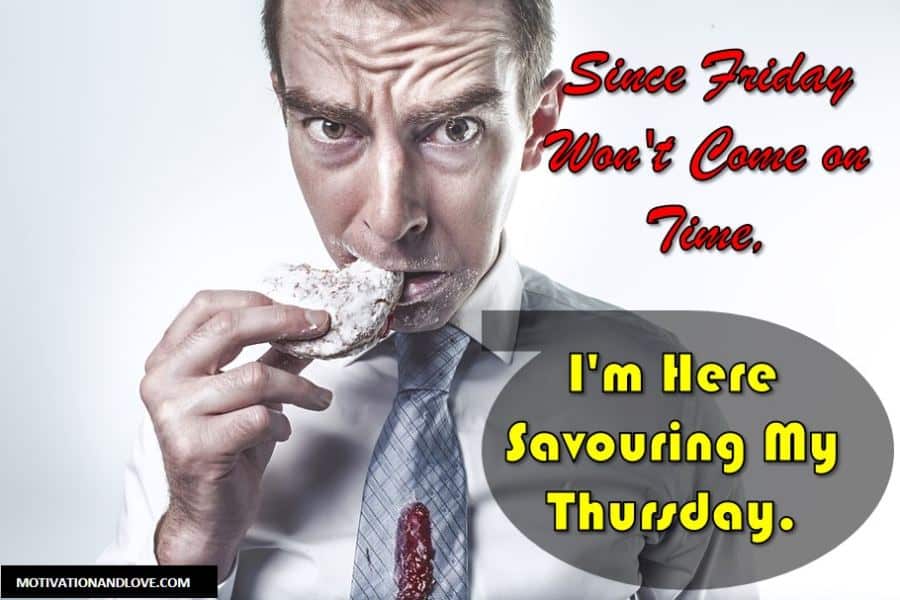 3. My Thursday doesn't define me. I take it as it comes!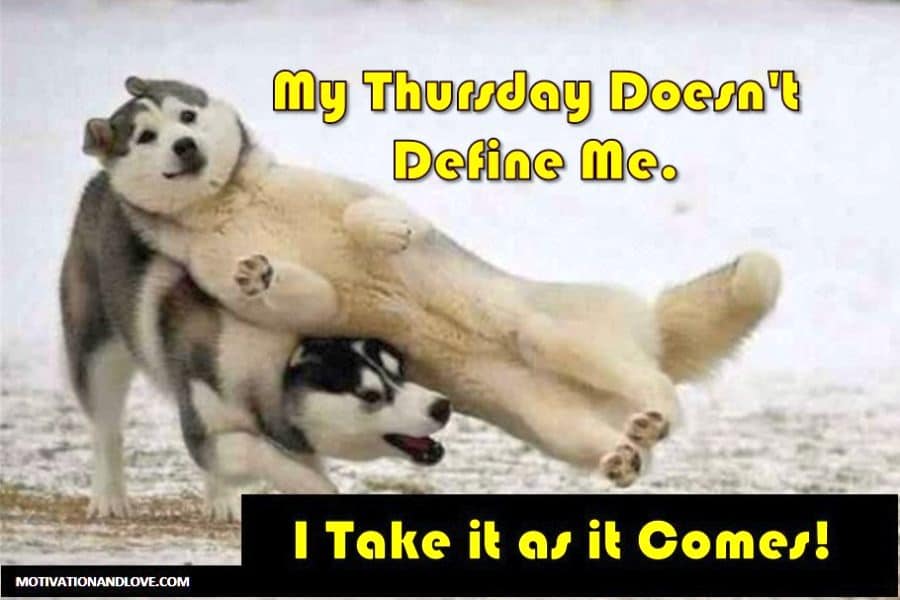 4. I'm all alone here, working beyond this Thursday that is planning to take Friday away from me.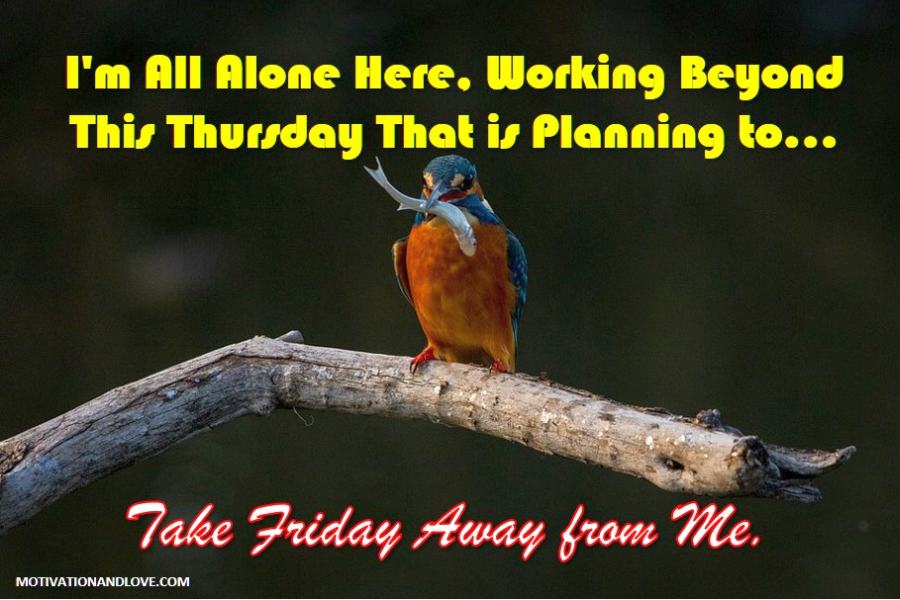 5. Hey! Let your Thursday be as beautiful as your smile.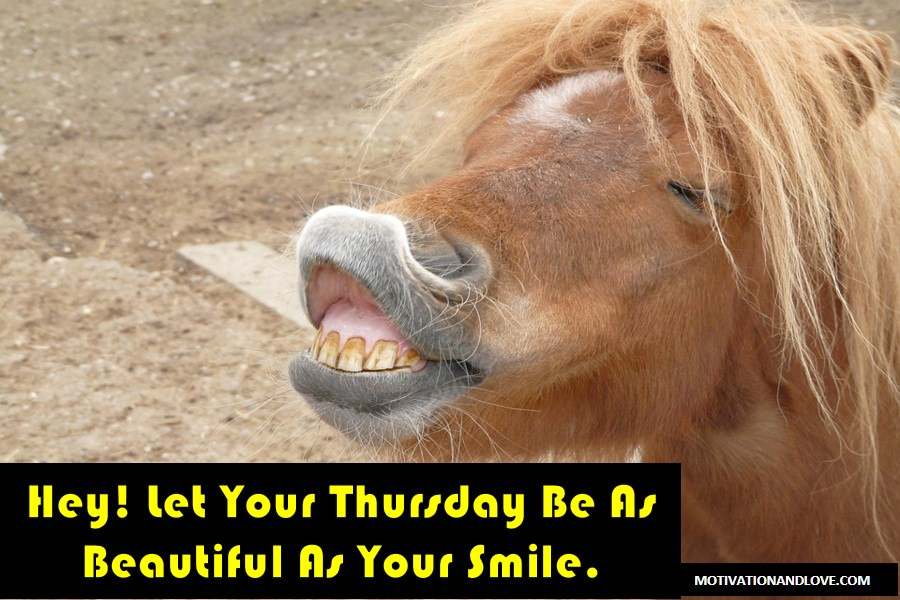 6. I'm creating an imaginary paradise this Thursday. Will you join?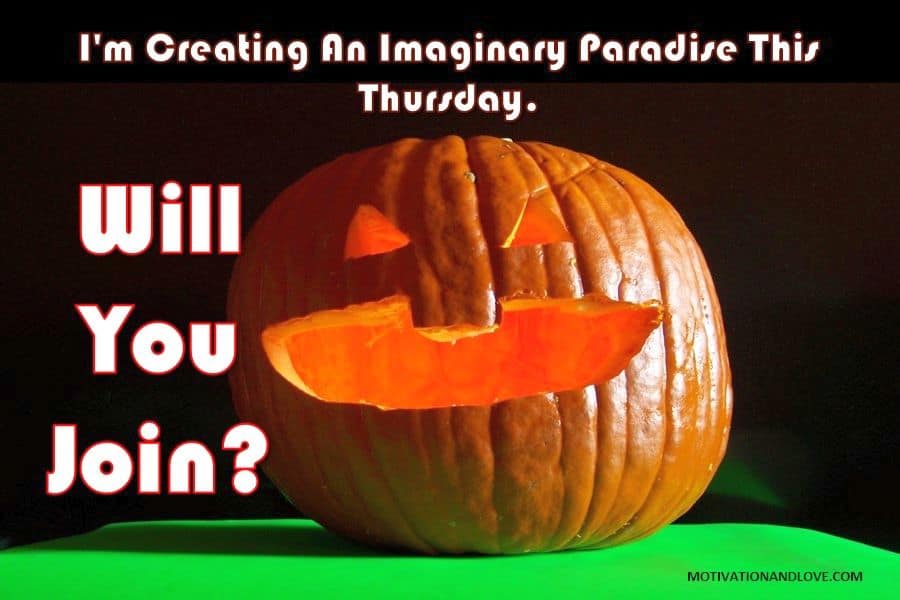 7. Each Thursday is another opportunity for a Thank God It's Friday!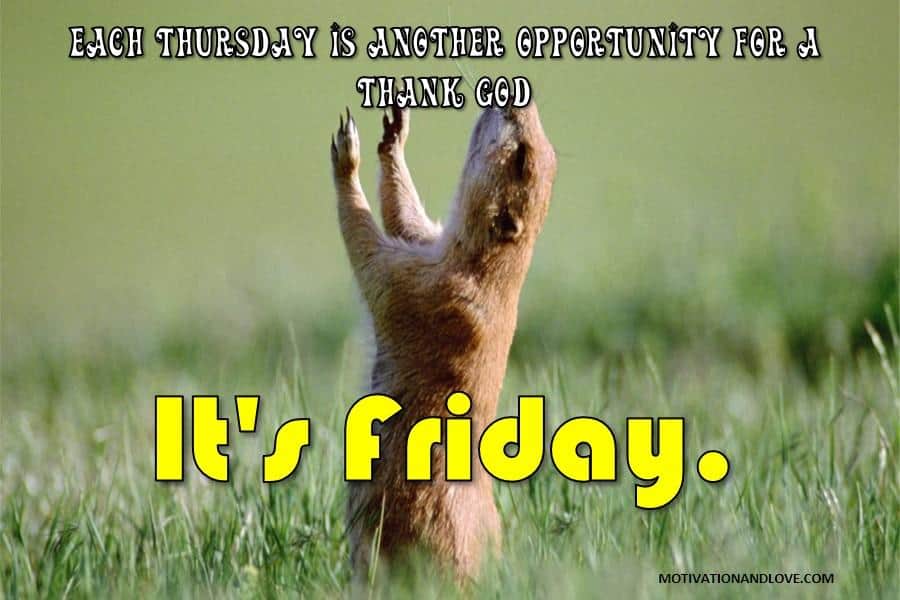 8. Show me a man who makes so much on a Thursday and I'll show you the one who is going to enjoy his Friday.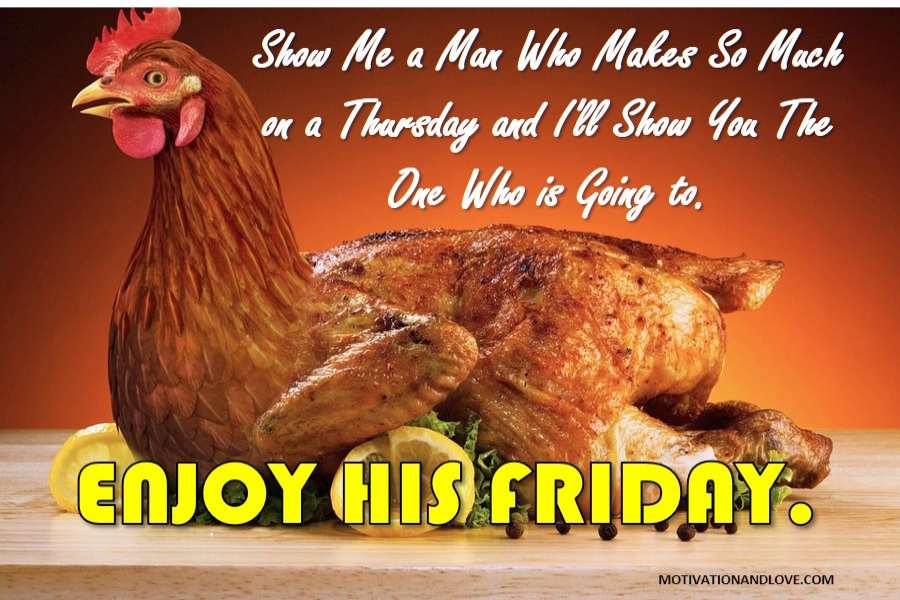 9. You're never too old to enjoy the next weekend. Be hopeful.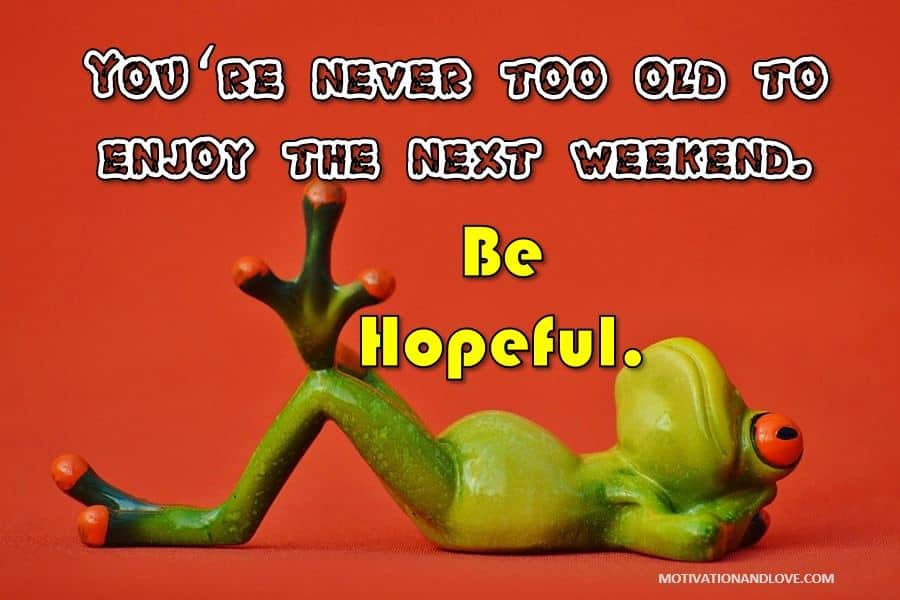 10. Thursday goals. I'm killing it this weekend.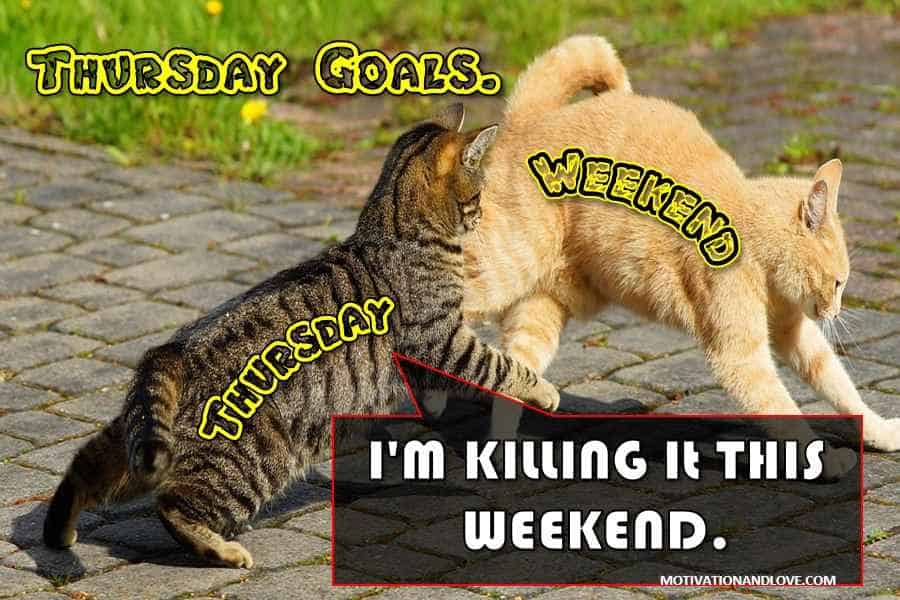 Thursday Morning Meme
11. Wednesday is gone. Keep your eyes on Friday.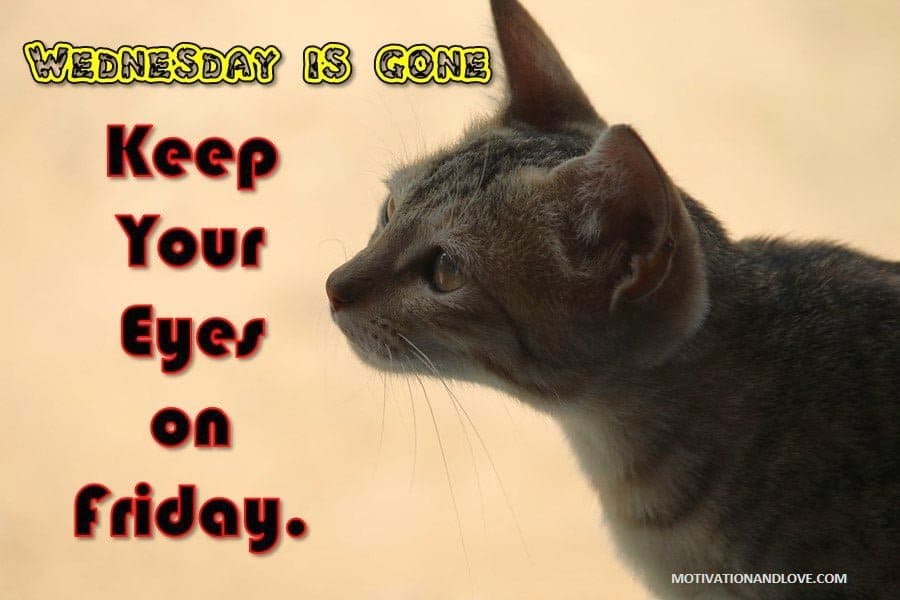 12. You're a winner! Beyond Thursday.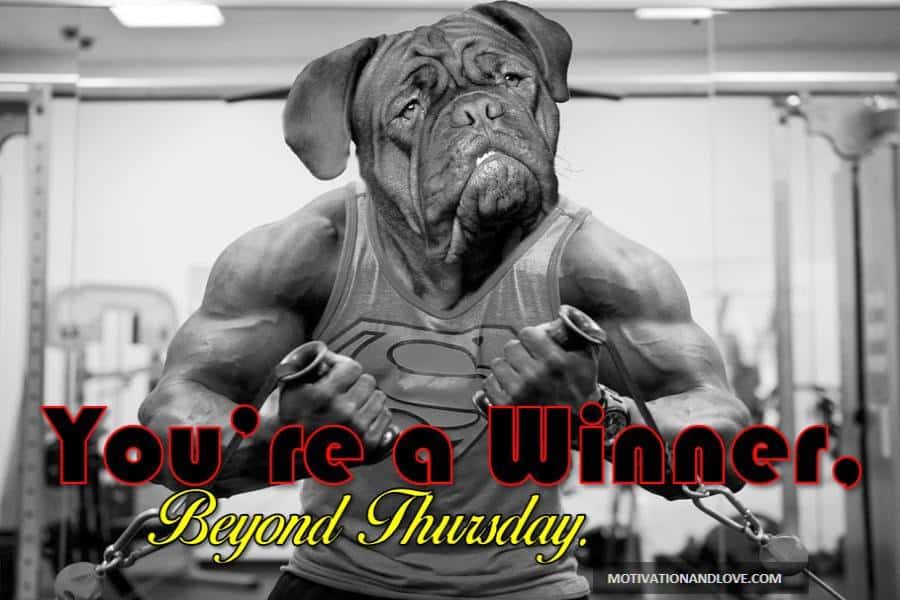 13. Even the not so great people become great when they have desire and passion.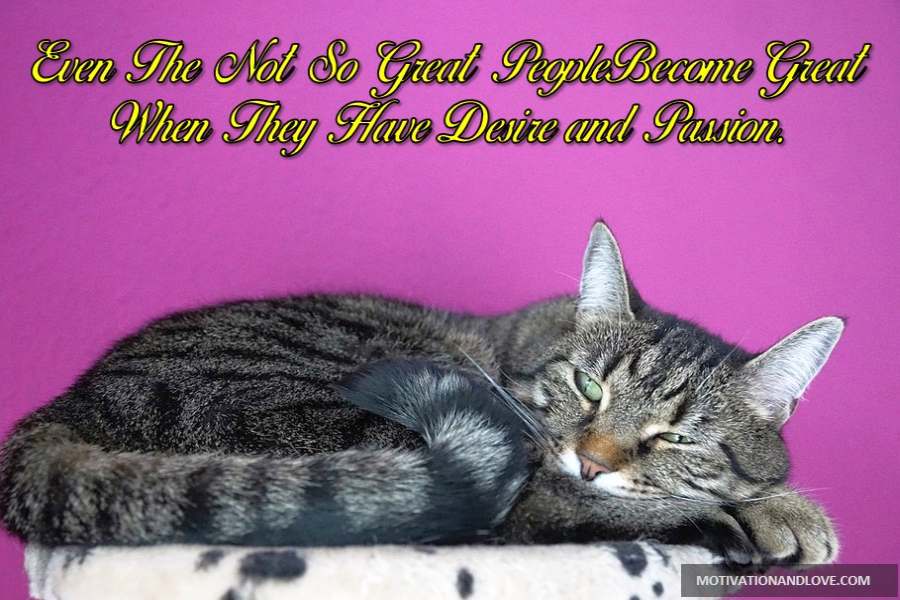 14. I will be happy tomorrow. Today is still Thursday.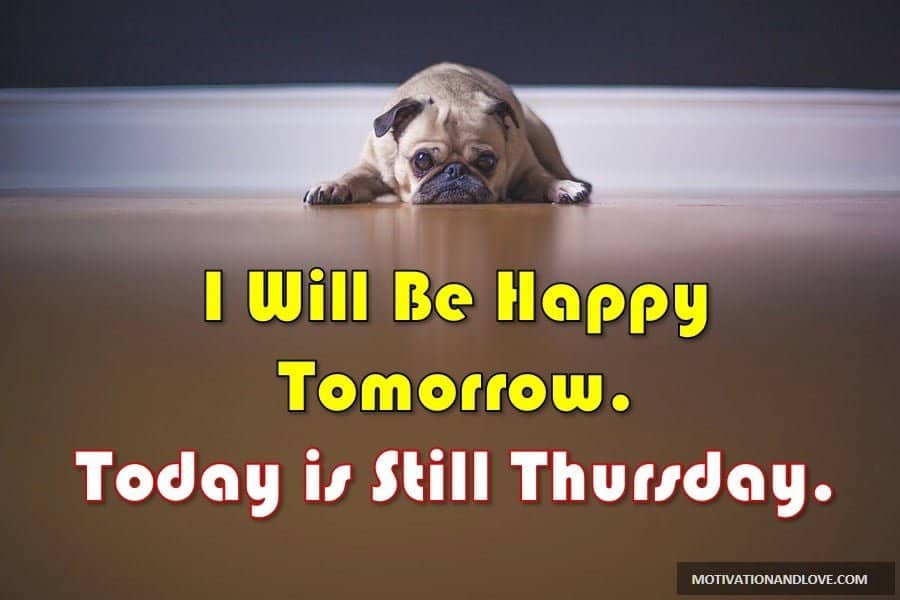 15. No matter how much you try, you can never be happy without making others happy.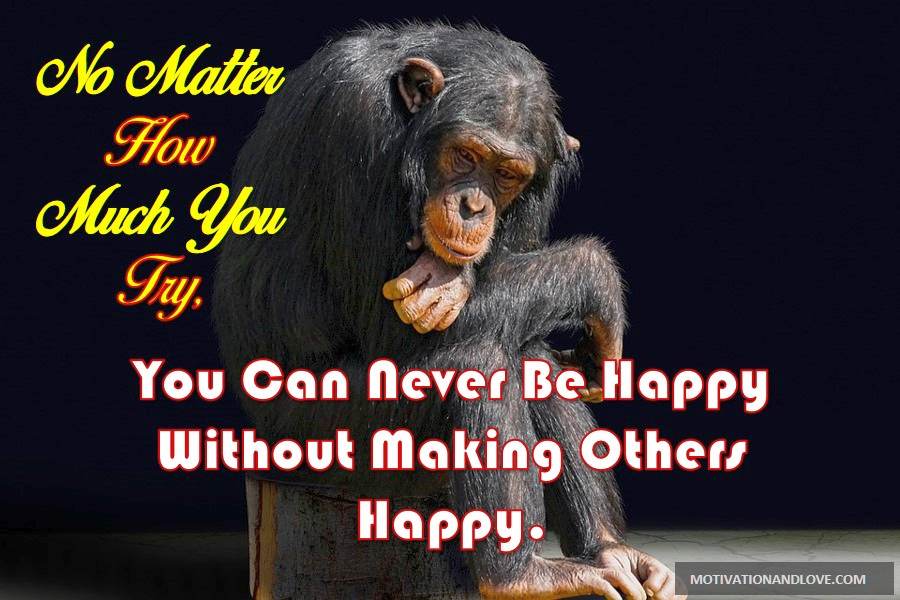 16. Thursdays are not to be remembered. They always obstruct Friday.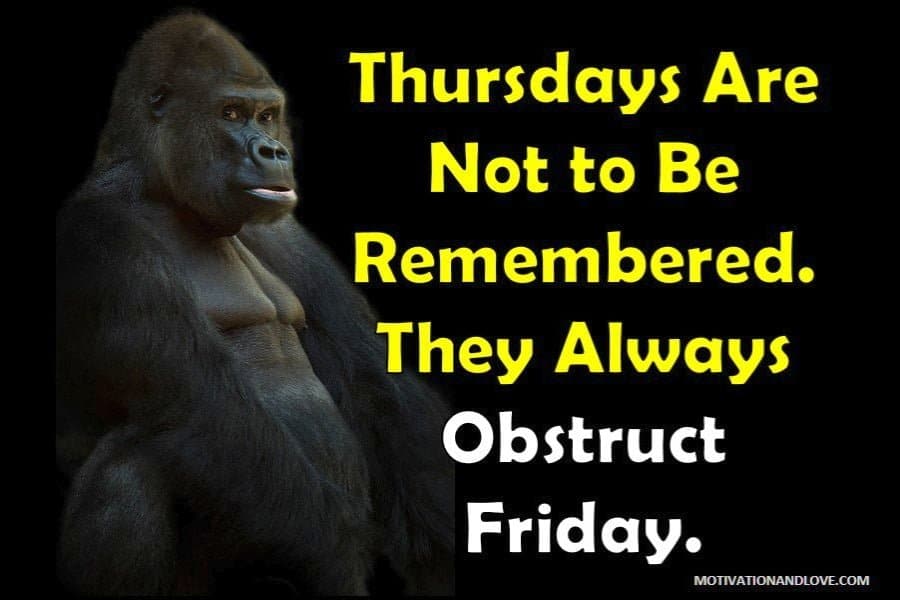 17. It is not your fault that today is still a workday, I mean Thursday.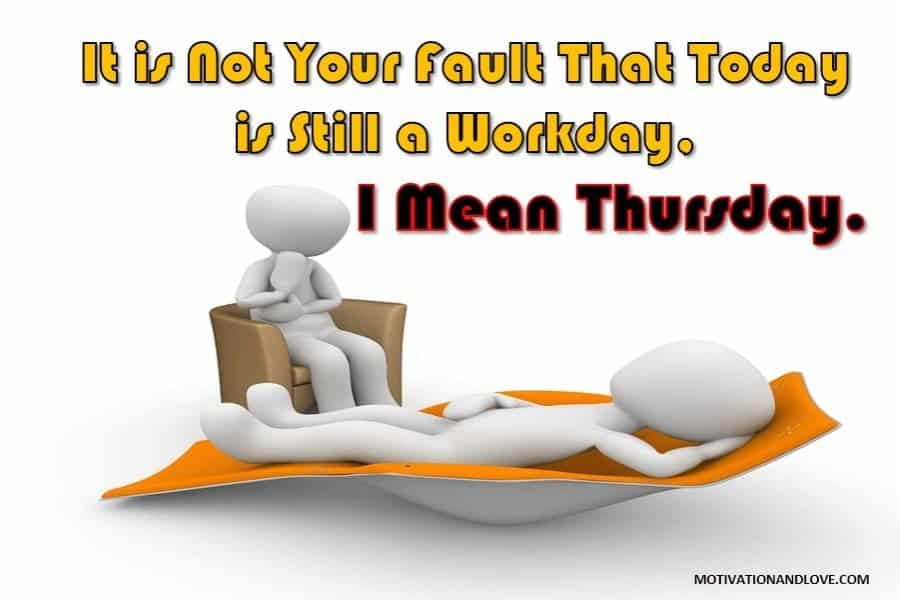 18. Drop Thursday and grab Friday already. I'm tired of this Thursday.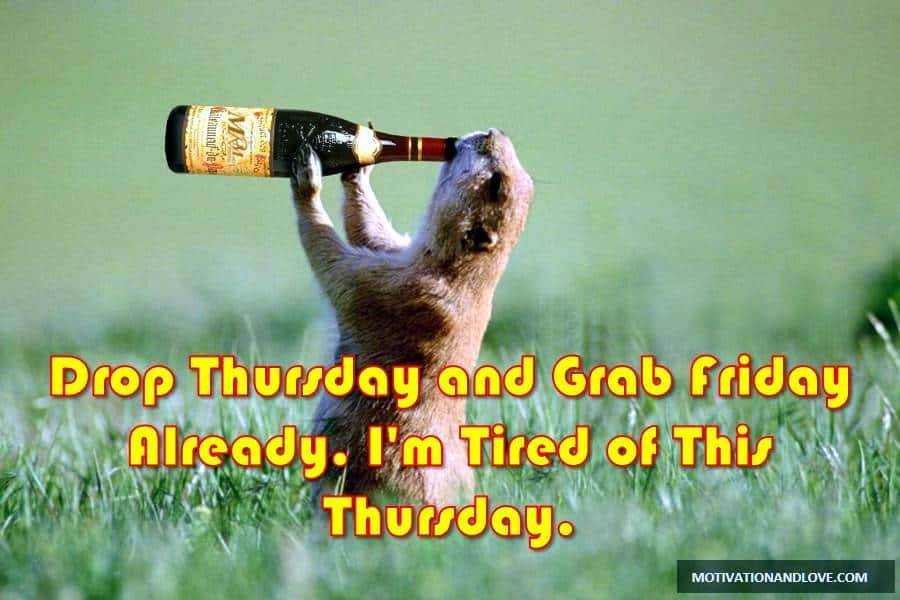 19. Without Thursdays, they would be no regrets, only Fridays.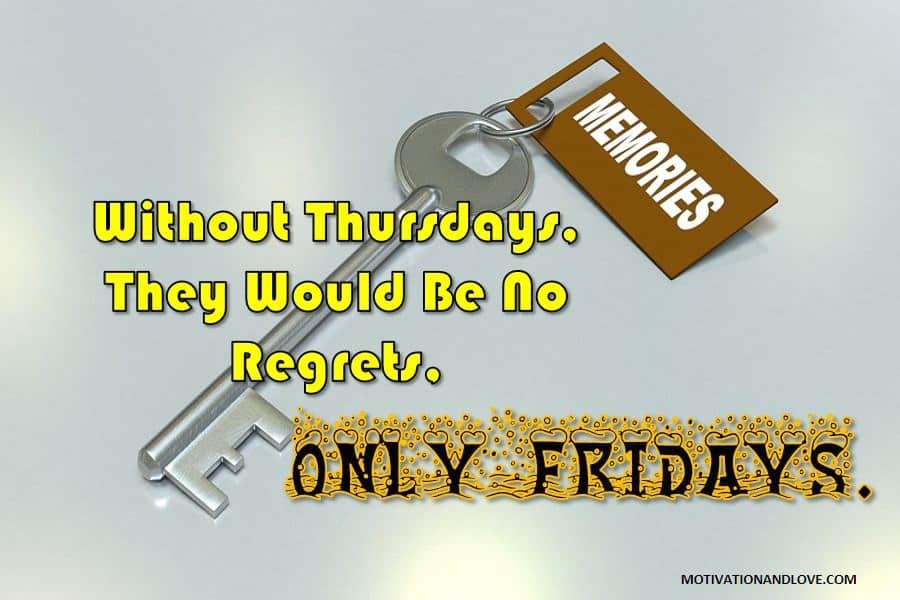 20. With a Thursday like this, who even needs a Friday?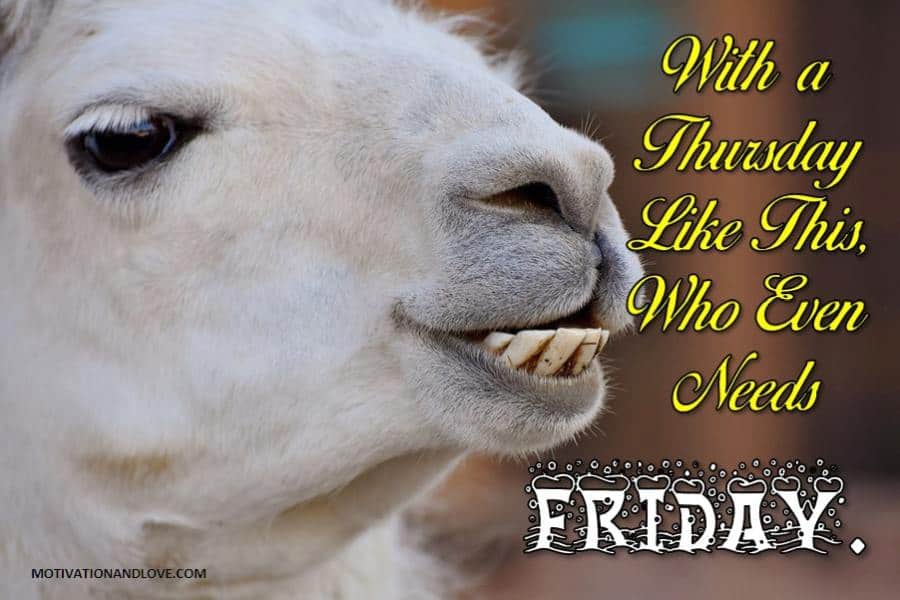 Memes About Thursday
21. Your day is blessed already. Just step into it.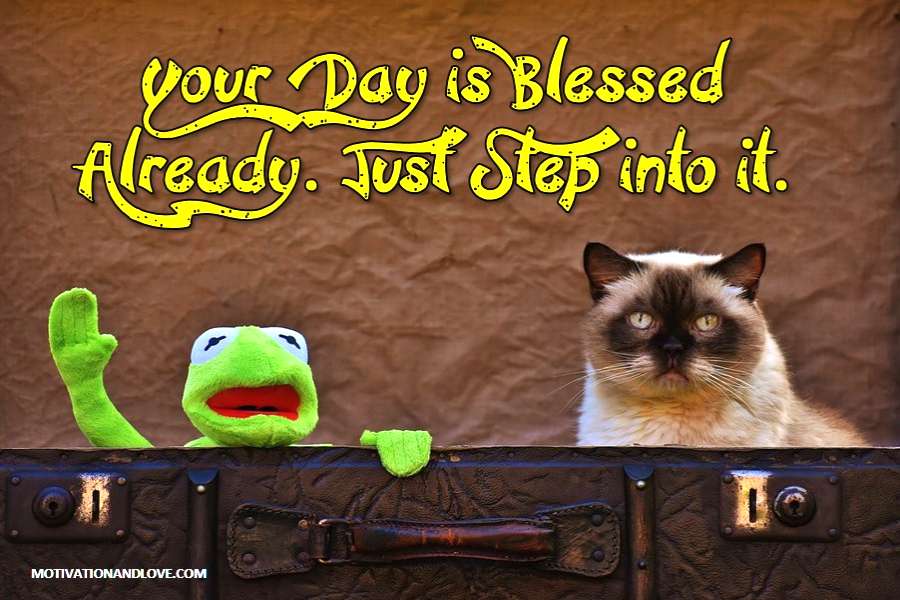 22. Nobody is a genius with a Monday, I mean Thursday like this. You have to be a spirit.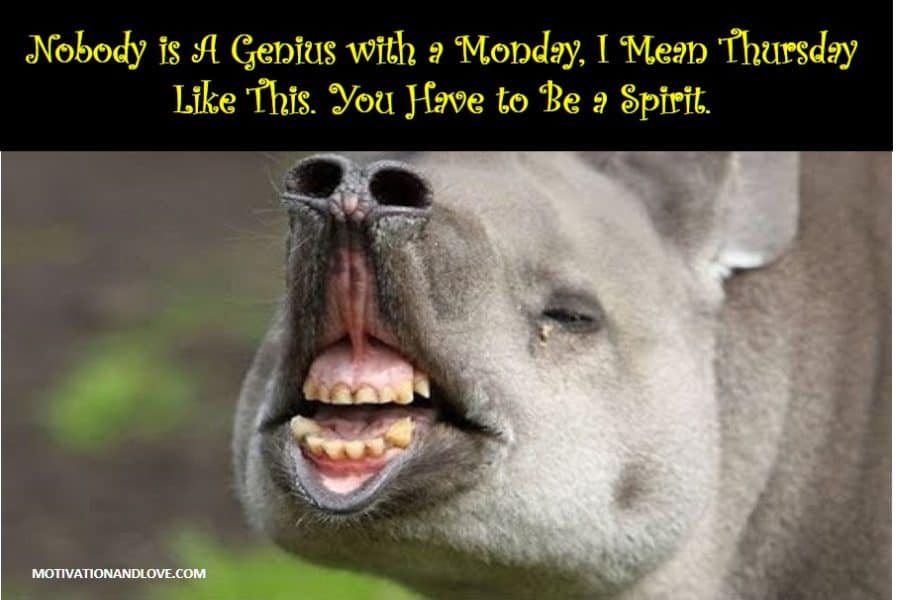 23. Thursdays are Mondays with another brand name: just brand the day with your own kind of awesomeness.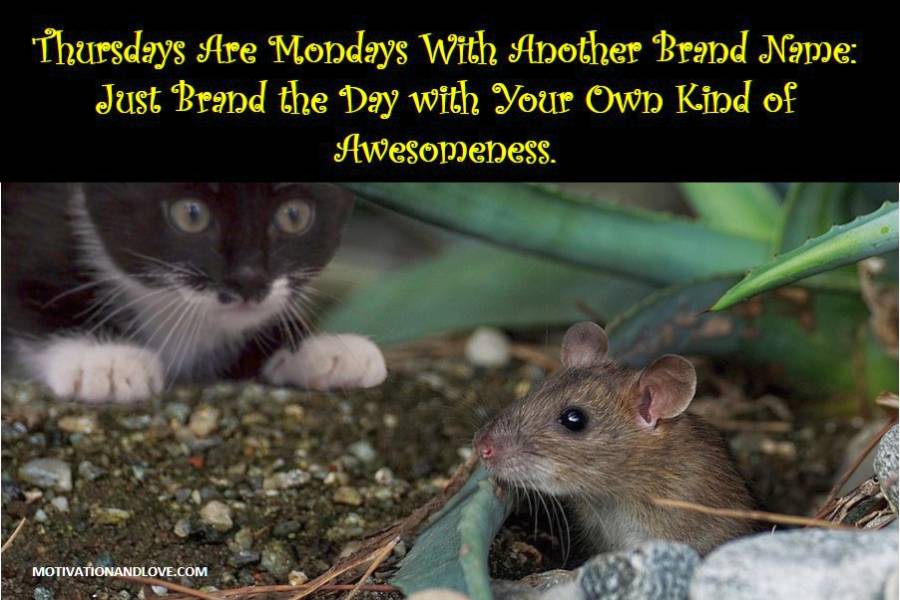 24. I learn more on Thursday because Friday is around and I won't bother to learn anymore.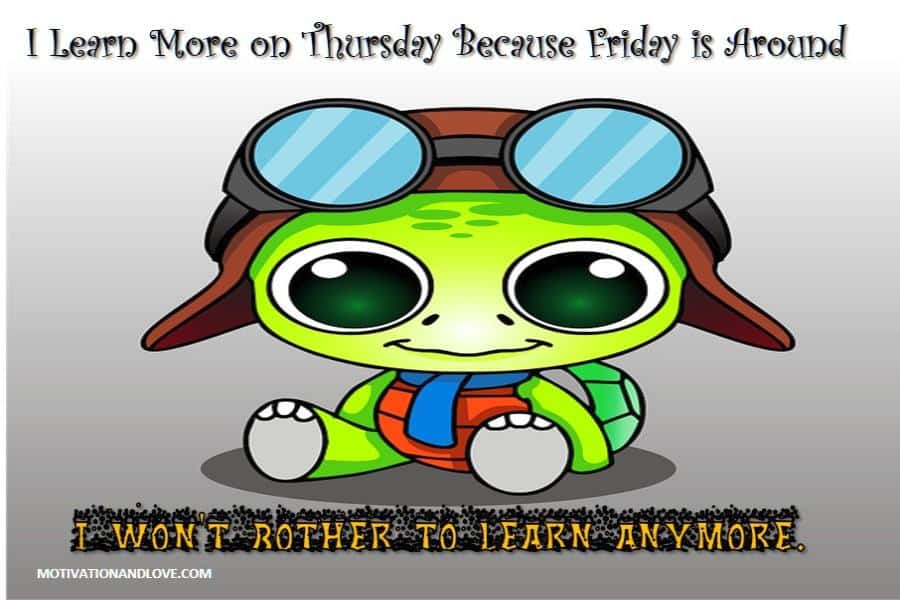 25. Is it Thursday again? How many of them have we in a week?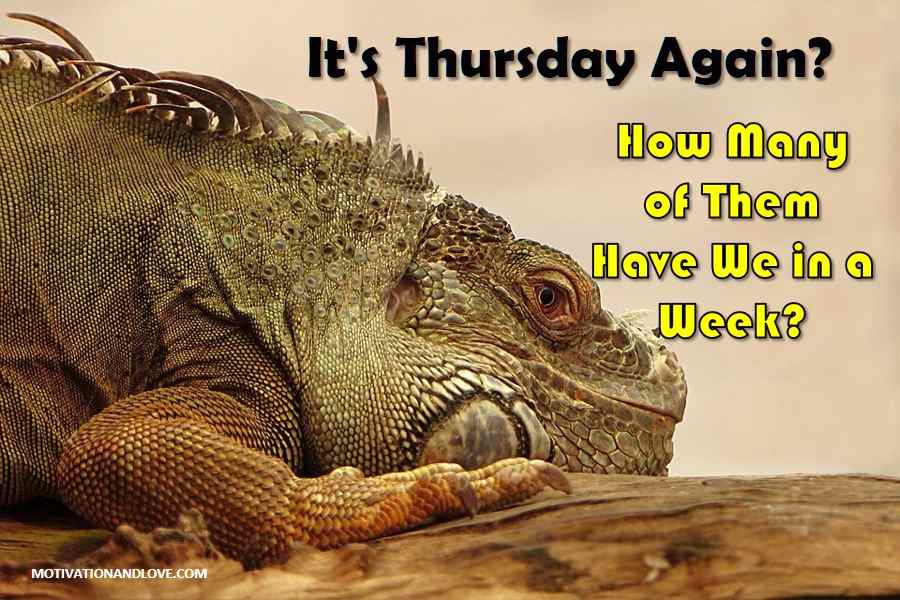 26. Run your Thursday like you are the only one in it.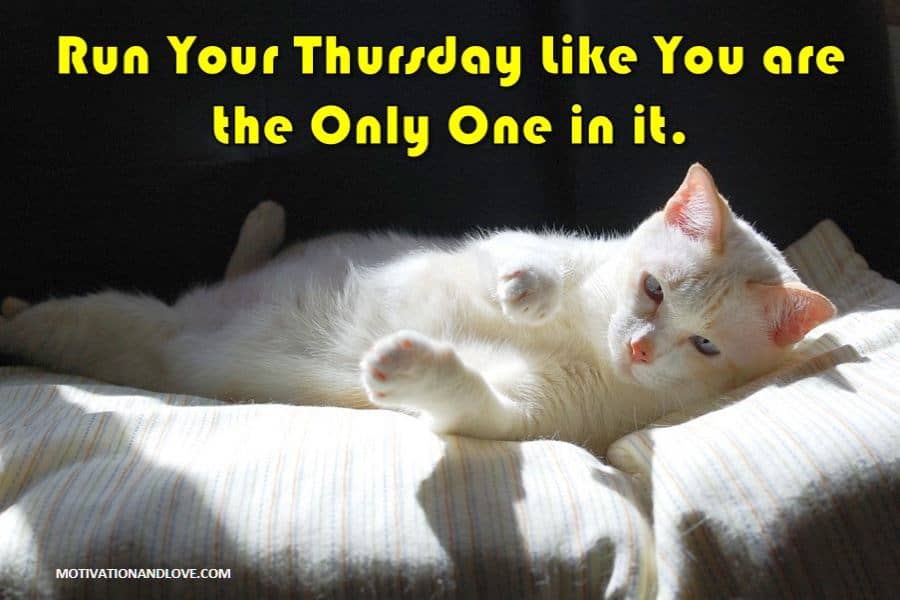 27. Even though you have to deal with 4 Mondays and a Friday, love it like that. You didn't create it.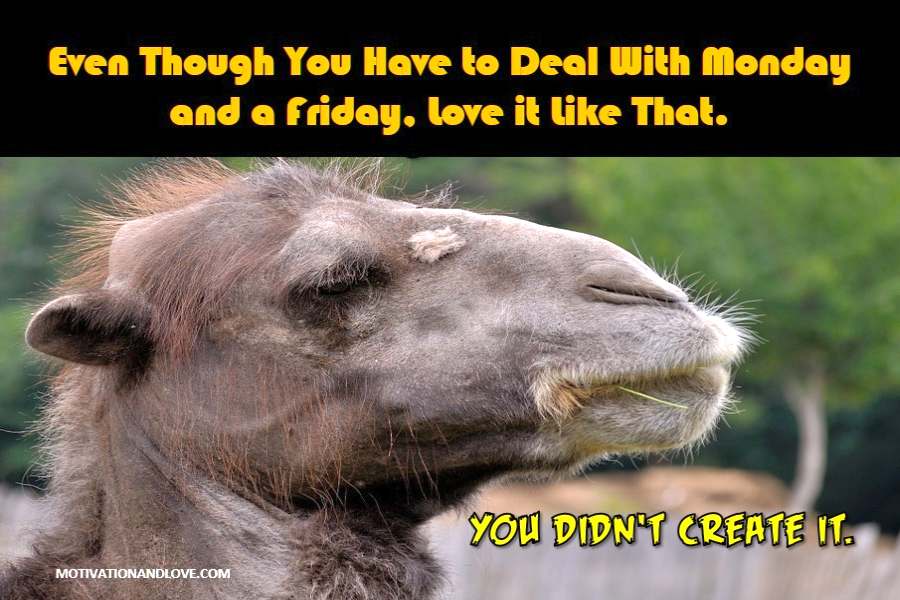 28. Happy Thursday? Reserve your happiness jor, it is Friday in a few hours.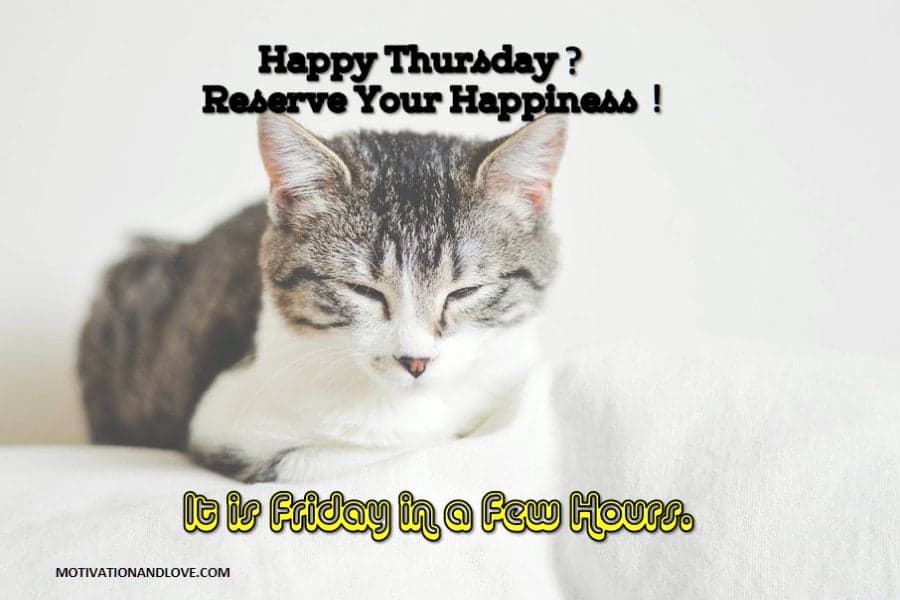 29. There are 4 Mondays and 1 Friday in a week. Today only happens to go by the name Thursday.
30. I did not give up since Monday, I'm sure, I can make it just because today is Thursday already.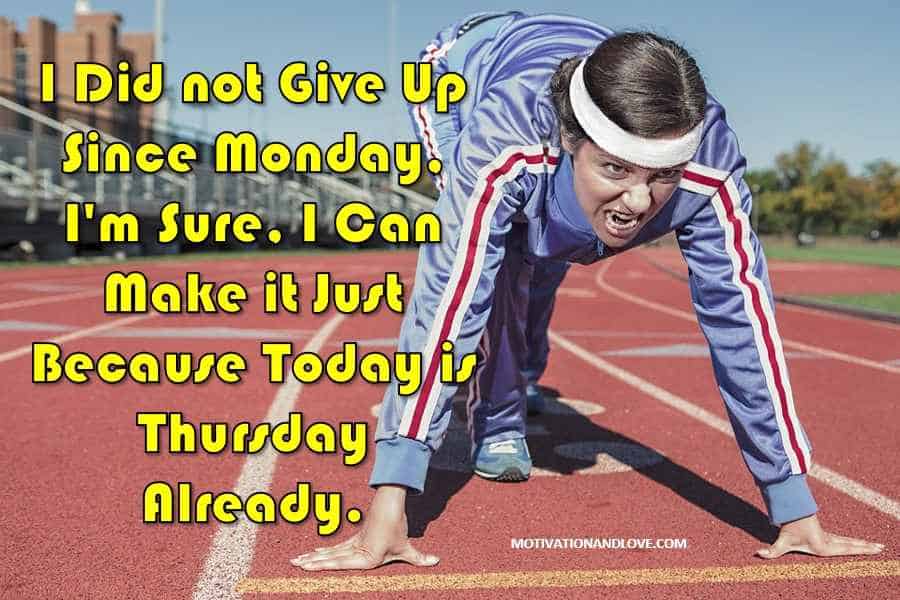 Funny Throwback Thursday Memes
31. I won't die because Friday refused to come. I will just live the Thursday.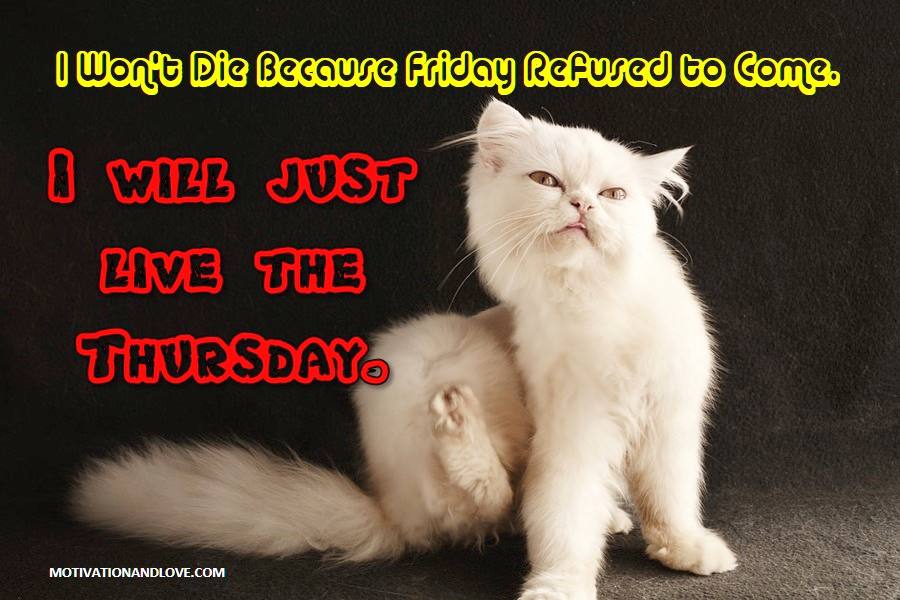 32. With Thursdays like this, I don't need a Friday to be happy.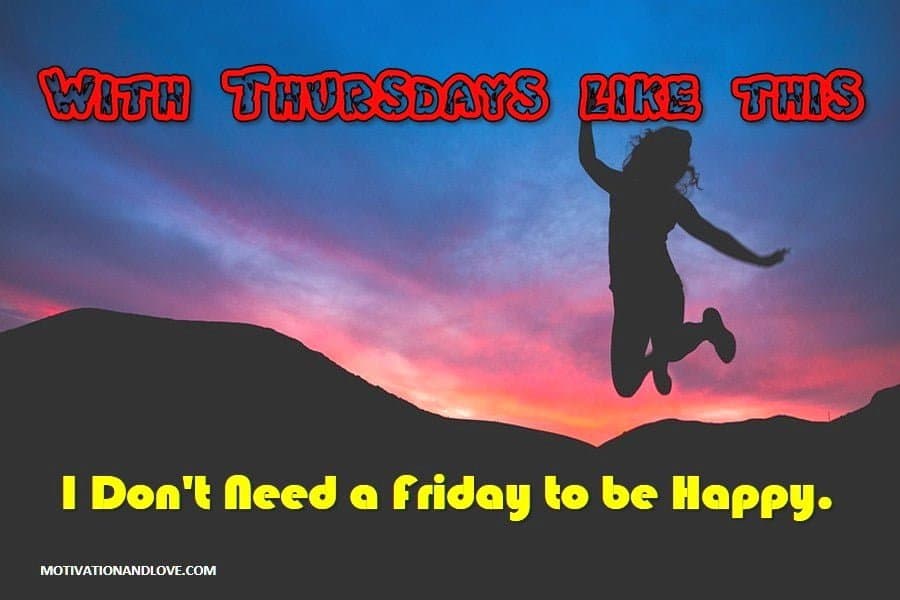 33. How can I have fun today when it is Thursday? Let me just wait till Friday.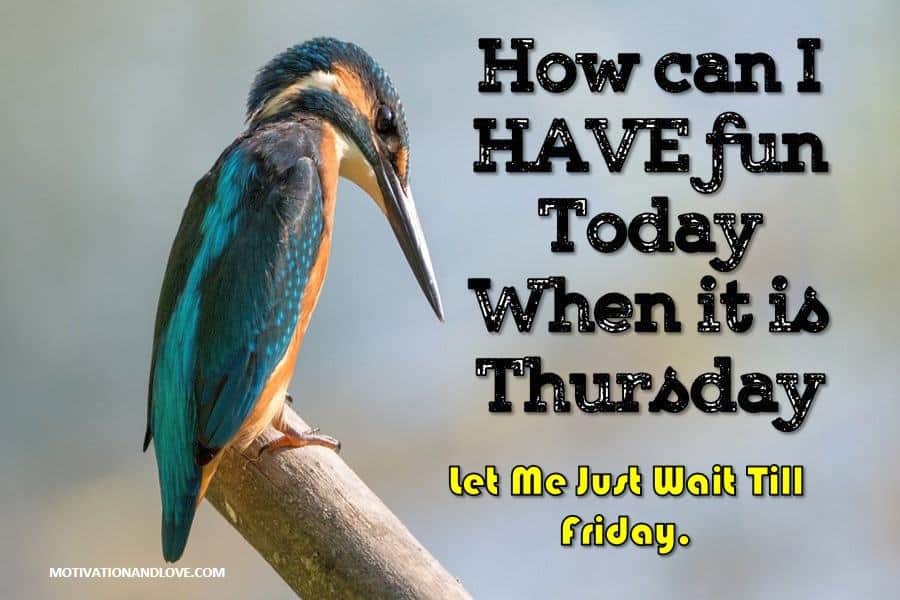 34. When it is already Thursday and you have not met your work goals for the week.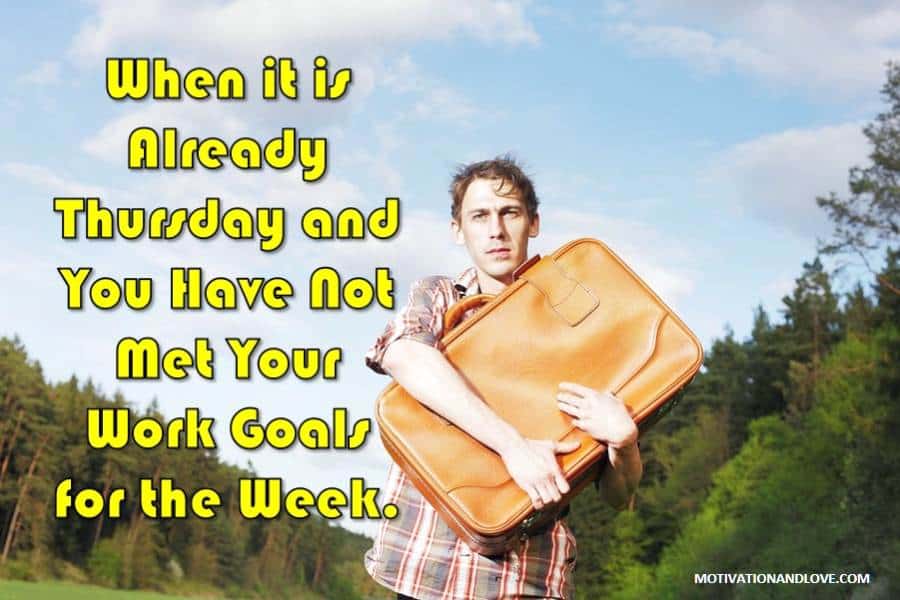 35. If you love Thursdays more than you love Fridays, gather here for a selfie.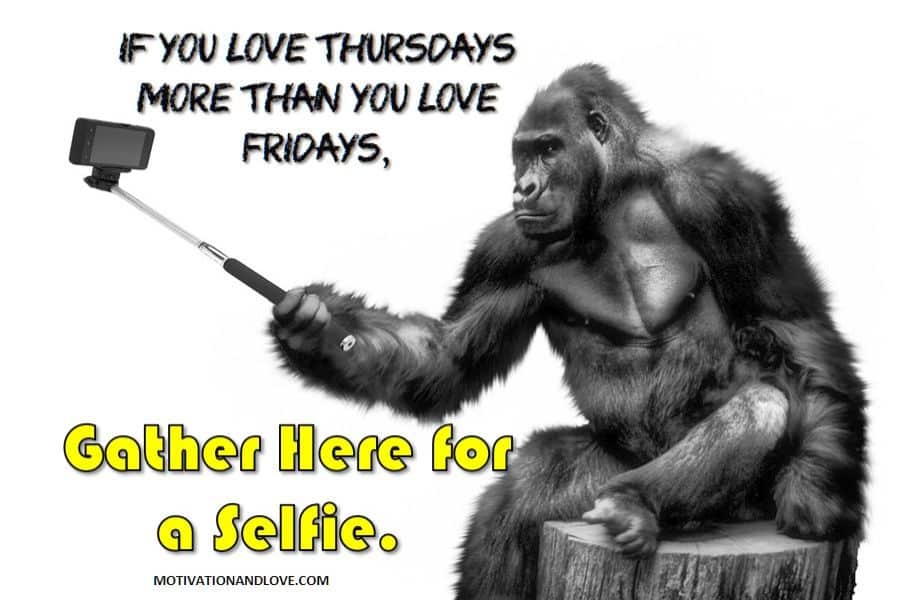 36. If today were Friday, I would be doing the opposite of this.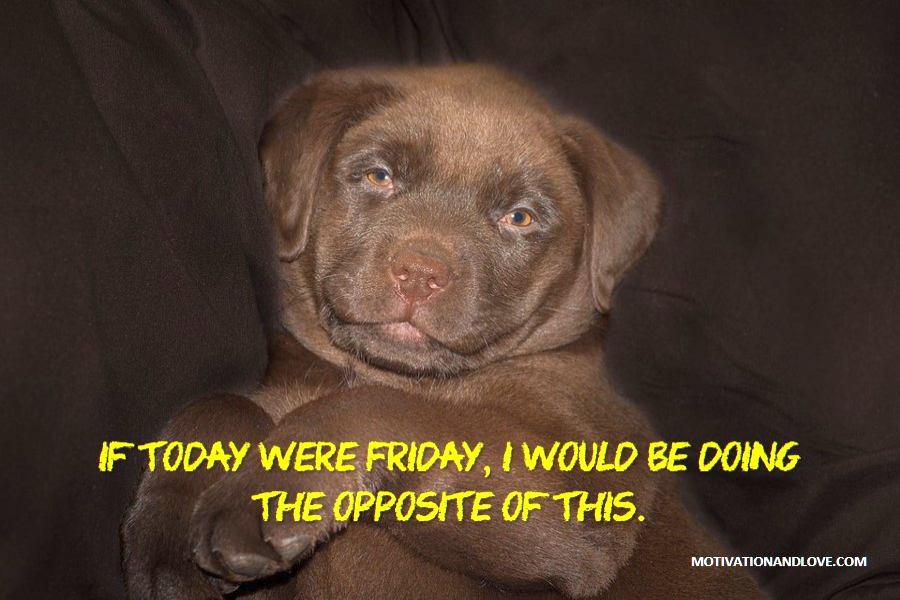 37. Please save me your Thursday.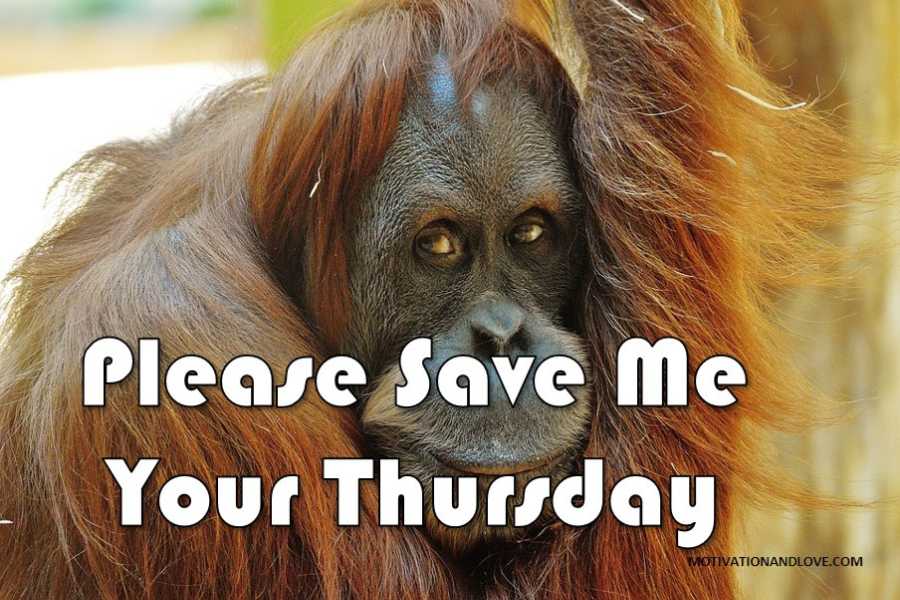 38. Thursday isn't even funny.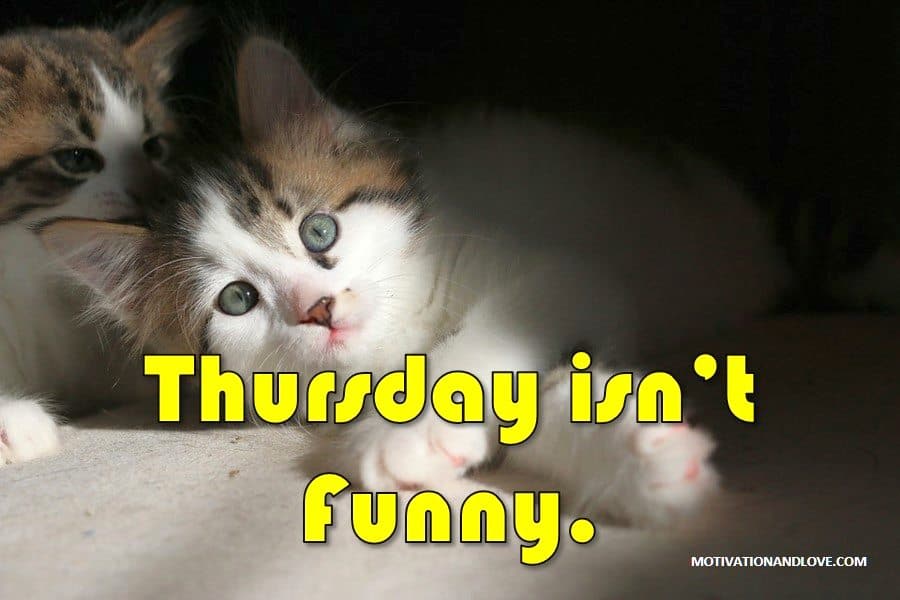 39. It's Thursday. I will close my eyes till I hear thank God it's Friday.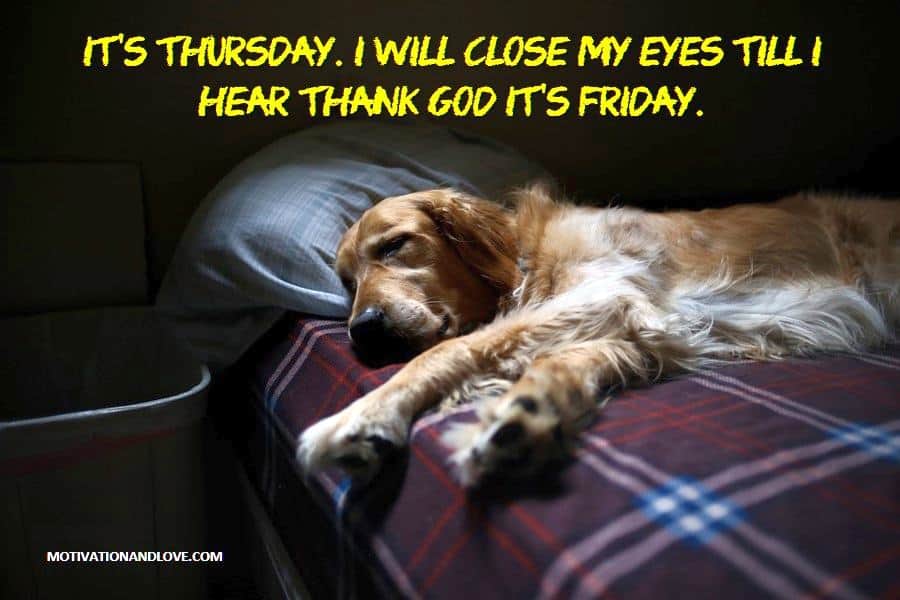 40. All I need is magic to Friday.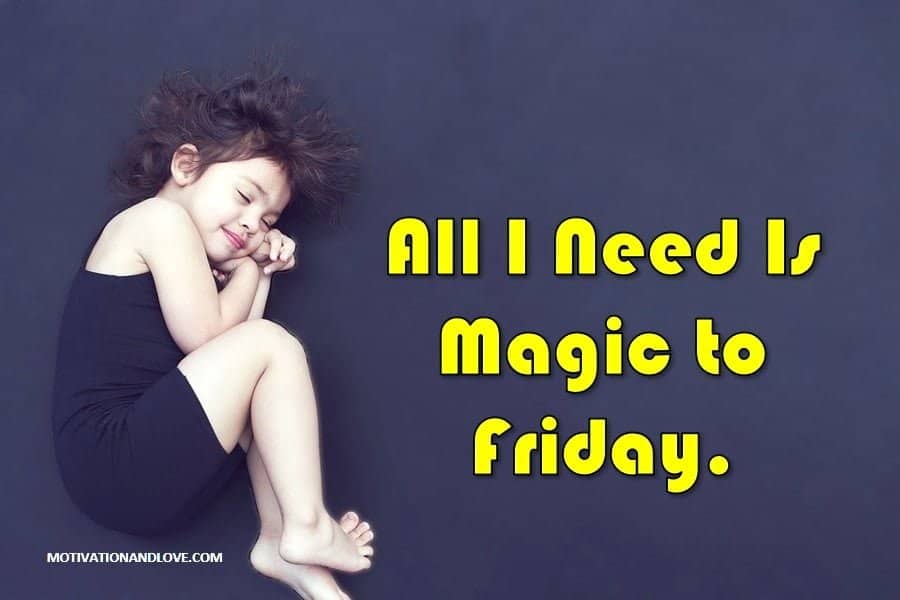 It's Only Thursday Memes
Best of It's Only Thursday Memes. Enjoy!
41. Hello Friday, are you expecting me?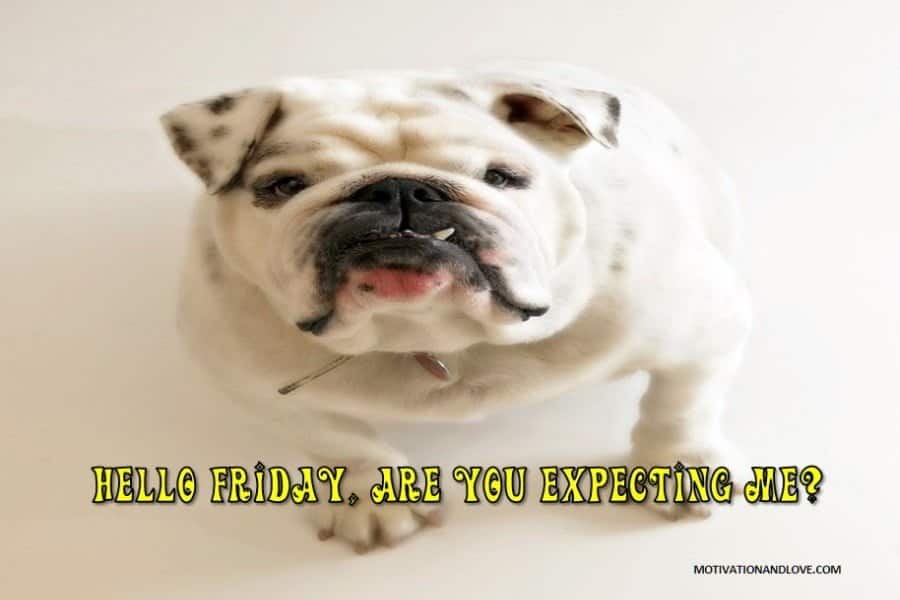 42. Wednesday sold me out to this Thursday! I need my way to Friday! Please.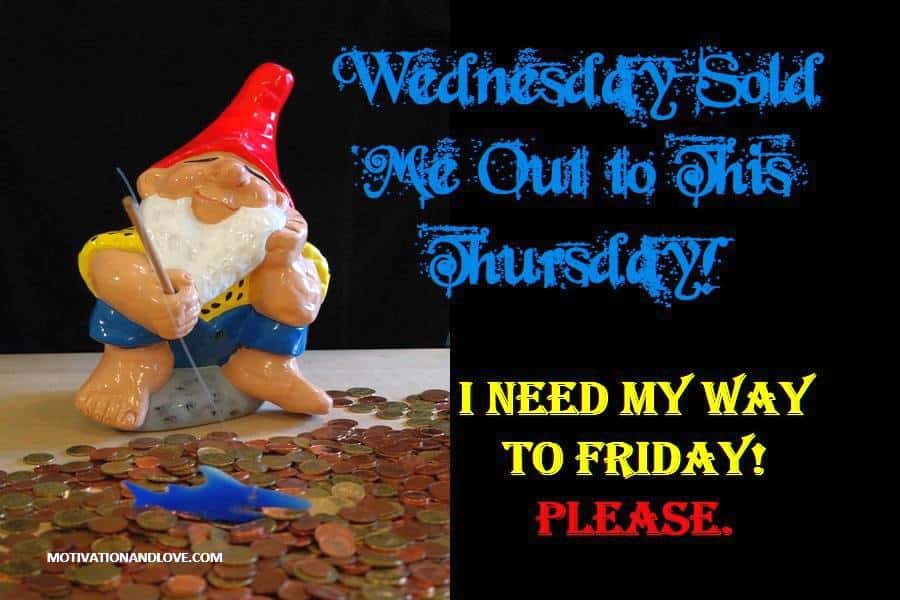 43. I'm enjoying my Thursday like it's a Friday.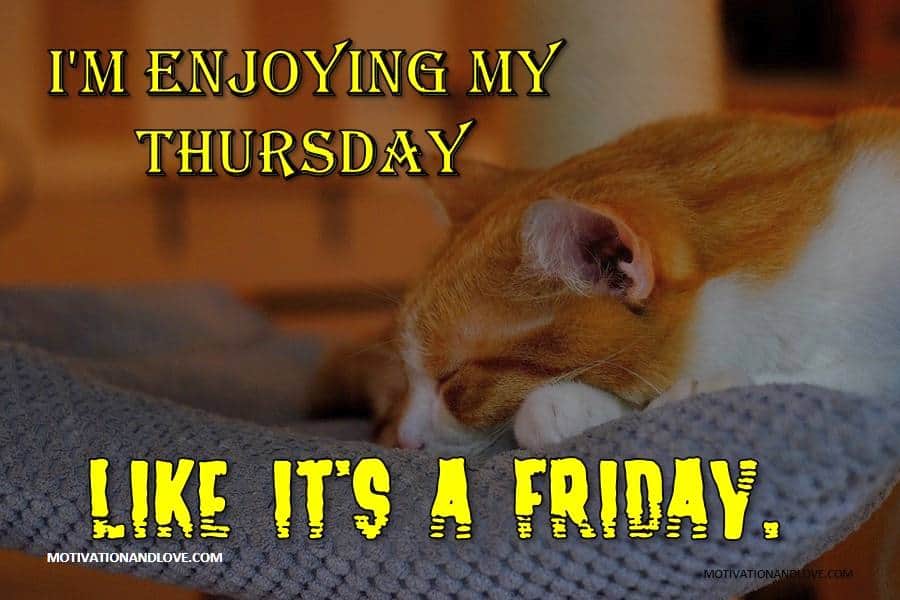 44. Sorry Thursday, I don't like you as much as I like Friday.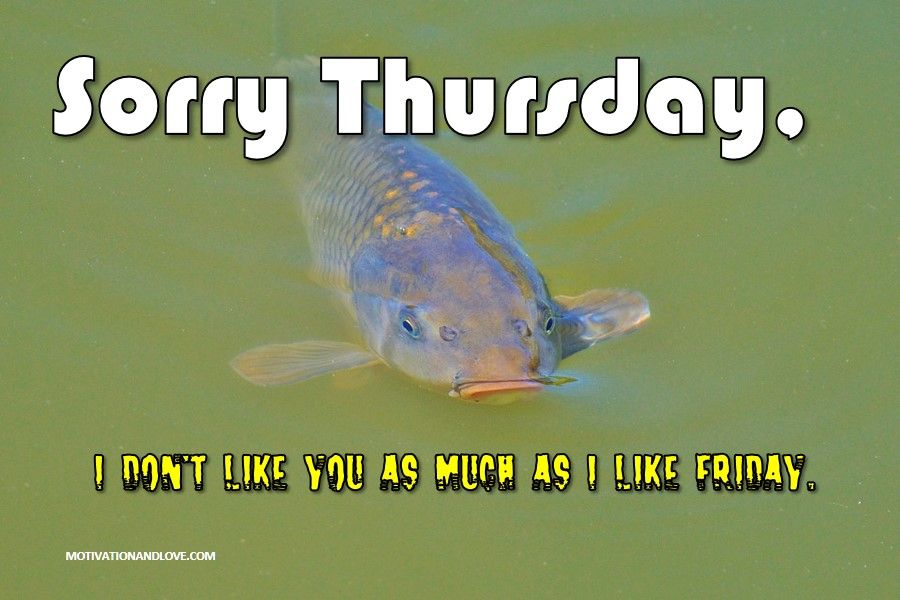 45. I don't need your opinion, I want a Thursday instead of Friday.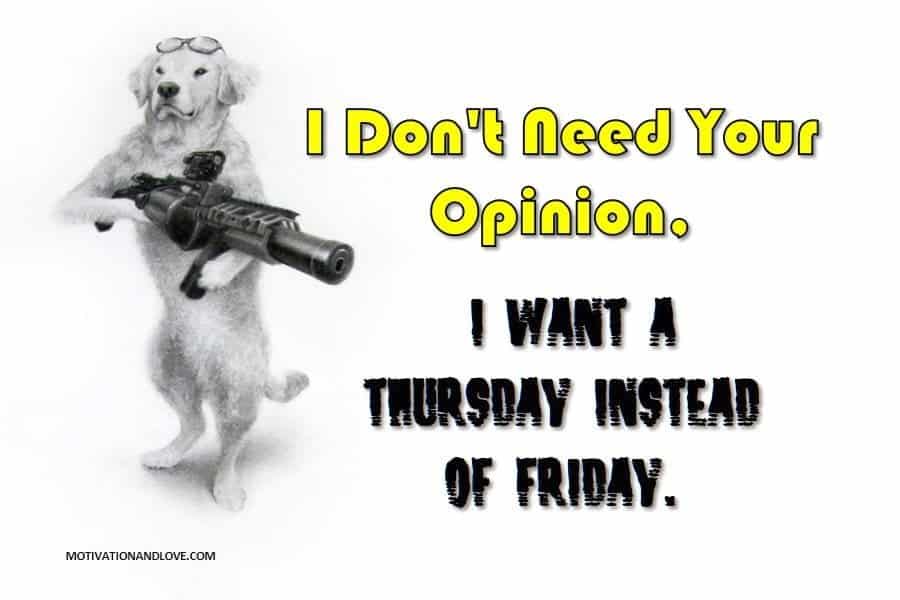 46. Thanks for the Thursday gift. I'm saving it for Friday.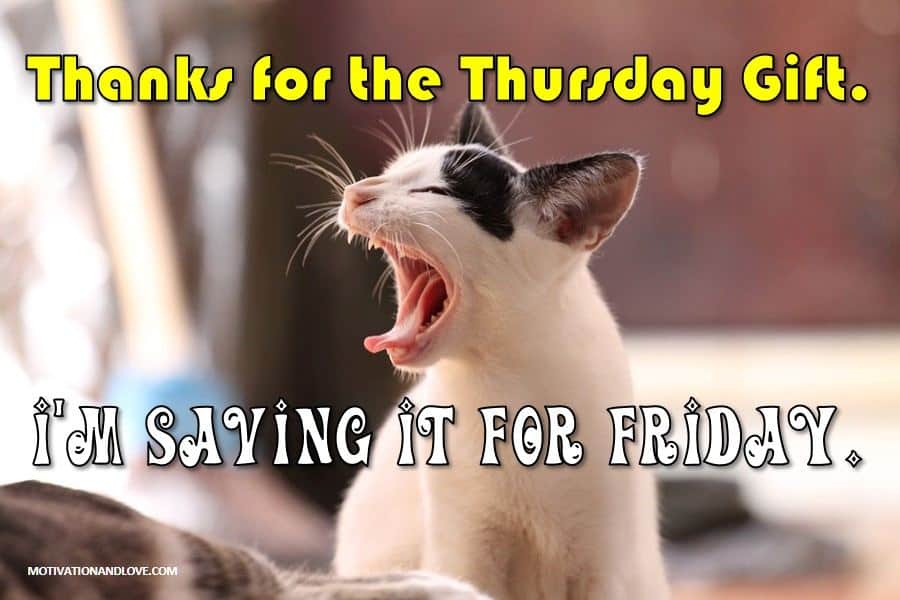 47. Some say today's Thursday. For me, it is Fridays eve.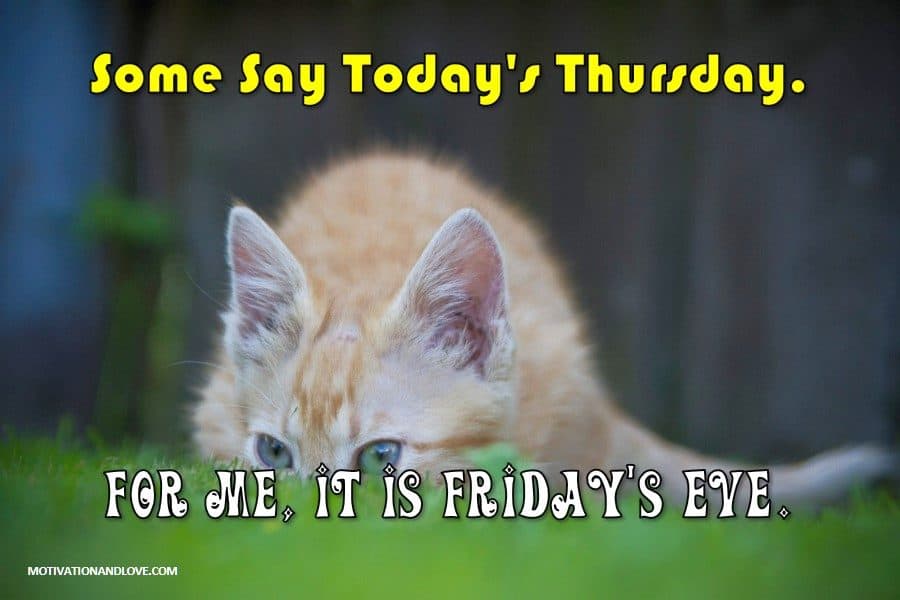 48. Hello Thursday. Friday called and I'm on my way.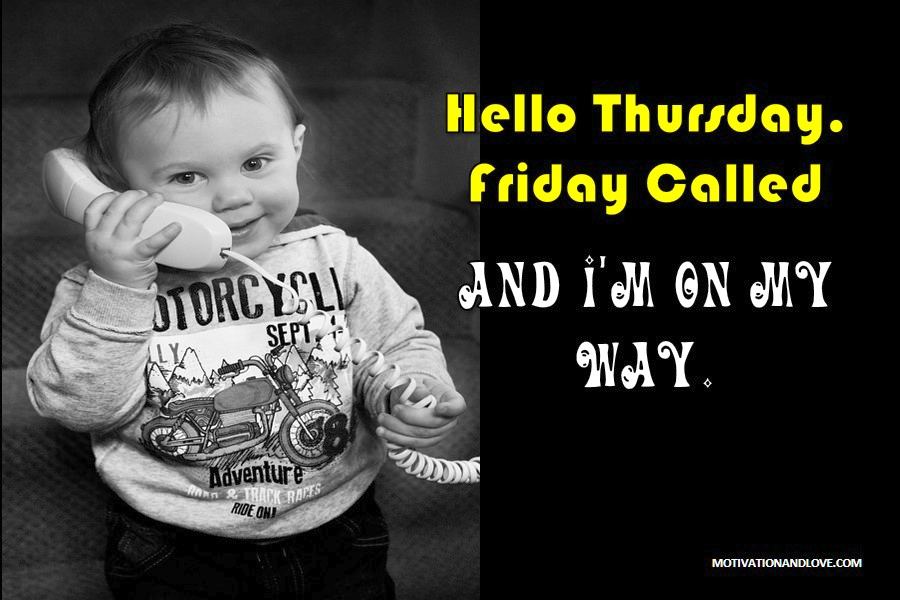 49. Writing my Thursday will: I will give everything to Friday. Not Thursday's work but Thursday's fun.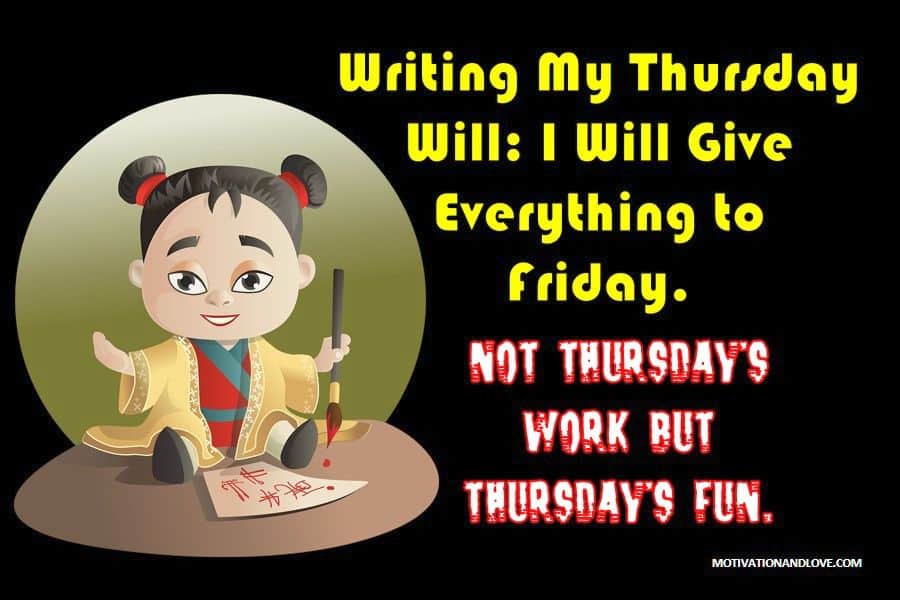 50. Thursday, go away… Come again another day… Little Friday is waiting for me!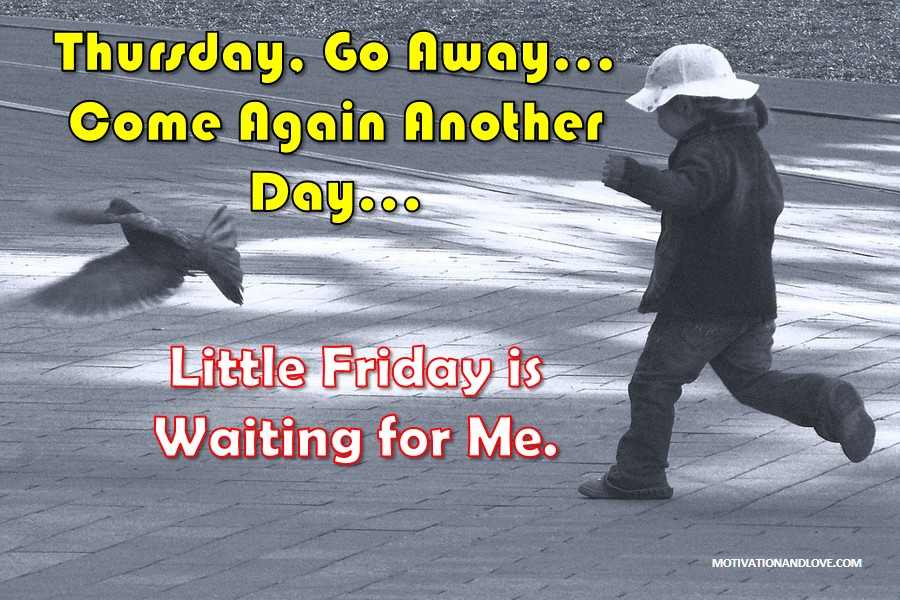 Dirty Thursday Memes
You can also check these Dirty Thursday Memes.
51. It's a rainy Thursday morning. It's going to be chilling and thrilling.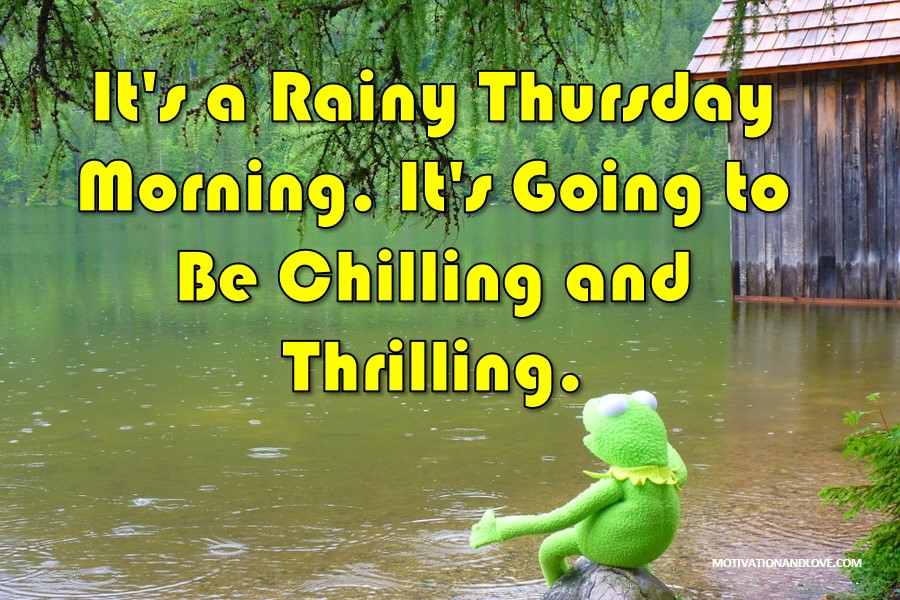 52. See the good in everything, even in the pile of work that you have on your desk and you will have a great Thursday.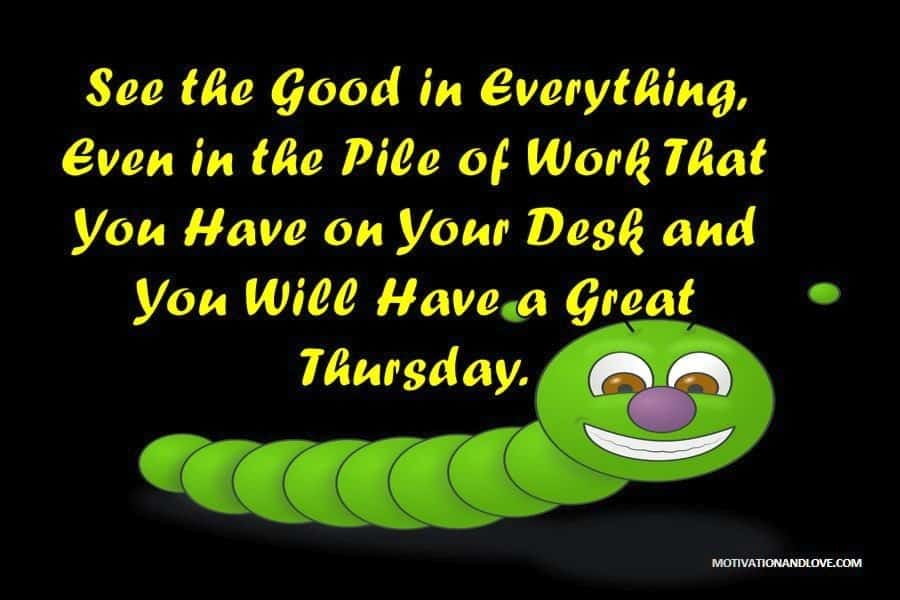 53. Thursday and Friday are two different days. Trying to balance them will be like trying to balance a switch.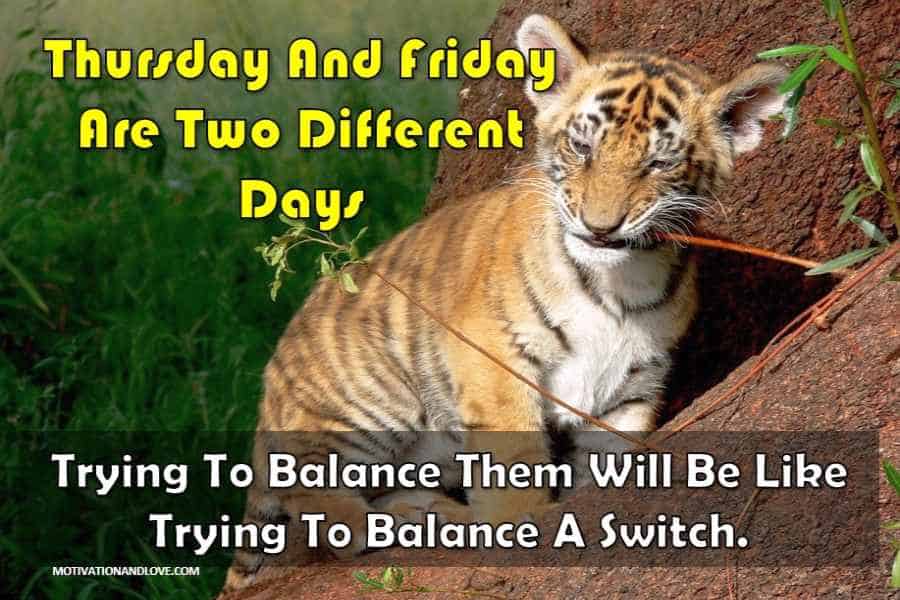 54. Dare to be different Thursday. When everyone is tired of strife on.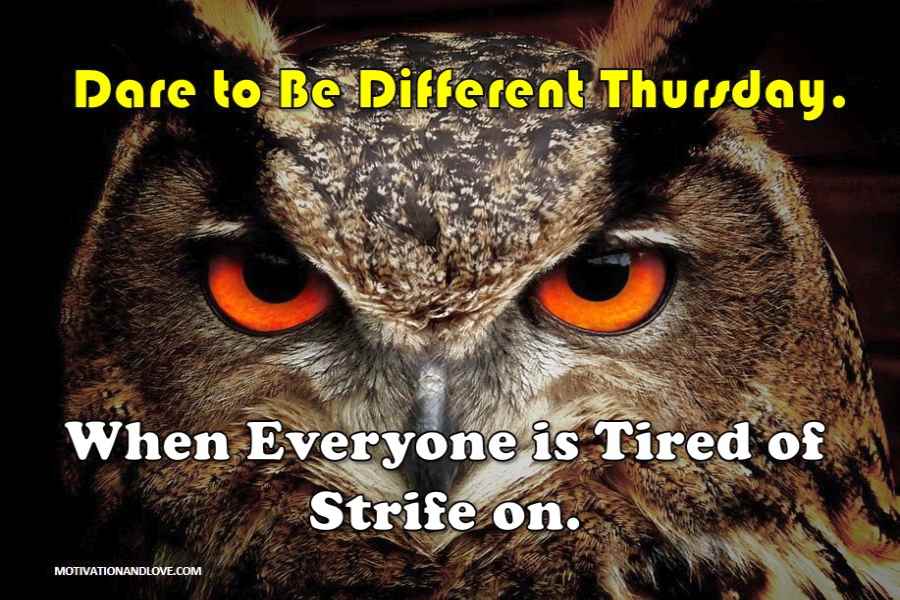 55. I feel like going back to sleep this Thursday morning. I feel so tired.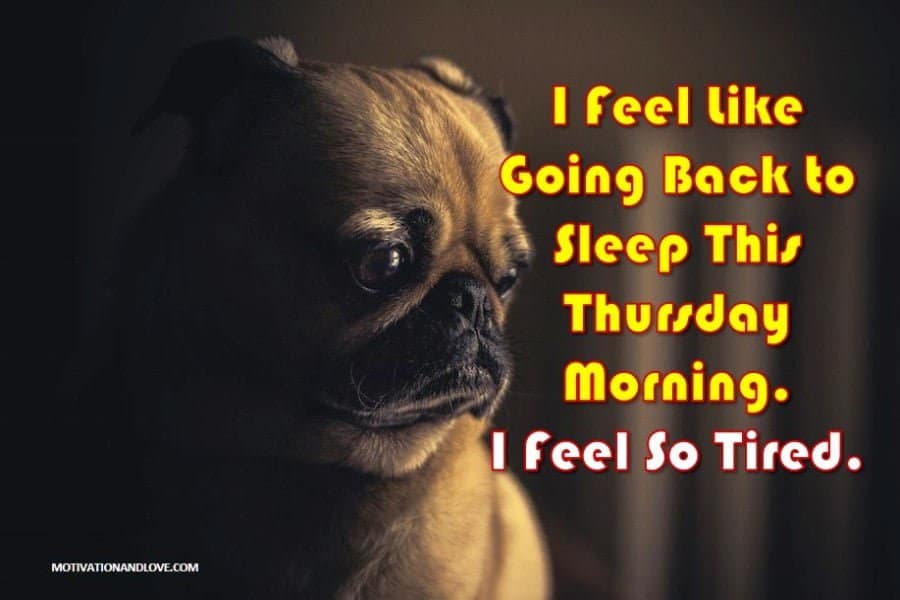 56. Thursday is one more opportunity to change the world. Go get it done.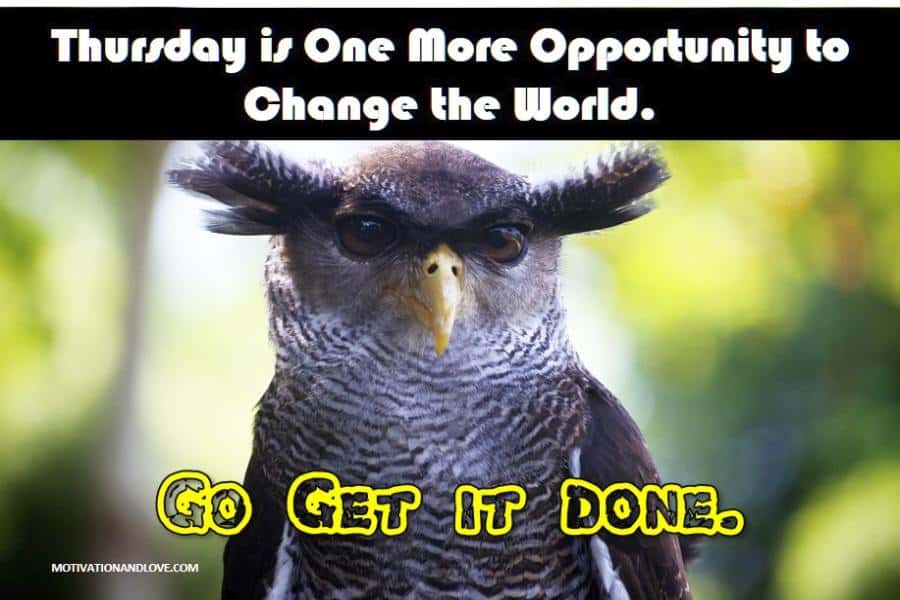 57. By tomorrow, Thursday will no longer be here. Appreciate it.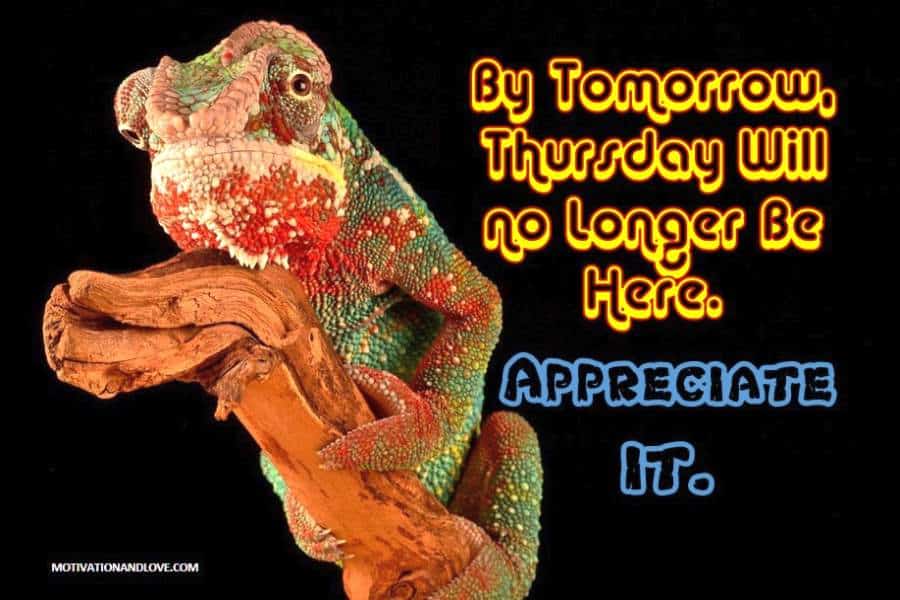 58. Thursday=extra work day. Grrrr!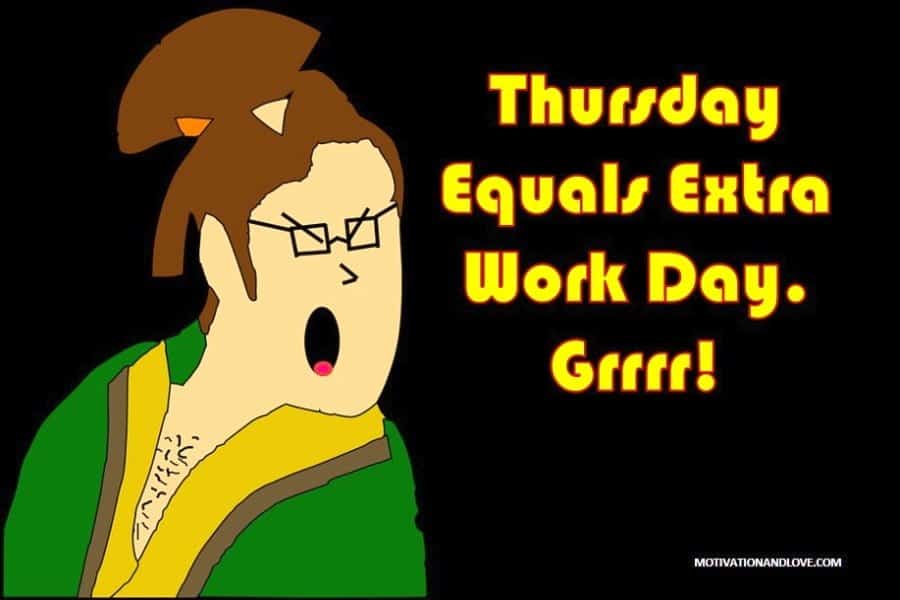 59. I have so much to do, one Thursday will not be enough.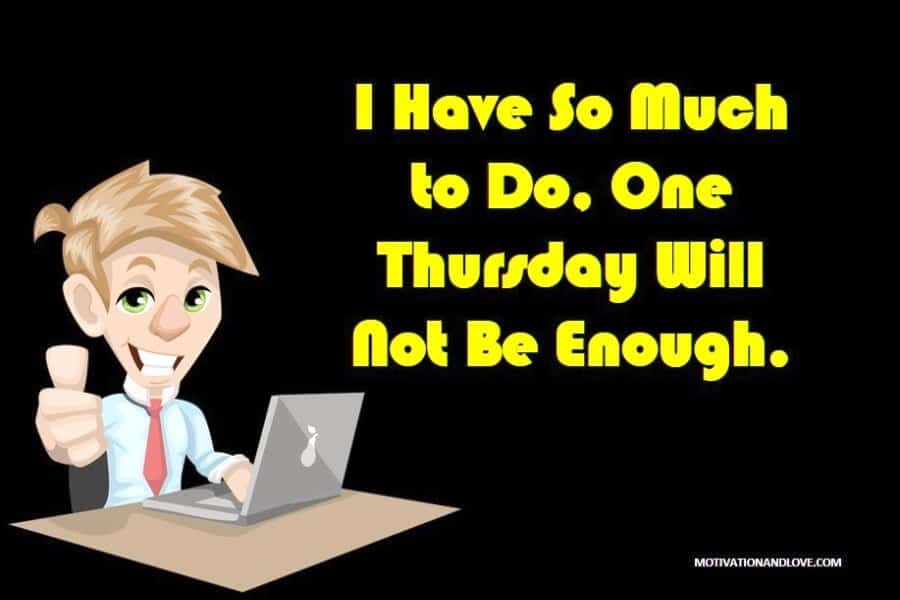 60. To enjoy your Friday is to love your Thursday.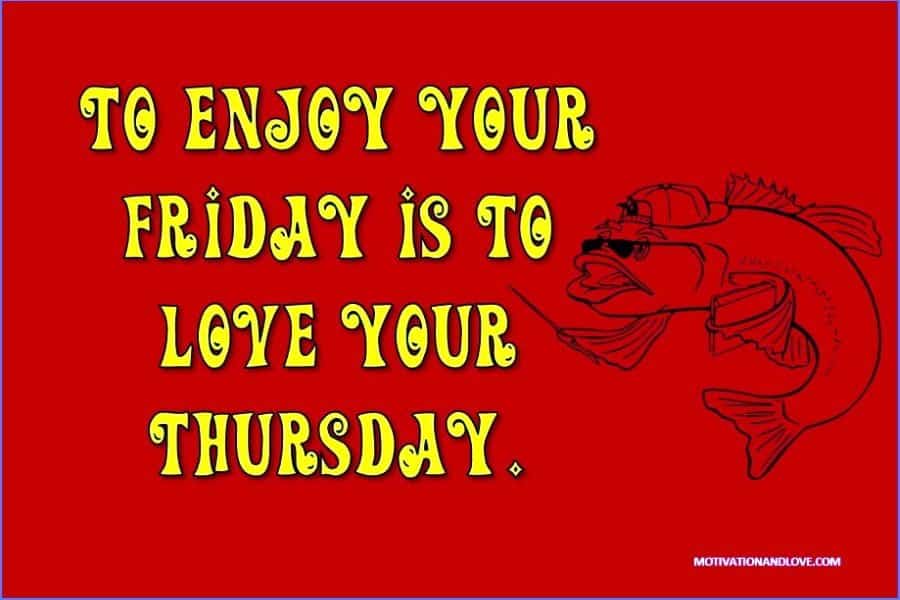 Thursday Work Memes
Thursday Work Memes also available for you.
61. Hey Thursday, I'm glad you came.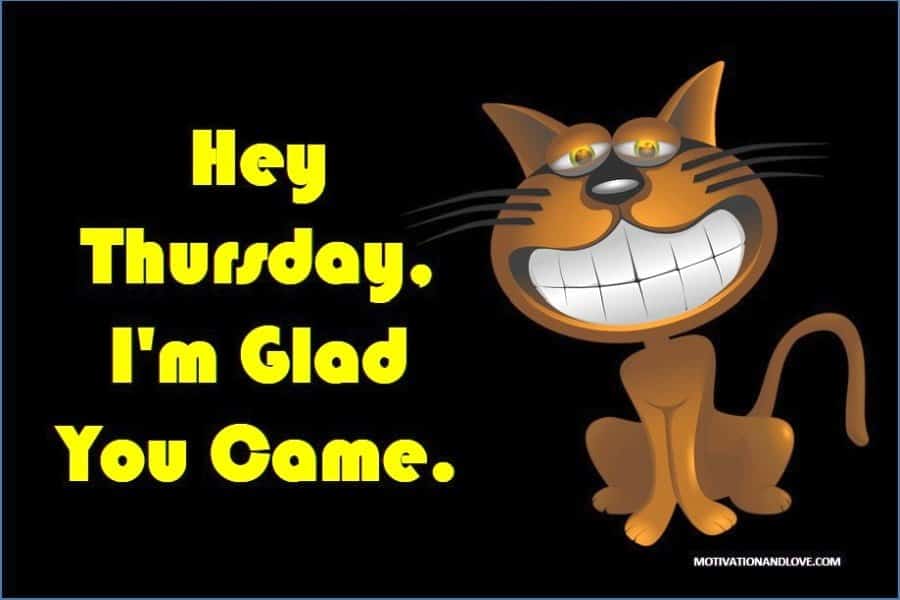 62. When you have worked 4days from Monday and Friday refuses to show up.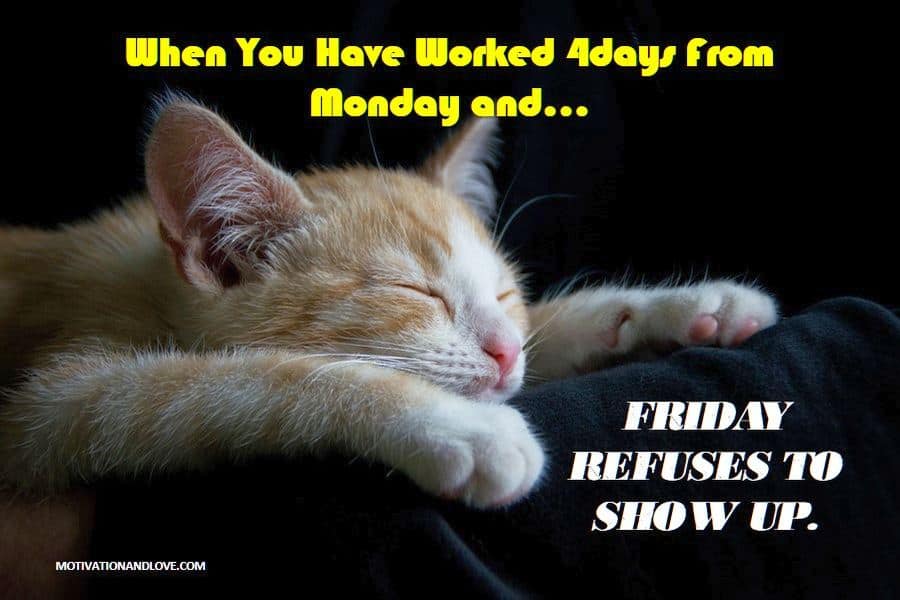 63. Good morning. I need me some coffee please, it is Thursday.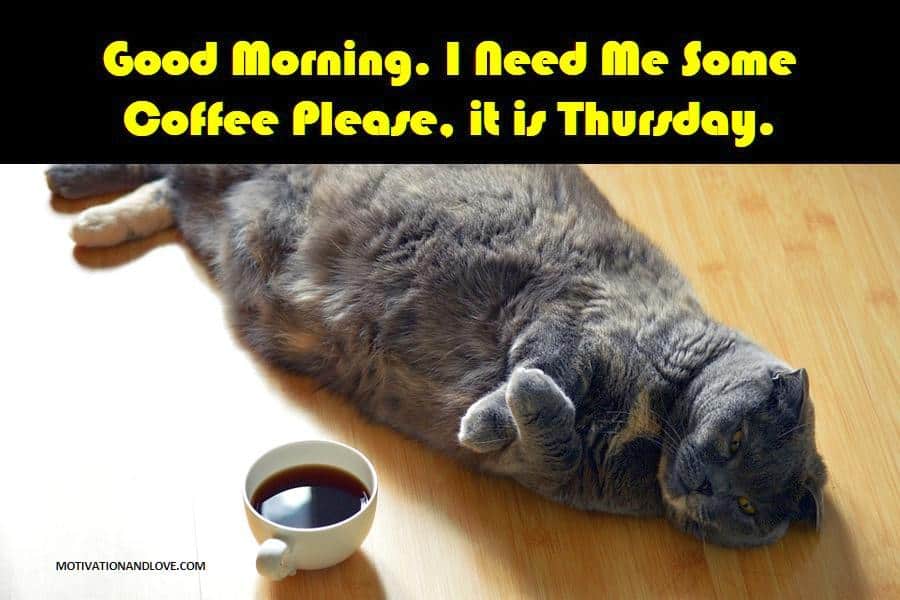 64. Come on, don't treat me so badly, I just came to hand you Friday.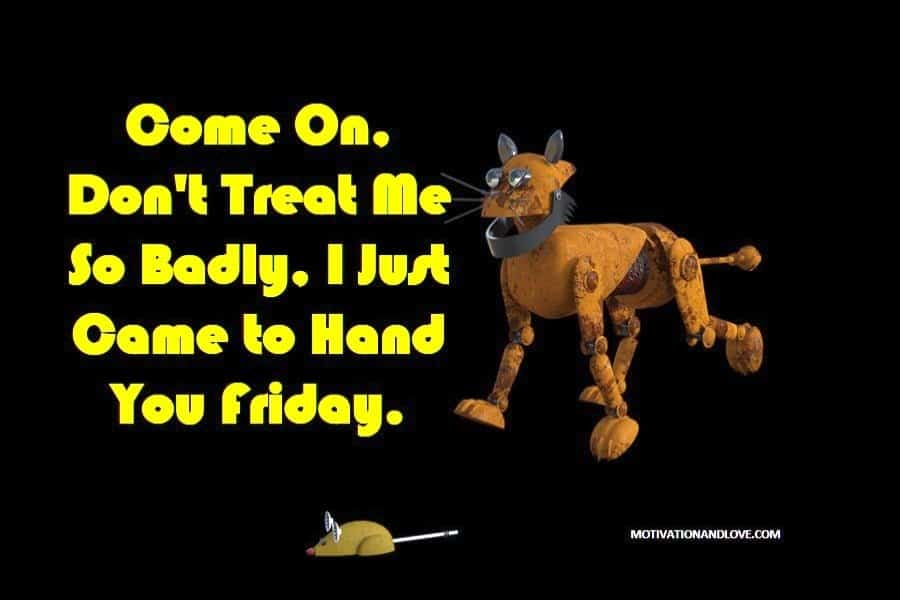 65. Fridays would not be so exciting if they were no Thursdays to usher them in.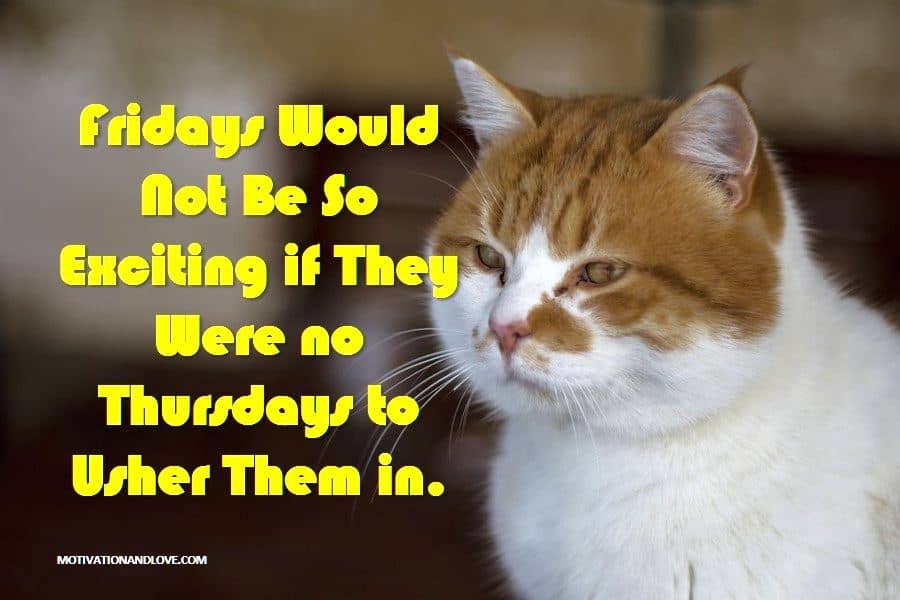 66. Life gives us only second chances but Mondays give us many chances. The fourth one is called Thursday.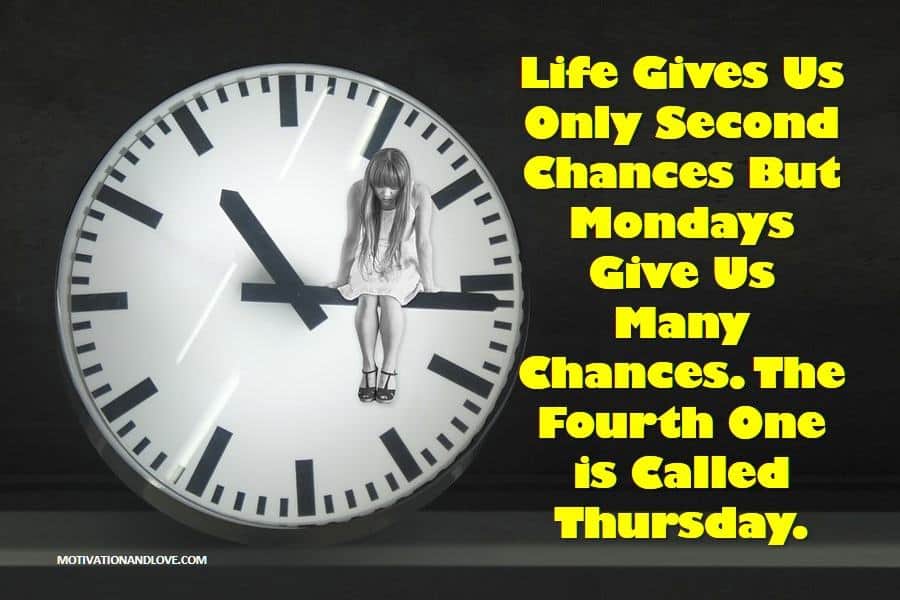 67. It's Thursday. Just lazy around and don't do anything and I promise you will never get a Friday.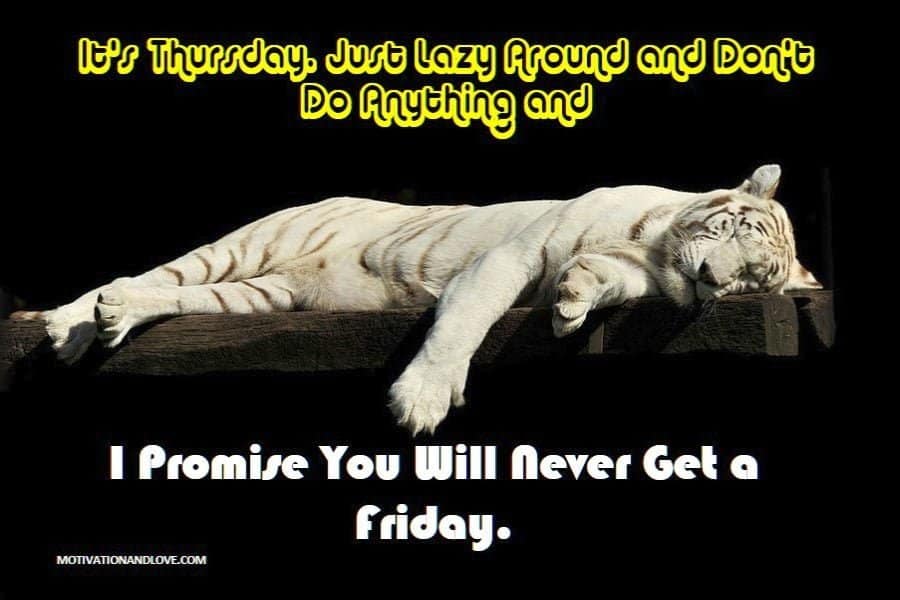 68. Be ready to give your Thursday away, it will soon be Friday.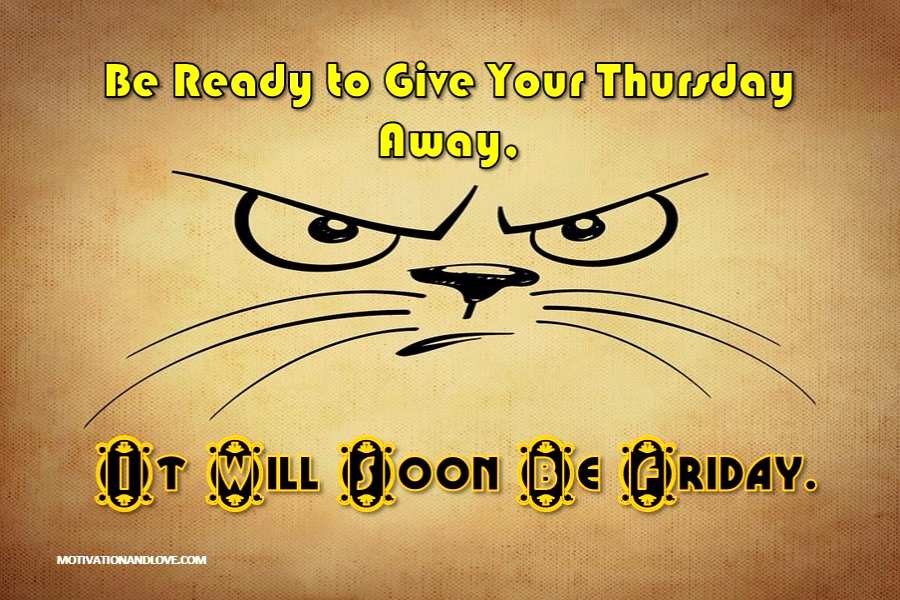 69. You only get the Thursday of your dreams if you make the most of today, enjoy it.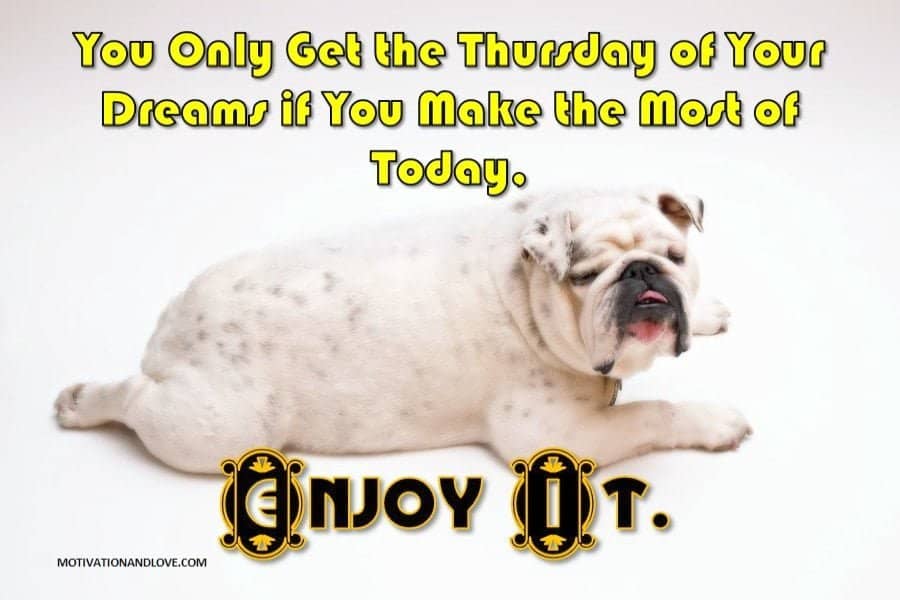 70. Don't be too excited yet, it is only Thursday.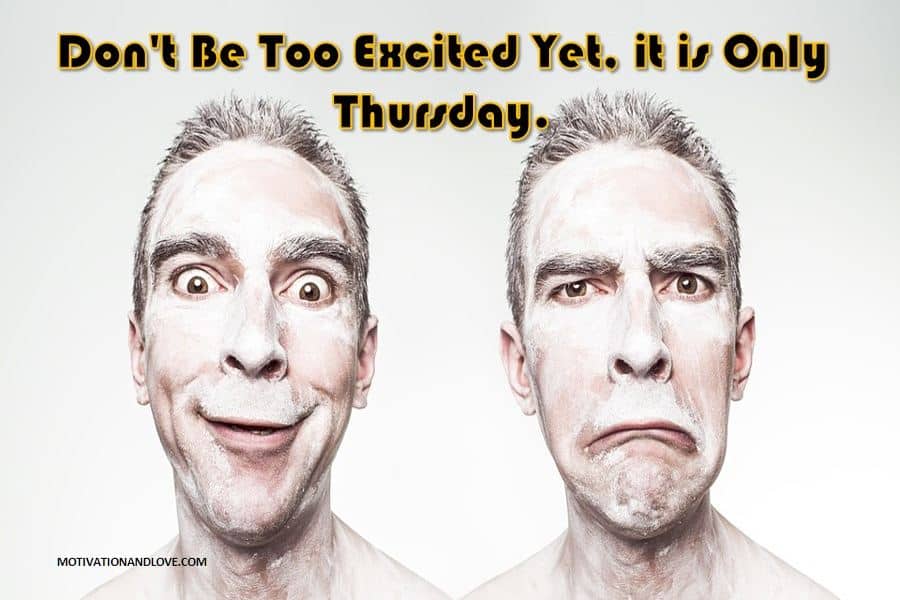 Cute Thursday Memes
Copy and paste these Cute Thursday Memes .
71. Hello, hope your Thursday is rocking like your Friday would?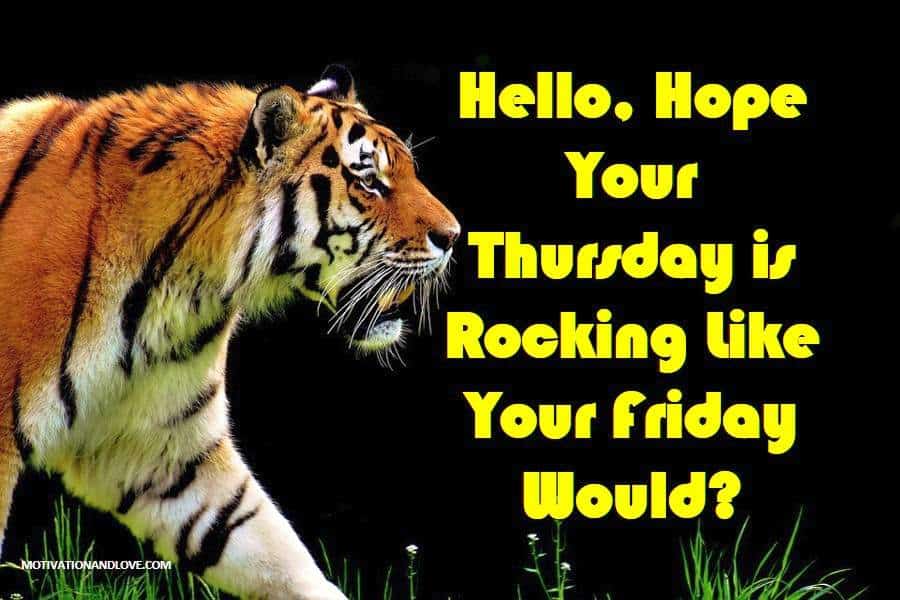 72. It would be a boring Friday if Thursday didn't come before it.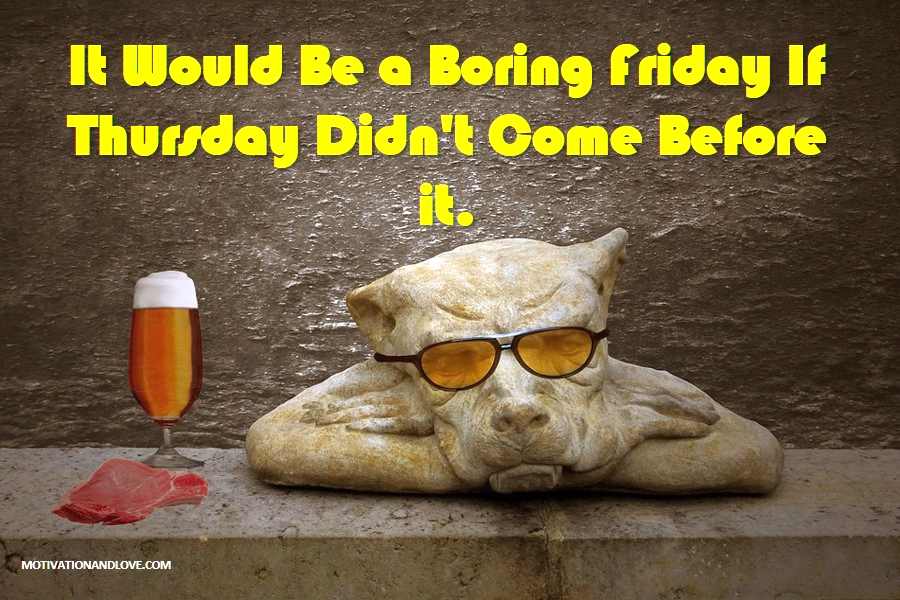 73. Thursday must be a really important day to come before Friday.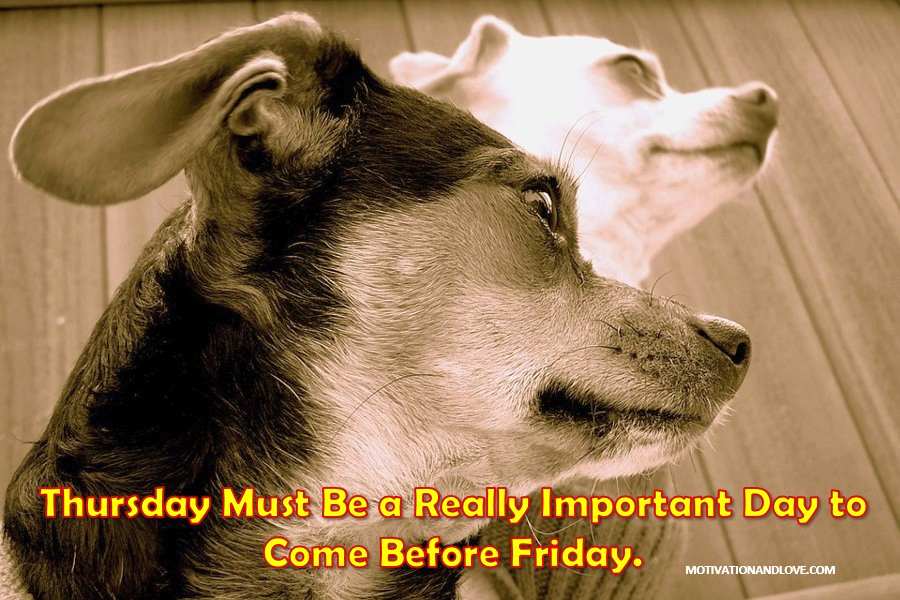 74. You can have me completely Thursday. I'm all yours.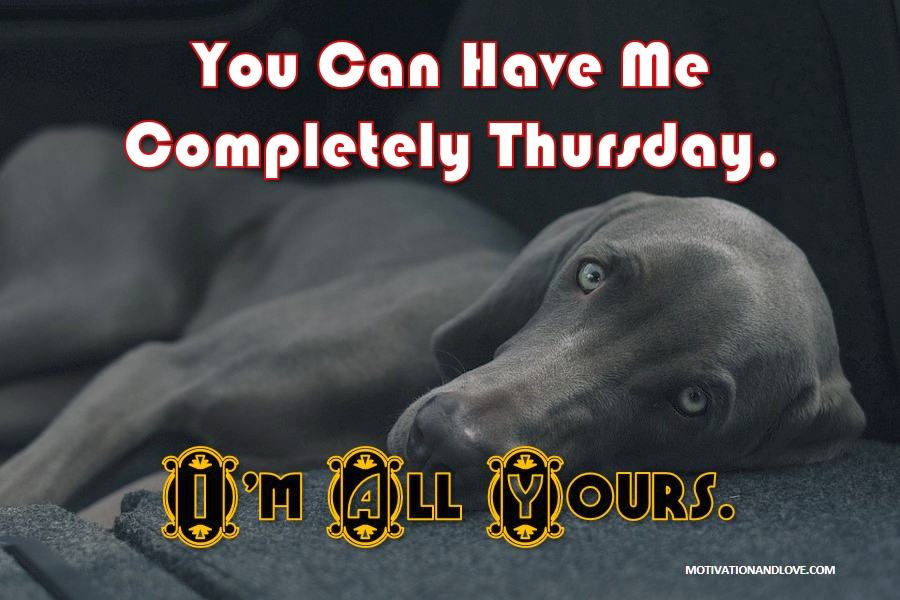 75. Thursday, you have to go. Friday and I can work things out but Thursday has to go first.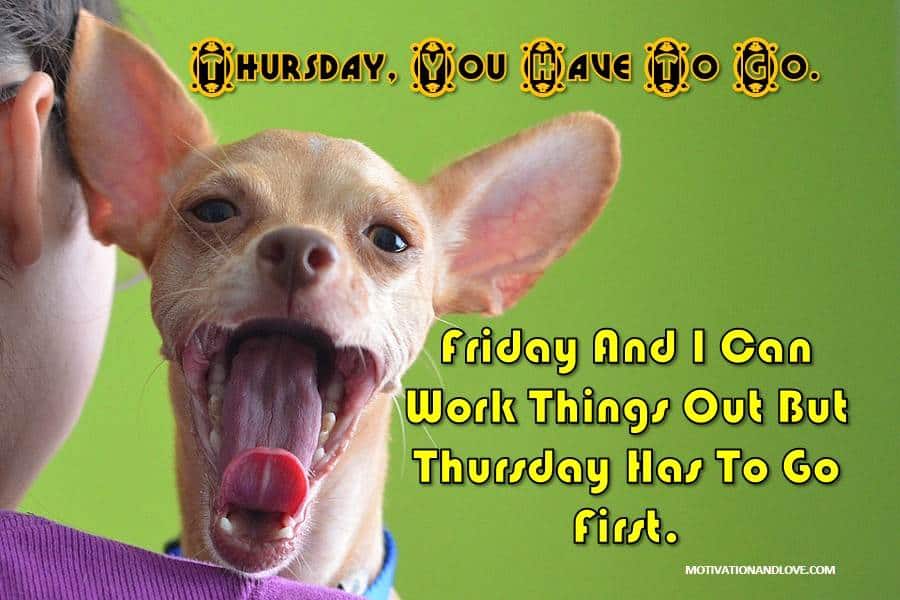 76. Thursday blinded me to work and I forgot that tomorrow is Friday.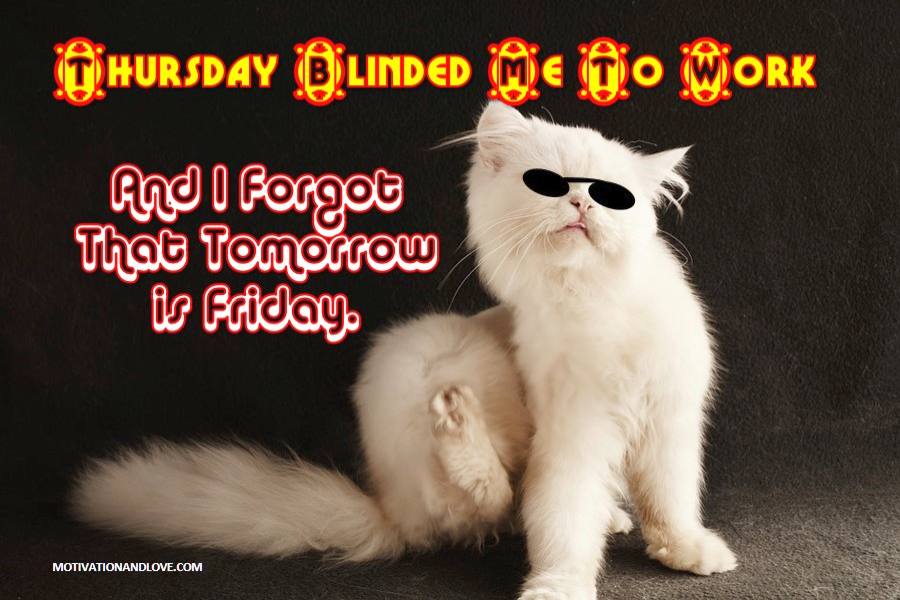 77. It is Thursday but you can look in the mirror and tell yourself that it is a good day.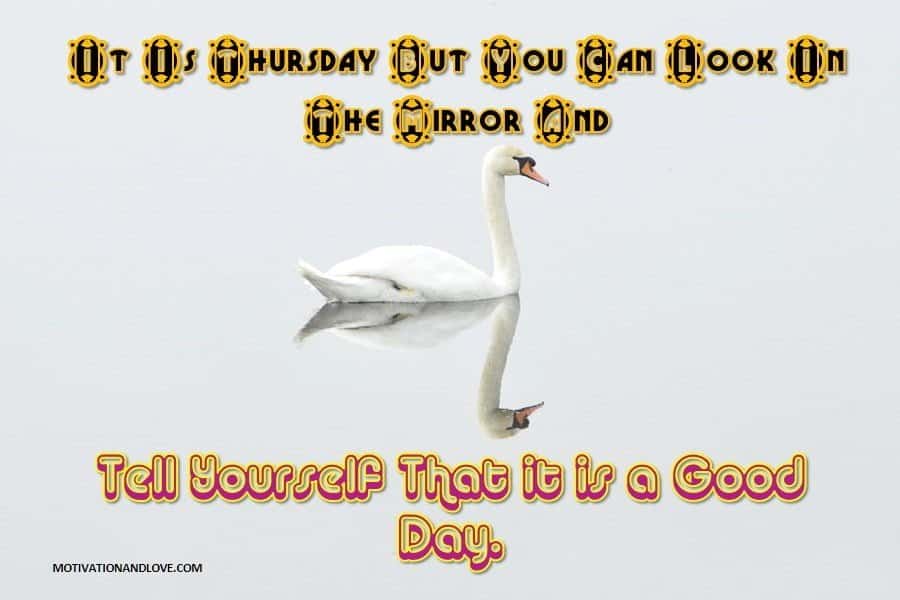 78. When you wake up thinking it is Friday then you realize it is Thursday and there is so much work to be done.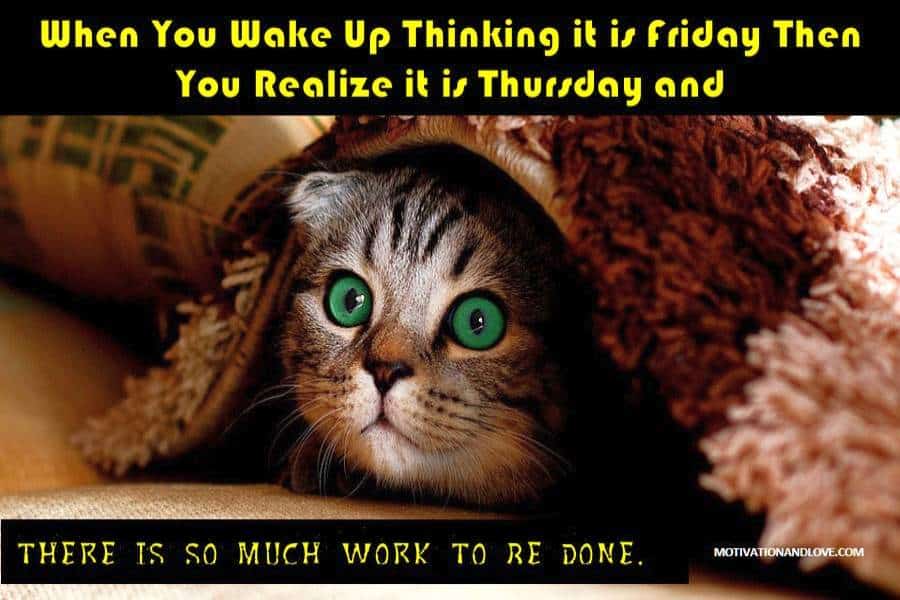 79. Thursday got me this excited. I can only imagine the excitement of Friday.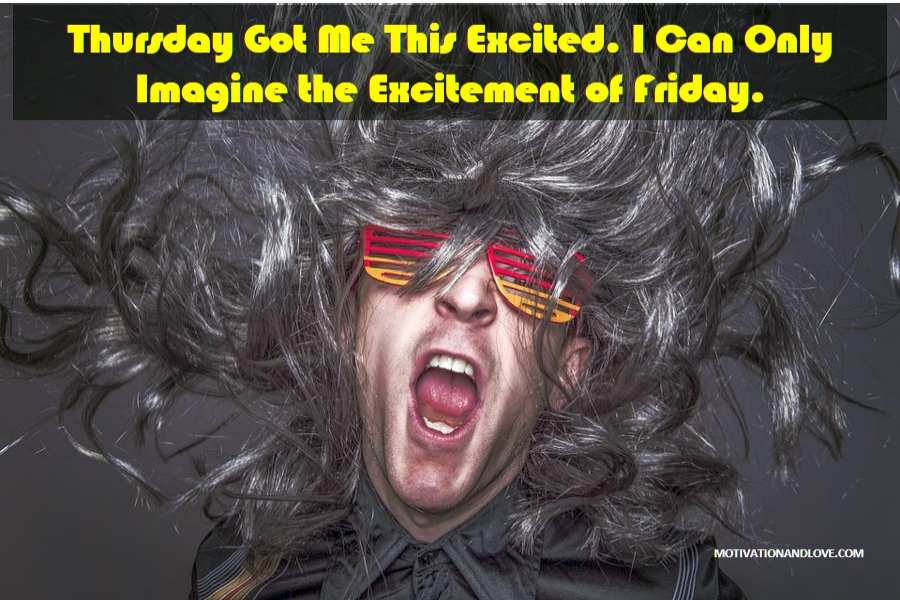 80. Go away Thursday, Friday is shy because of you.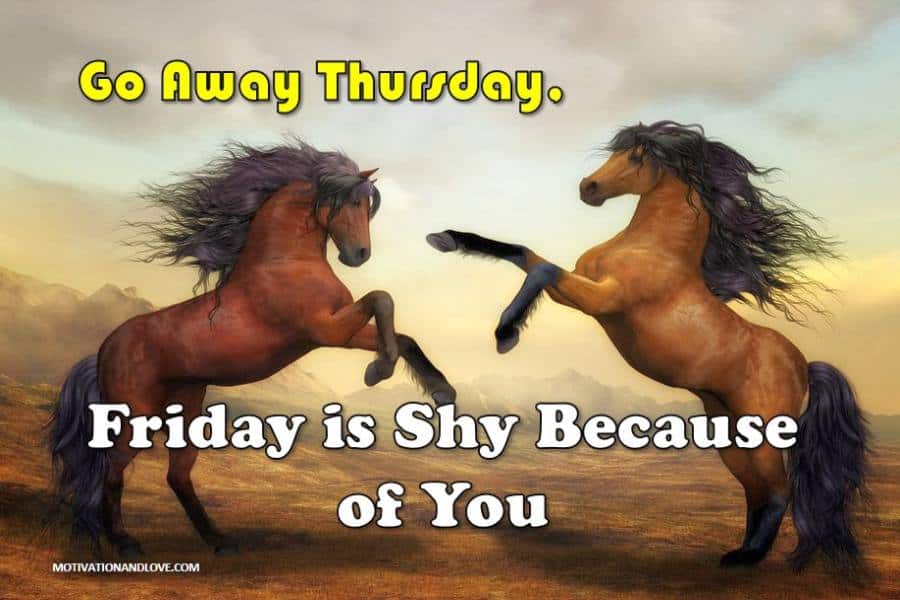 81. You can just get attacked by Thursday but the solution is to face and attack it head-on.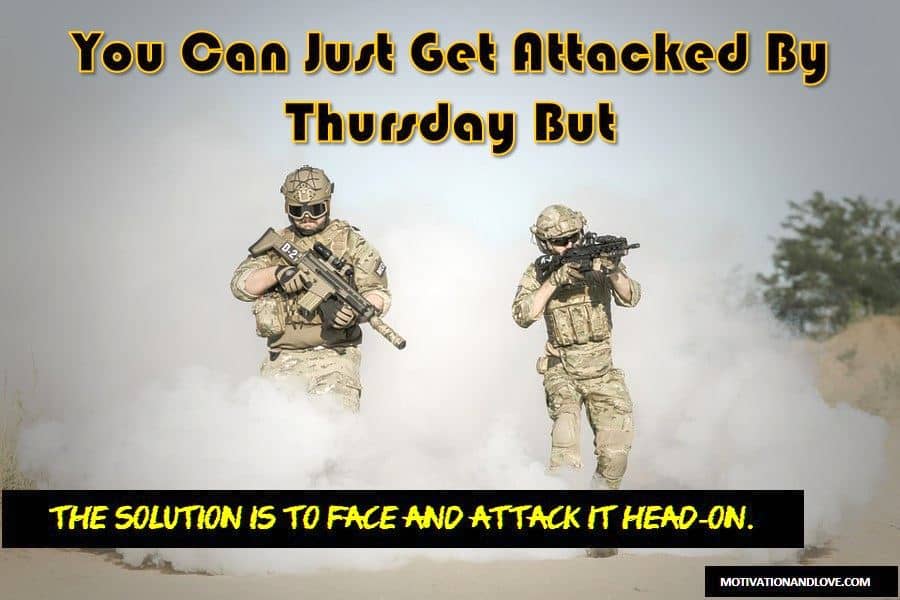 82. If you woke up this morning, you can definitely make it through this Thursday.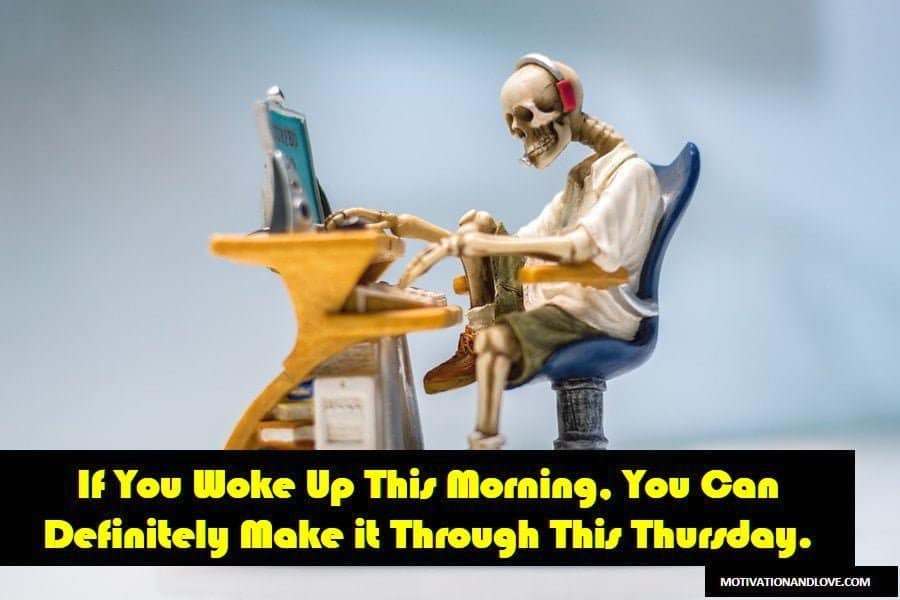 83. Let motivation find you today if you can't find motivation because it is Thursday and you must succeed.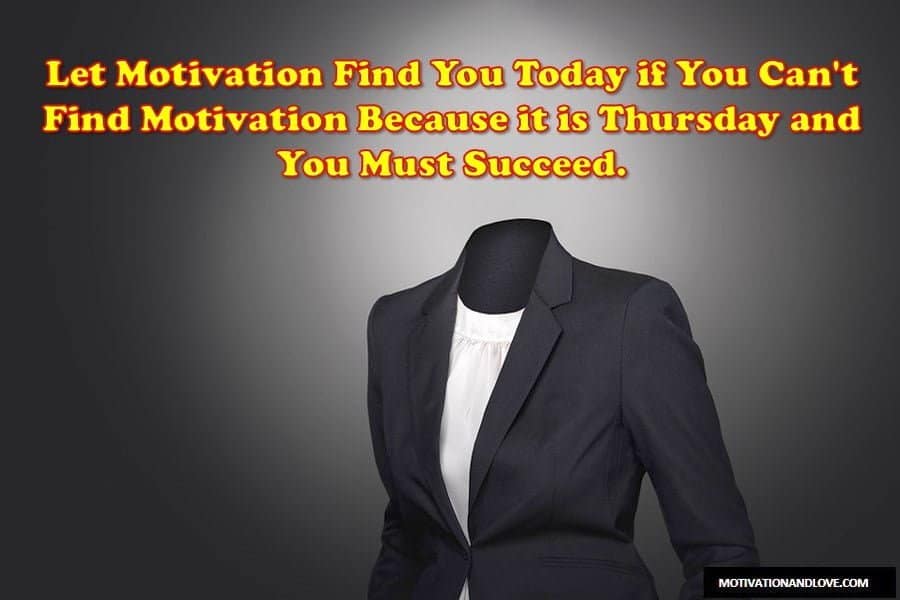 84. Don't be too confident Thursday, Friday is a few hours away.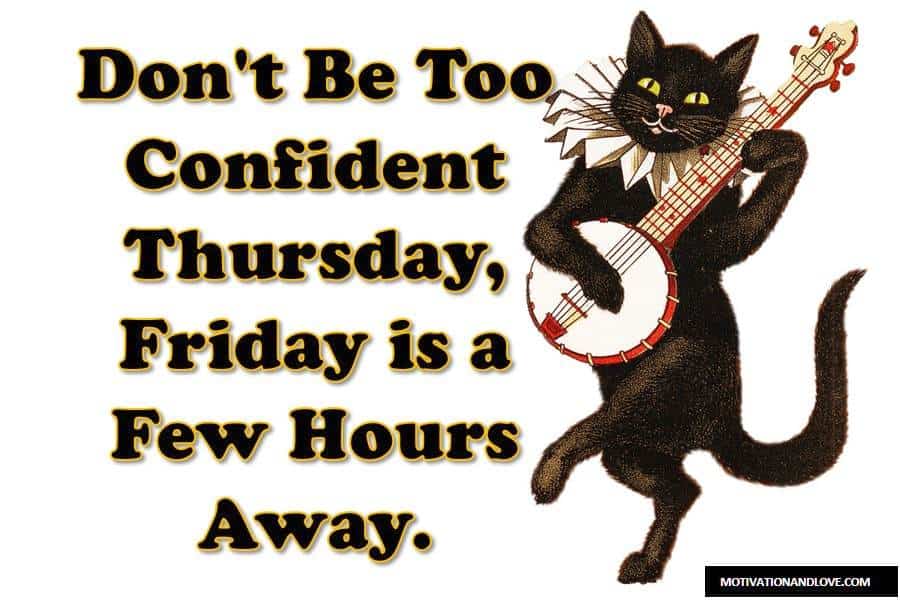 85. When Thursday has to be taken care of first and I can't wait for Friday to come.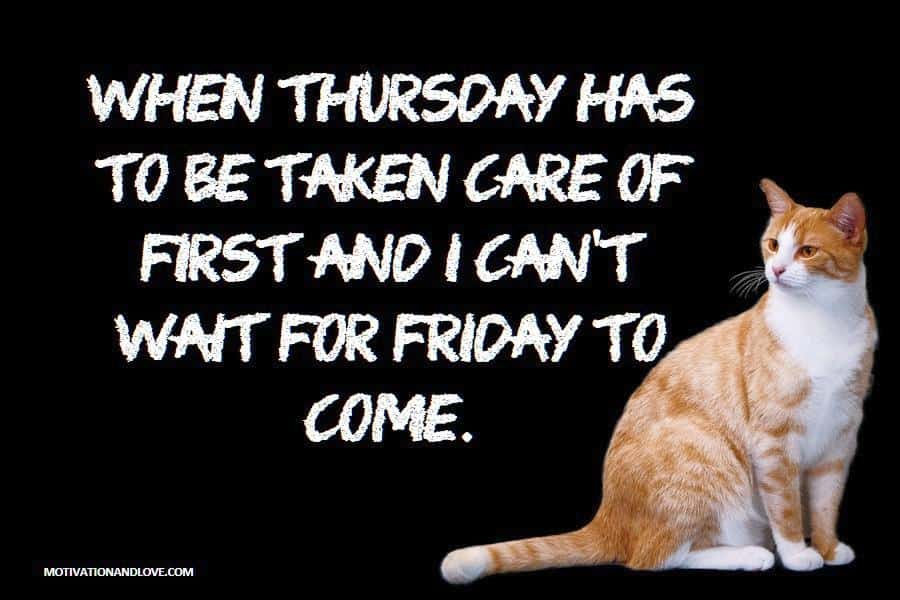 86. Your weekend depends on how you treat me. Remember I'm Thursday.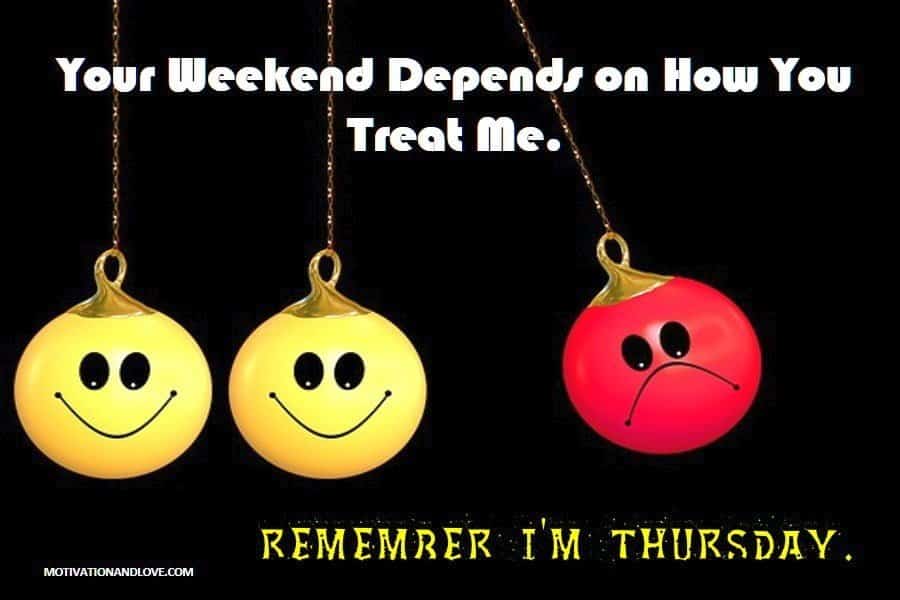 87. I may be full of responsibilities but I also hold a lot of potentials for your happiness. -Thursday.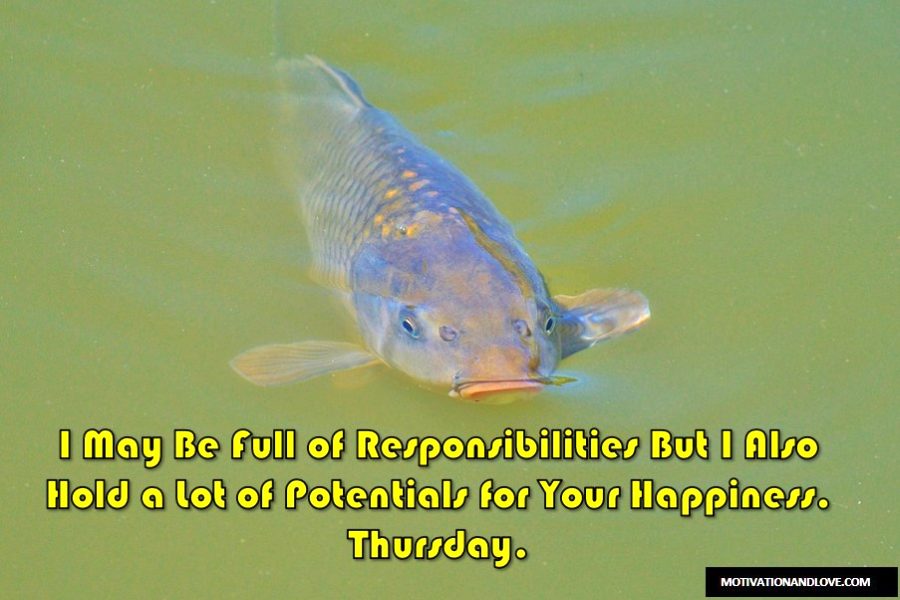 88. I can make you not to have a weekend if you don't settle me. -Thursday.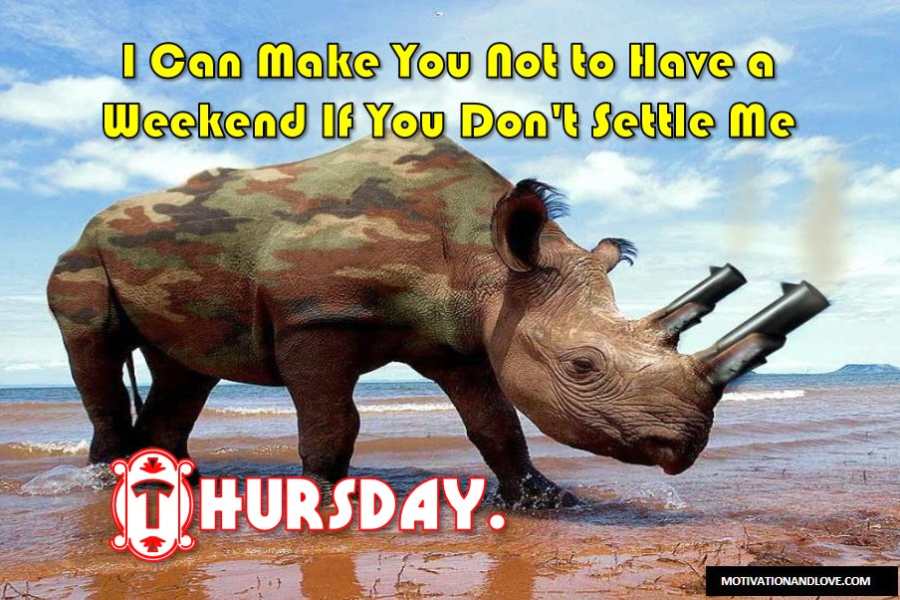 89. When your weekend largely depends on your results from Thursday.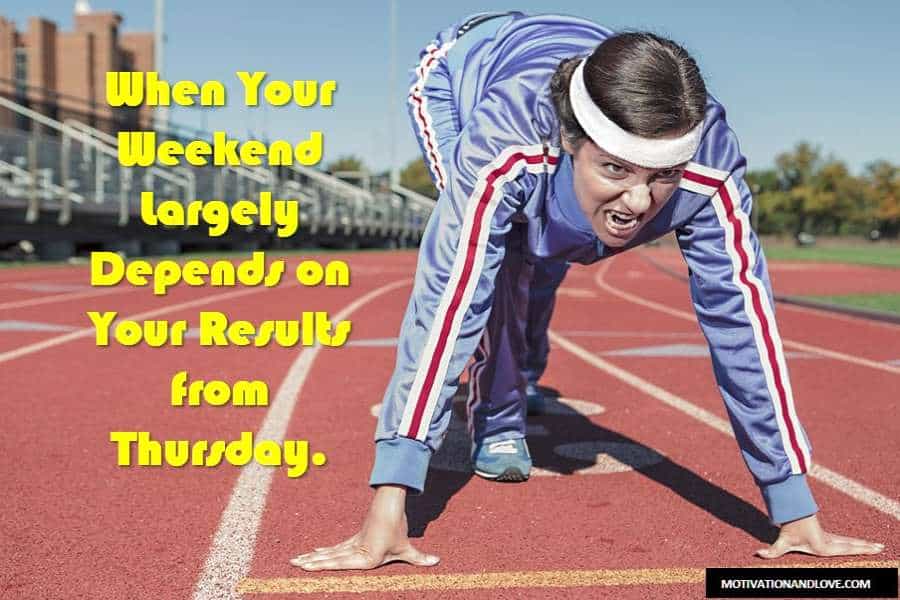 90. Cheer up! Friday will definitely be better.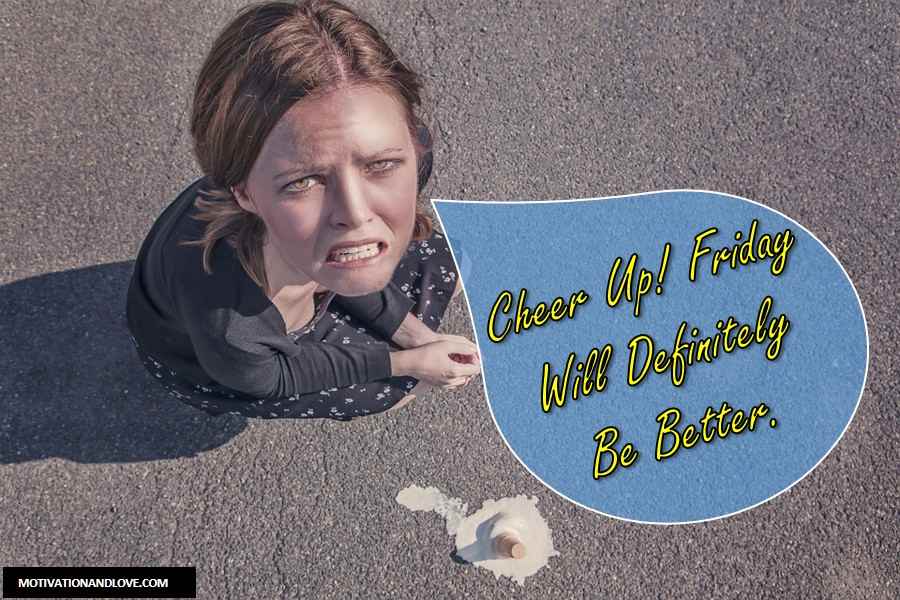 91. Hey! Don't be so gloomy, it's only Thursday.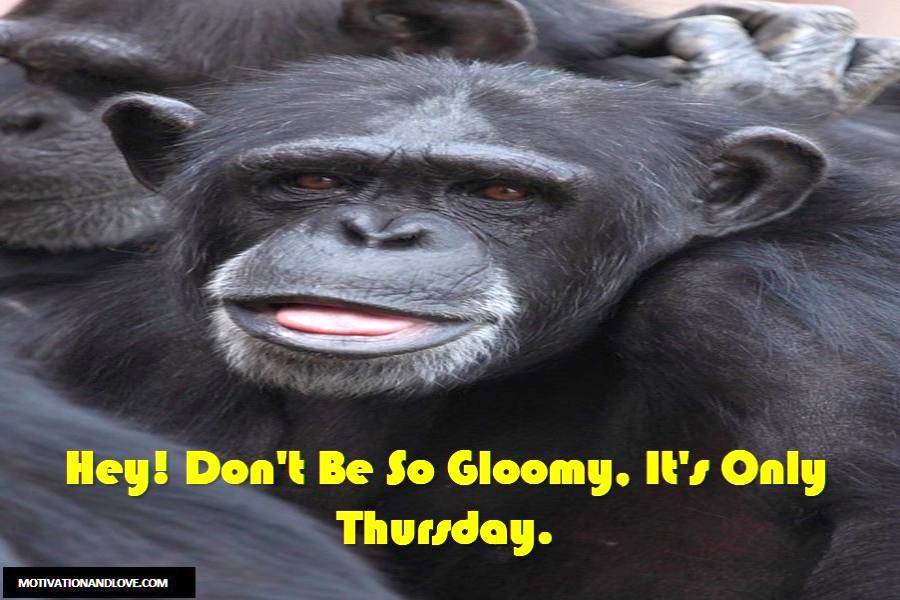 92. It won't be an exciting Friday if Thursday is not fulfilling. So get up and fulfil your Thursday.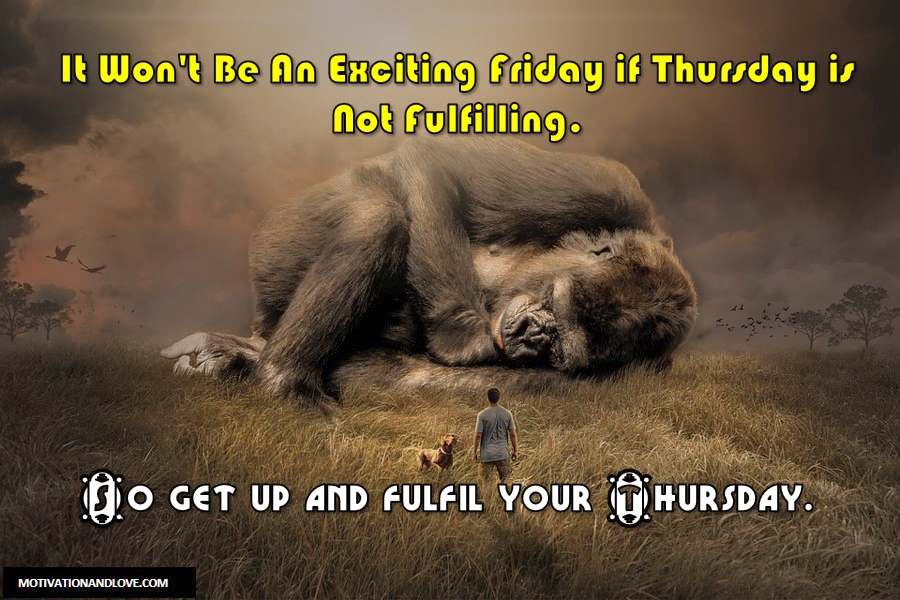 93. My best day is Thursday. Friday is just a weekend.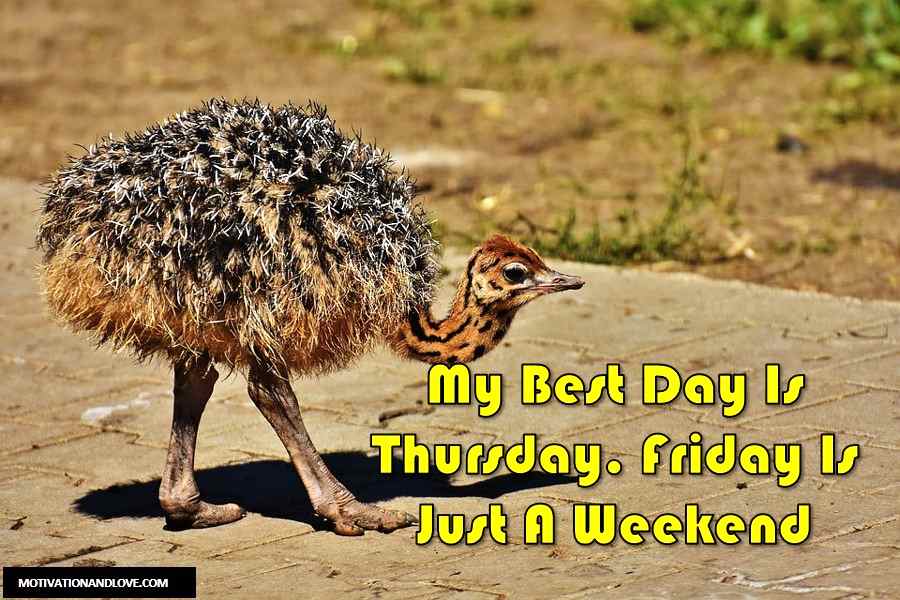 94. When your Thursday is more perfect than any Friday you can ever think of.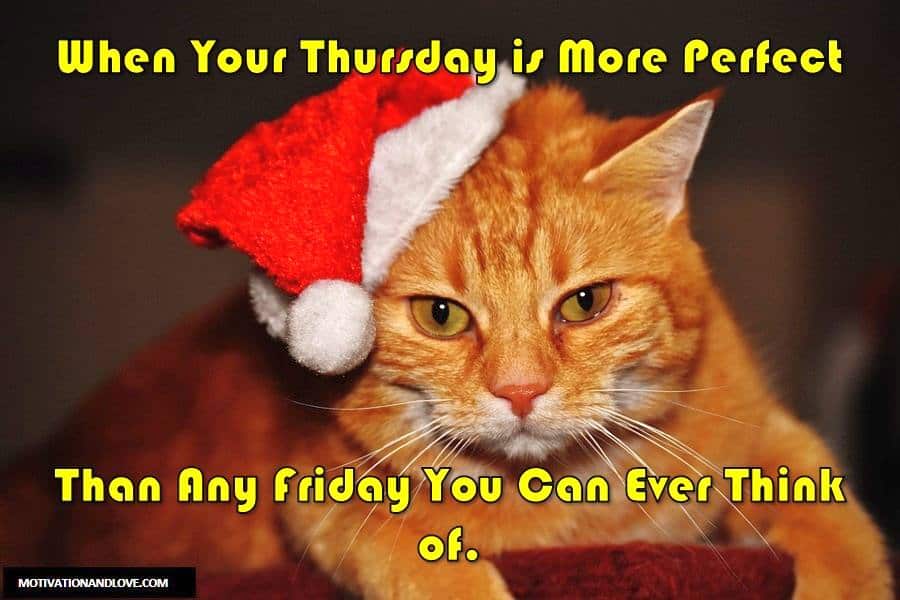 95. You can have a terrific Thursday. It is not so bad.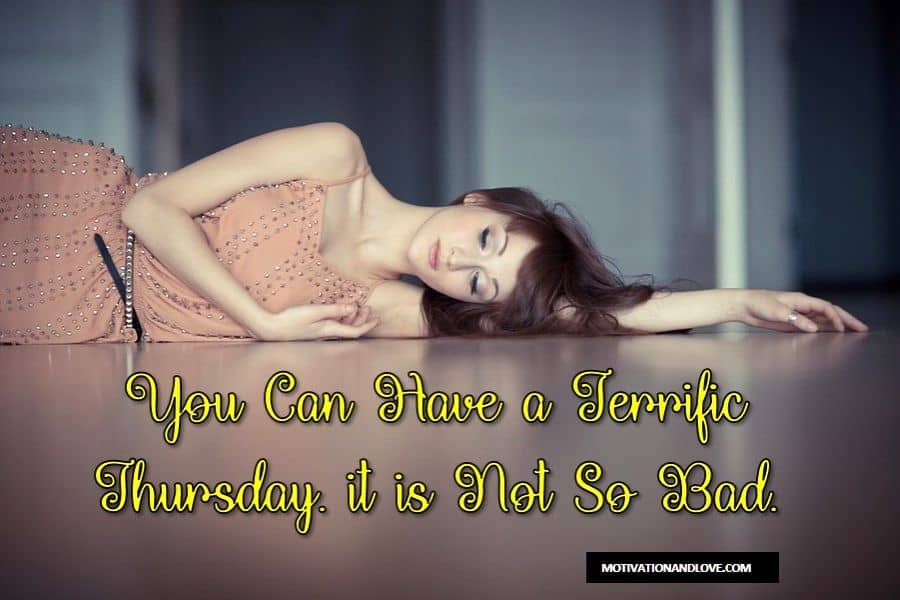 96. When weekends refuse to come and all you have are repeated Mondays.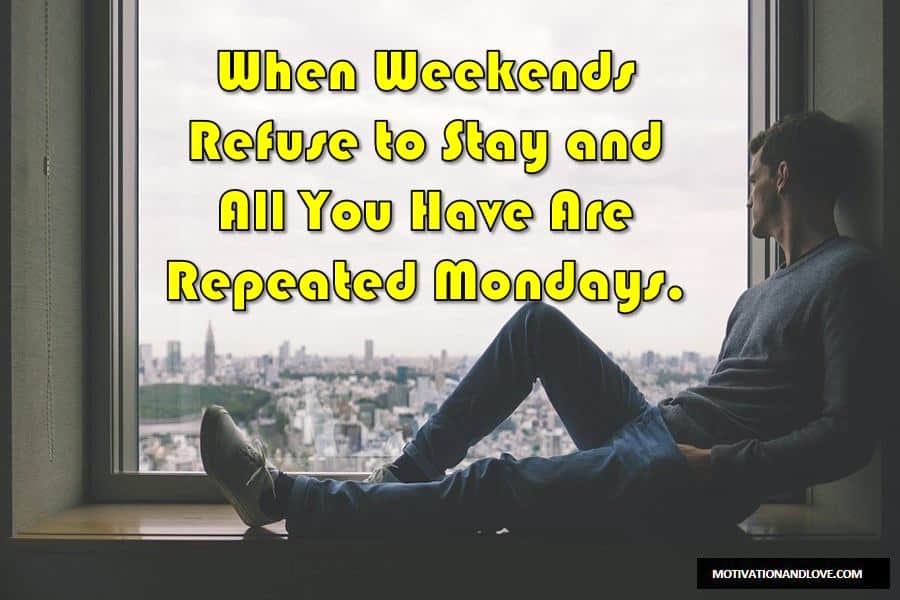 97. It is Thursday, enjoy it like it is the only day of the week.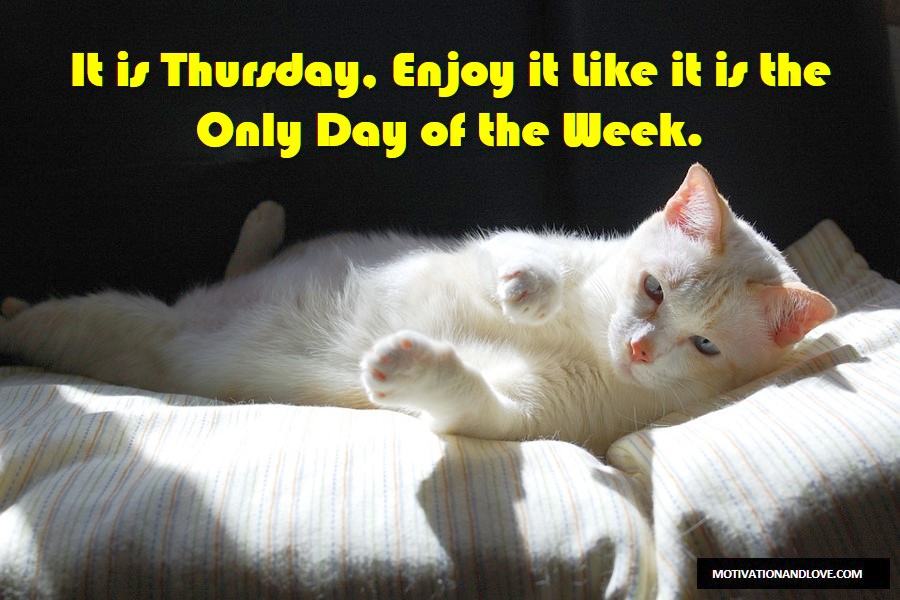 98. When will it be Thursday again? I can't wait to have another fabulous one.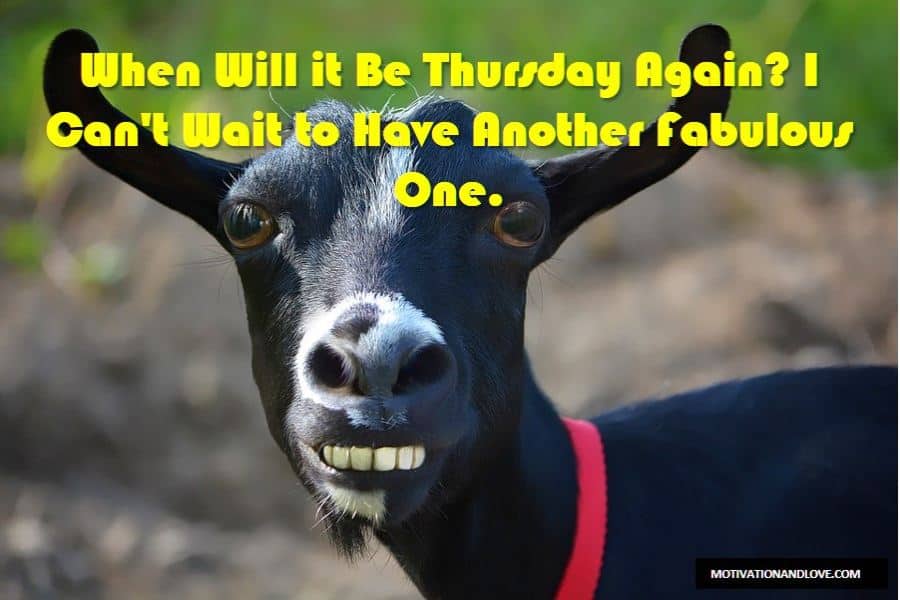 99. I miss this Thursday already because it stepped up my level.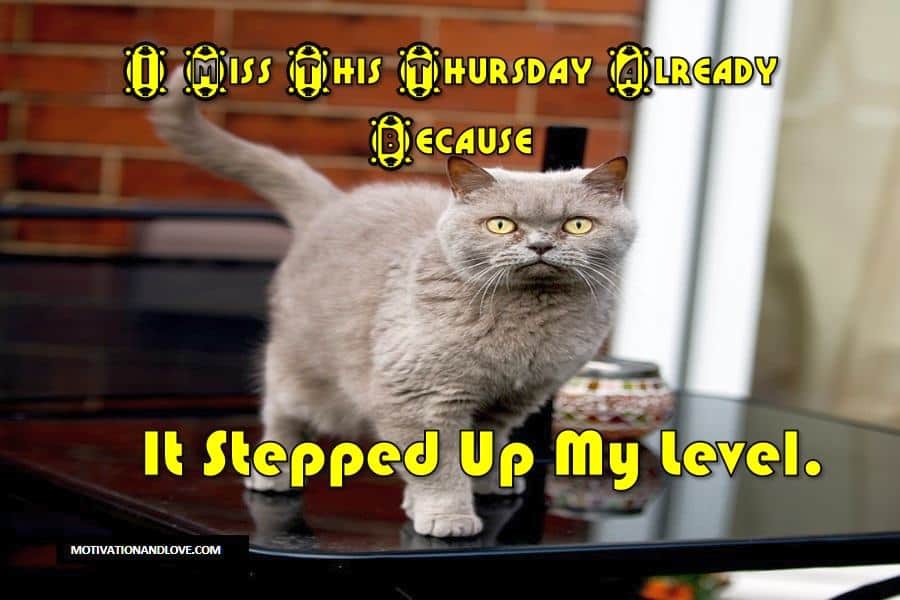 100. I'm so confident today, I don't even need Friday to come again.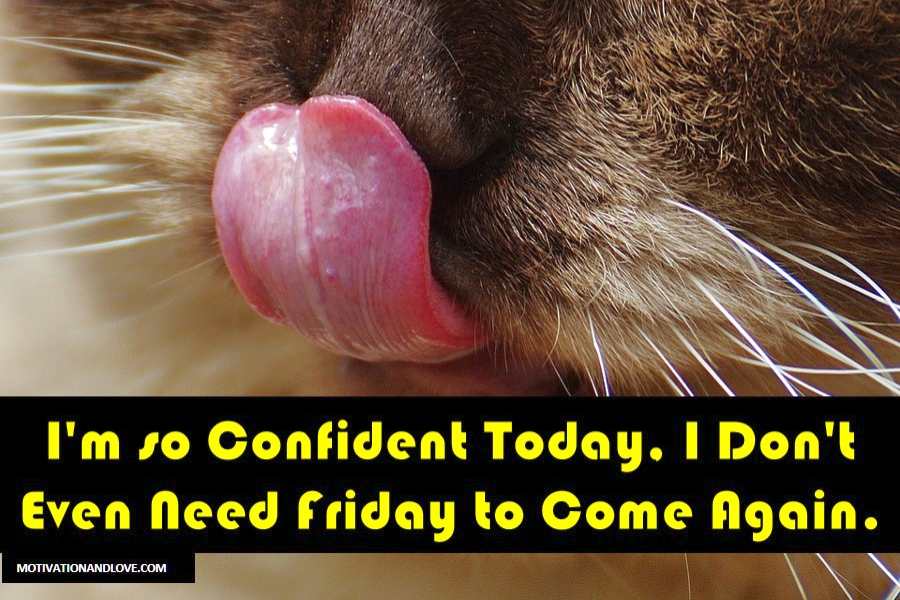 101. I need all the Thursdays I can get. What on earth are Fridays for?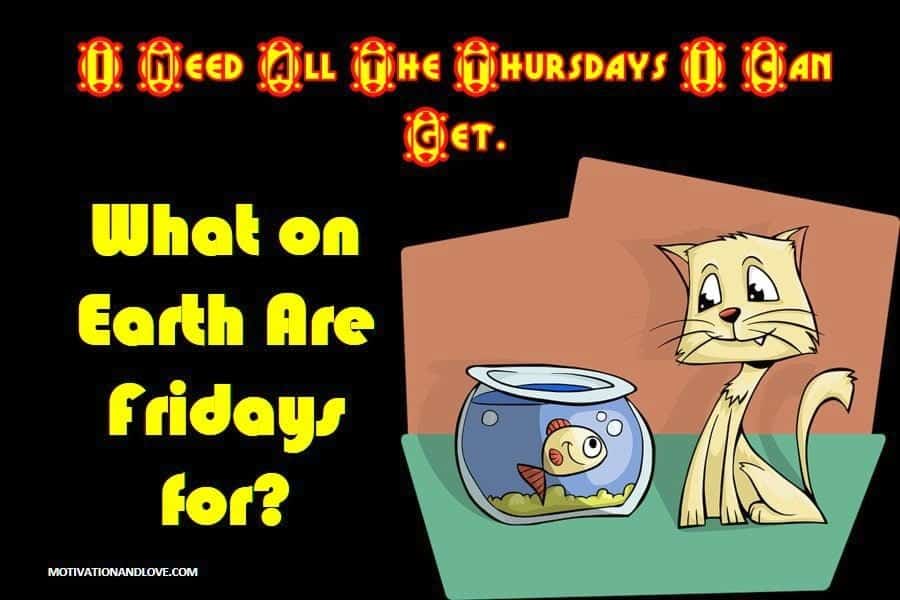 102. Spare me your Thursday, you can keep my Friday.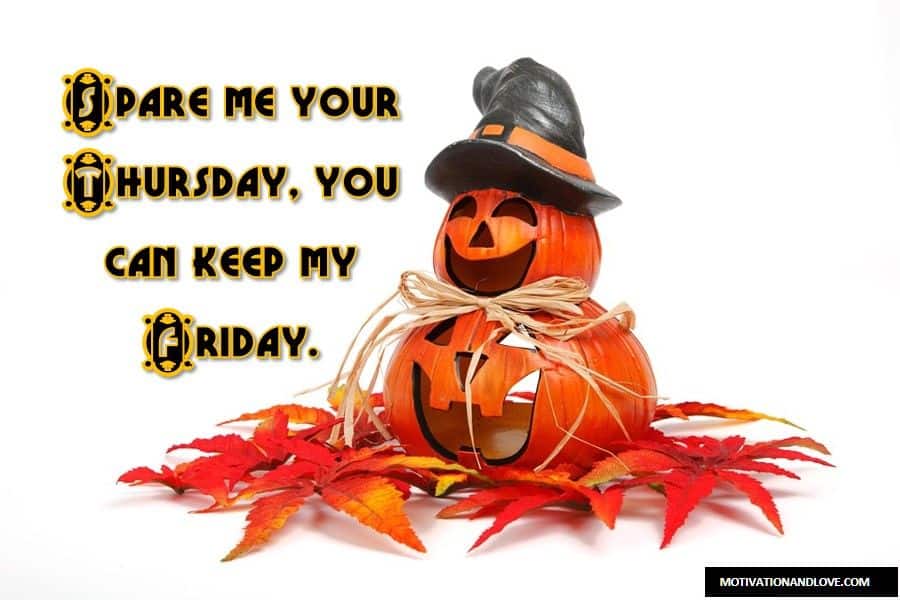 103. Begone Thursday, I'm on Friday already.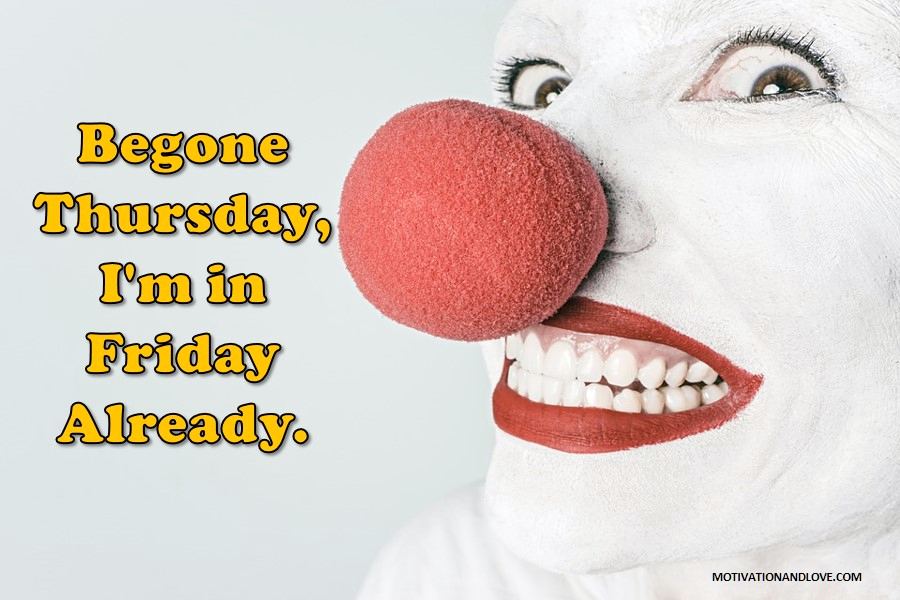 104. Still Thursday? Don't worry Friday is around the corner.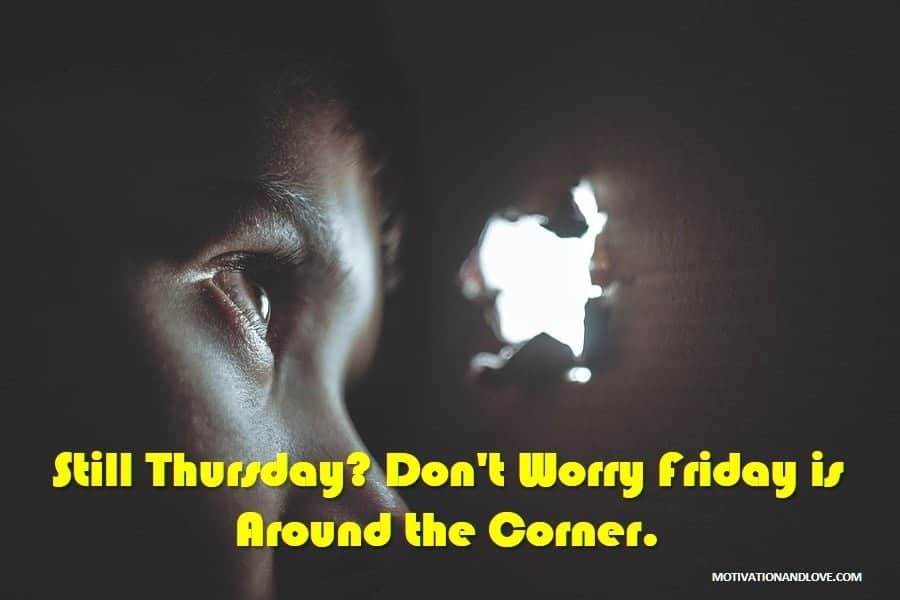 105. Hello Thursday, you are just the escape I need to Friday.